The Official Barstool 2022 Masters Tournament Preview (Featuring The Entire Field Of 91 Players)
Jamie Squire. Getty Images.
It's the best time of year baby. 
Welcome to the official 2022 Barstool Masters Tournament preview. Please take a moment and press play on the video below and enjoy the smooth, sultry sounds of Augusta while you read the finest piece of golf blogging this side of ever.
Hello friends. 
We're back at the crowned jewel of the golf world, Augusta National. It really doesn't get any better than this. We spend weeks and months counting down the days for the Masters to arrive and it's finally here. And better yet, the best to ever do it has battled his way back from a debilitating car accident and will be teeing it up this week. Incredible.
Last year Hideki Matsuyama made history by becoming the first Asian to win the green jacket. The green jacket was anyone's to win on Saturday when a brief 77-minute rain delay swept through Augusta. When play resumed, Hideki was lights out from the 11th hole forward, pouring in 5 birdies and an eagle on 15 to take a commanding 4-shot lead into Sunday.
From there, Hideki was never really threatened. He played a pretty conservative final round and the leaderboard only looked close because he missed a short par putt on 18 to leave him with a 1-shot victory. Not the most exciting Sunday in Masters Tournament history, but a historic one nonetheless. Who could forget the infamous bow to the course?
Last year's front page of the leaderboard (full results here) and recent winners of golf's greatest tournament:
2021 Leaderboard
Recent Masters Champions
The Course 
David Cannon. Getty Images.
Come on y'all. We know what this course is all about. It's the only major that's played at the same course every single year. That's what makes this such a treat. It's a course that measures about 7,500 yards depending on the tee boxes on a given day, but can play a lot longer due to the massive elevation changes around the course. It's a course that rewards distance off the tee, but does not penalize accuracy as much as some others. There's no 2nd cut of rough anywhere on this course. You can find yourself in plenty of trouble in the trees, but a little creativity and patience can help you avoid a big number. Water is the one place where you can find yourself in trouble, and that exists over in Amen Corner and on the par 3 16th. We all saw what kind of role Rae's Creek can play a couple years ago when everybody but Tiger put one in the drink on 12, and then we saw it bite Tiger in the ass in his last Masters too.
The thing that makes Augusta National what it is is the undulating nature of the entire place. Without any gnarly rough, the bumps and slopes are one of the few ways this place protects itself, which it's done pretty well for itself going on 85 years now. The greens are traditionally some of the fastest and most challenging on Tour. And the hills aren't just obstacles around the greens. There's hardly an even lie on the entire course that isn't a teebox. So these guys are going to be dealing with all sorts of side lies, downhill lies, uphill lies, and everything in between. Ton of shelves on this golf course so making sure you put the ball in the right spot is absolutely key here.
With that said, there are a few tweaks to this year's course, as there typically are. 3 holes have been lengthened. From Augusta National themselves:
No. 11: "Masters tees moved back 15 yards and to the golfer's left. Fairway recontoured and several trees removed on right side."
No. 15: "Masters tees moved back 20 yards and fairway recontoured."
No. 18: "Thirteen yards added to the back of the Masters tees without necessitating a change in length to the hole."
The changes on 11 are the most interesting. No hole has gone through more changes over the years, especially in the "Tiger-proofing" era. 
For years they've lengthened this hole and added trees down the right side in an effort to try to make it more challenging. And in many ways they've accomplished that. But they've also taken a lot of big numbers out of play by encouraging players to take aim down the left side of the fairway and bail out short/right of the green for most pin positions if their tee shot wasn't in an ideal spot. The result has been less birdies AND less double bogeys as players effectively took the greenside pond out of play in an effort to make 4. The tree removal brings the hole back towards its intended design (or at least the post 1951 version when they dammed the pond) and offers a bit more risk-reward from tee to green. I expect them to stick at least two pins tight to the water to further that notion. Should be fun.
For those who might be into hole-by-hole betting or just love some good hard numbers, here's how the course played in 2021 by hole, courtesy of the Masters website:
The Format
91 golfers at this year's edition with a 36 hole cut for the Top 50 and ties. For a long time this Tournament had a rule where anyone outside the Top 50 that were within 10 strokes of the leader would also make the cut. They ditched it for the COVID-delayed Fall Masters a couple years ago (presumably due to daylight issues) and didn't bring it back last year. Kinda a shame, sometimes it was fun to see how far out in front a leader could get on Friday and effectively boot guys out of the Tournament. Regardless, barring inclement weather, everybody goes off of 1 at Augusta National. No split tees.
The Conditions
The tournament days look relatively cool, the one thing to be aware of is the rain on the early end. Could really soften this place up. And those storms on Tuesday look pretty insane. Could be a potential tornado in the mix. Good thing they've got that sub-air system under them fairways and greens.
TV Coverage
Courtesy of the Masters website, here is your schedule for wall to wall coverage the Masters Tournament.
The Field 
Thursday and Friday Tee Times
Stay tuned for these. They traditionally drop at High Noon(tm) on Tuesdays.
UPDATE: High noon, on the number. Appointment television at 10:34 AM ET on Thursday.
The Board
Here is the full betting board at the Barstool Sportsbook as of 8:30 am Tuesday morning:
I took the time to put together a little cheatsheet with the entire field's career results at ANGC. I haven't seen this type of thing anywhere on the internet (or at least not behind a paywall), so you're welcome.
As is tradition I'm breaking down the full field as follows…
The Past Champions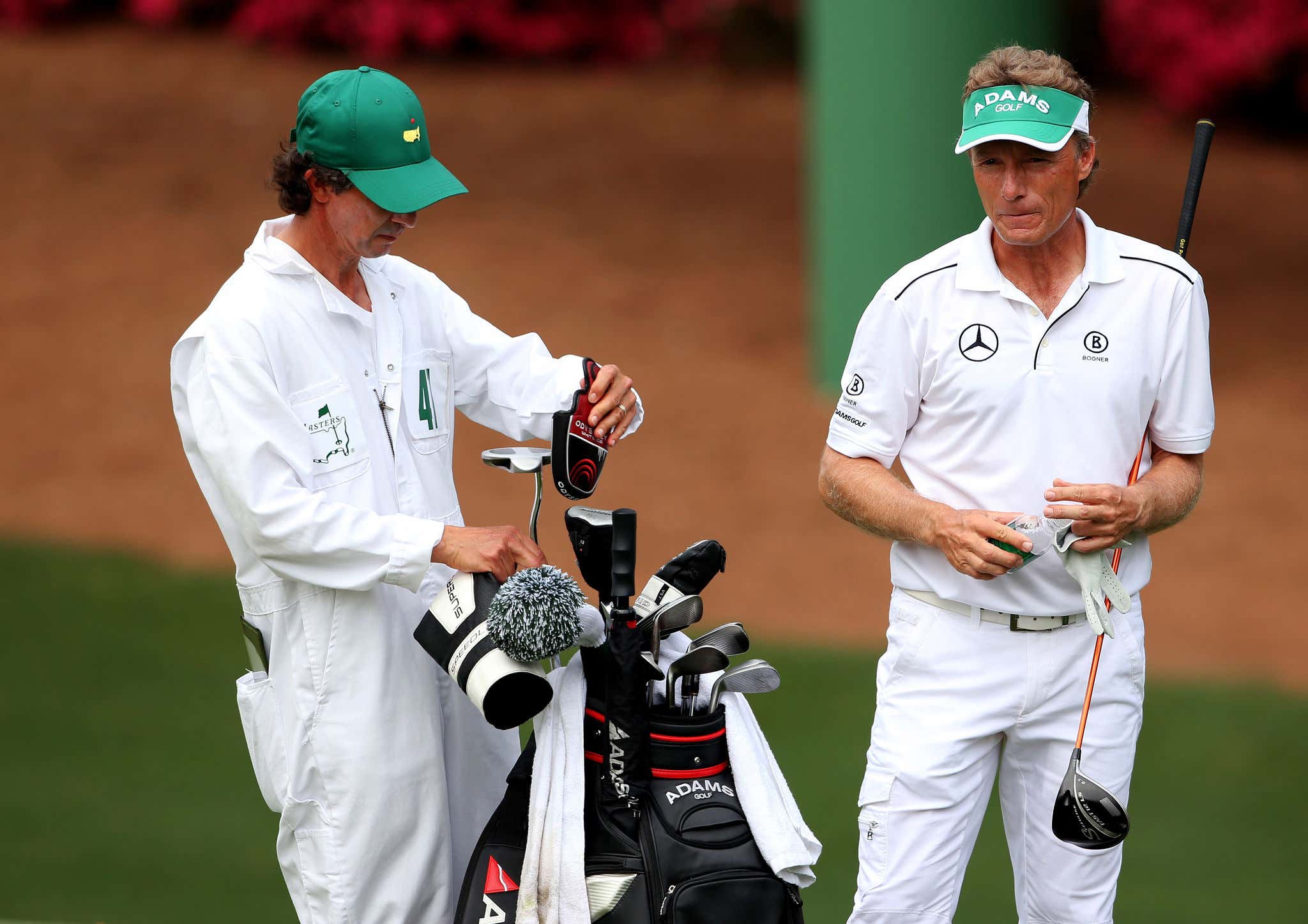 Andrew Redington. Getty Images.
These 9 guys have zero shot at winning and are simply cashing out their rightful prize of a lifetime spot in The Masters. Jack Nicklaus was the oldest Masters champion in 1986 at 46 years young. Most these guys are well past that age and these guys ain't Mr. Nicklaus.
Larry Mize (1987 Champion)
Sandy Lyle (1988)
Mike Weir (2003)
Vijay Singh (2000)
Jose Maria Olazabal (1994, 1999)
Fred Couples (1992)
Bernhard Langer (1985, 1993)
Zach Johnson (2007)
Charl Schwartzel (2011)
The Amateurs (pronounced "Am-a-toors")
Harry How. Getty Images.
If you know anything about Augusta National Golf Club and its founder Bobby Jones, you know that amateur golf is an integral part of the The Masters Tournament. No amateur has ever won (Ken Venturi came closest, losing a 4 shot 54-hole lead by 1 after shooting an 80) and with the way these Tour pros are playing right now, that's not changing any time soon. Either way, any amateur who makes the cut will be competing for the Silver Cup, awarded to the Low Amateur at the Tournament. Jack, Tiger, and Phil are all guys who won it as amateurs, so it's nothing to shake a stick at.
James Piot (2021 US Amateur Champion)
Keita Nakajima (2021 Asia-Pacific Amateur Champion)
Stewart Hagestad (2021 US Mid-Amateur Champion… and 2017 Silver Cup Winner)
Aaron Jarvis (2021 Latin America Amateur Champion
Laird Shepherd (2021 British Amateur Champion)
Austin Greaser (2021 US Amateur Runner-up)
Thanks For Coming Out 
Andrew Redington. Getty Images.
This is a massive pack of guys who are very likely not factors in this years Masters. Most of these guys qualified by one of these 4 ways:
1. Winning a PGA Tour event between last year's Masters and now 
2. Making the Tour Championship back in September 
3. Placing in the Official World Golf Ranking Top 50 at the end of calendar year 2021
4. Finishing in the Top 4 of one of last year's other majors.
Some caught fire one week and were able to steal a PGA Tour win to get into this field. Some guys had the week of their lives or found lightning in a bottle one last time at a major last year (looking at you Paddy). Other guys just found really great form in the early FedEx Cup playoff events and earned their way into the field at East Lake and subsequently Augusta.  But that doesn't necessarily mean they're going to be factor on golf's biggest stage versus the world's very best. Sorry, but these guys aren't winning, period.
Guido Migliozzi
Cameron Davis
KH Lee
Hudson Swafford
Stewart Cink
Lee Westwood
Min Woo Lee
Luke List
Mackenzie Hughes
Takumi Kanaya
Cameron Young
Tom Hoge
Harry Higgs
Padraig Harrington
JJ Spaun
The Likable Longshots 
Jared C. Tilton. Getty Images.
These guys are a tier above the "Thanks For Coming Out" Guys, but really don't have too much of a chance. It's not unforeseeable to see one or two of these guys on the front page of the leaderboard on Sunday, but these guys ain't taking home a green jacket either. What separates these guys from the guys in the previous group is that they're playing better recently (Kisner or Gooch) or have already proven themselves on bigger stages (like Wolff nearly winning at Winged Foot in 2020) and aren't in good enough form to make one of the groups to come.
Max Homa
Jason Kokrak
Thomas Pieters
Talor Gooch
Harold Varner III
Matthew Wolff
Cameron Champ
Kevin Kisner
Garrick Higgo
The Little-Known Internationals 
Jared C. Tilton. Getty Images.
These guys are unknowns to general sports fans, but if you follow golf closely you've probably heard of them. Each of these guys have played enough golf on the world's biggest stages to not be phased by the bright lights of Augusta National. I would be shocked if one of these guys nabs a green jacket but hey, nobody saw Danny Willett coming either. He would have been firmly in this group had I been writing this blog in 2016.
We're getting a little closer to the real field.
Seamus Power
Lucas Herbert
Christiaan Bezuidenhout
Erik Van Rooyen
Sepp Straka
Robert MacIntyre
The Veterans 
Andrew Redington. Getty Images.
These guys have been around the block before. Some are former major winners. Others are just Tour regulars whose games just aren't at the level it takes to win a green jacket. All have played the Masters and a couple have even won it. But these guys aren't all that likely to win. A couple may contend, but this ain't their year. Sorry.
Kevin Na
Russell Henley
Sergio Garcia
Brian Harman
Ryan Palmer
Gary Woodland
Lucas Glover
Danny Willett
Francesco Molinari
Veterans With A Chance
Andrew Redington. Getty Images.
Same as the section above, but these are guys I can actually see putting together 4 rounds and winning the 2022 Masters. From here on out, we've got guys worth talking about, so I'm going to do exactly that. 
Billy Horschel - Sneaky high in the world golf rankings at #13 after a strong Florida swing, but there are 31 guys in this field with odds shorter than him. 5/7 on cuts made here but only one top 25 and no top 10's. Not an Augusta guy and it looks like Vegas knows it.
Paul Casey - Paul's a guy who has had some past success here that may have been a good pick to win a few years ago, but that ship has probably sailed. He moved himself back into this category with a strong showing at THE PLAYERS, but he hasn't done enough to have me thinking he could win. His back issues that had him concede all 3 matches in Austin only further that. Could be a good target for a Top 20 or Top 10 if you're feeling frisky.
Patrick Reed - Former champ has been on tilt for months now. He played this tournament as the 7th ranked guy in the world last year and has fallen to 31st since. He's got no Top 10's this year. Fade.
Corey Conners - He's finished Top 10 the last two years here and showed some teeth at the Match Play a couple weeks ago. I like him as a sleeper.
Shane Lowry - Shane had a great Florida swing. Only a freak rainstorm could stop him from winning at Honda. He's missed half the cuts he's played here and hasn't finished in the Top 20 when he's played the weekend. 
Adam Scott - Former green jacket winner is clearly a guy who belongs in that club. Fitting that a swing as sweet as his plays on such hallowed ground. Layout fits his draw. 18 of 20 cuts made, including 12 straight. But also only one top 10 the 8 starts since his W. He hasn't done much recently to have me believing he'll win, but I think he'd be a dependable guy to roster if you're into those types of things.
Webb Simpson - Webb's 4 best finishes here have all come in his last 4 starts at Augusta. But he's also been a non-factor on Tour since the COVID break and has played poorly since missing some time with injury early this year. No thanks.
Marc Leishman - Pretty consistent theme we've got going here. Older guys whose best shots at winning this thing have likely passed him by. Leish also hasn't threatened much of anything recently. But the one thing going for him is that he's got the best strokes gained approach numbers here the last handful of years. It's tough to lay off Aussies at Augusta.  
Tommy Fleetwood - I can't believe this has never occurred to me until now, but Tommy Fleetwood is Paul Casey Jr. They're both great with the irons, likeable English chaps, and don't win anywhere near as much as they should. Couple of backdoor Top 10 kings. Tommy's struggled over the past year or so and I don't expect that to change here.
Justin Rose - This is a guy I was beyond bullish on in 2019 and he spat directly in my face with his only MC in his 16 starts here. The only reason he's in this year's field is because he finished 7th last year after having jumped out to a 4-stroke Thursday lead. You'd think someone ranked #1 in the world not all that long ago would have qualified some other way, but that's where his game is at. 13 of 16 Top 25's is really tough to ignore though, so he's one to consider for a finishing position prop.
Bubba Watson - Bubba's a guy who's really hard to categorize here. Of course he's got two W's under his belt, and has a penchant for being a weapon at a select handful of courses (Riviera, TPC River Highland, Augusta National). This place rewards lefties and imagination, and Bubba checks both of those boxes in a big way. A couple good finishes early in 2022 had me buy up a +7000 future on him here, and he promptly played poor enough for his number to drop to +8000. Worth a sprinkle imo.
The Young Guns
Kevin C. Cox. Getty Images.
Sam Burns - Honestly shocking this is his first start here. Burnsy has been playing such good golf for what seems like a good while now. His breakthrough win last year was actually after the Masters, when the Valspar was played in late April. Of course, he defended that same title a few weeks ago, making this all the stranger. Rare that you get the 11th ranked player in the world with no Masters history, but here we are. Riviera is often considered the best comparison for Augusta, and he's 2/4 on cuts with a 3rd place finish there last year. Tough call but I'm passing on Burns if only because there's too many unknowns.
Joaquin Niemann - Speaking of Riviera… the way he dominated that place earlier this year is hard to ignore. Missed the cut here as an am in 2018 and finished 40th last year in his other start. The win at Riviera though… really came out of nowhere as it relates to that course. Me thinks that was lightning in a bottle. I'm laying off, but this is one that could come back to bite me.
Sungjae Im - Sungjae was sick in that Fall Masters in 2020 when he finished runner-up to DJ, and then missed the cut last year. He's playing a lot more like the guy who missed the cut last year. Pass.
Will Zalatoris - I'm here for Will Z. Love that number at 35/1. Guy's absolutely got the game for this place (and any place) from tee to green. The big question mark has always been the putter, which cost him his first career win at Torrey earlier this year. But the way he putted at the Match Play a couple weeks ago in numerous pressure situations gives me a ton of faith that he's trending in the right direction on the greens. I really don't think that 2nd place finish was a flash in the pan. Get some action on Will Z.
Si Woo Kim - He's probably aged himself out of this group and isn't quite as consistent as the rest of the guys in this group, but he's a guy who's best is definitely on their level. 3 top 25's in 5 starts here shows that. Anyone who can win at Sawgrass has got the game to post a result at Augusta. Just be aware, it's boom or bust with him.
The 2nd Tier
Augusta National. Getty Images.
Bryson DeChambeau - Mr. Par 67 himself is back at Augusta after spending most of 2022 on the shelf with left hand and hip injuries. His return at the Match Play was poor, as he failed to win a match in group play and surprisingly teed it up at Valero last week. He missed the cut. So needless to say, he's in bad form and there's mounting evidence that this course and Bryson's game simply do not agree. I expect more of the same this week.
Louis Oosthuizen - Louis is a guy whose results here are probably thought of more highly than they actually are, thanks to that legendary albatross on #2 in 2012 that helped him get into a playoff with Bubba. His status as an Open champion and his 2021 majors performances further the notion that he's a big game hunter. But he's also a big game misser. That runner-up finish a decade ago is his only Top 10 here and he's actually won exactly zero tournaments in his career in the United States. He'll probably play the weekend and is always a popular pick, but not from me.
Abraham Ancer - Abe played well in Austin a couple weeks ago and then weirdly withdrew from Valero last week with no reason given whatsoever. At a home tournament no less. Didn't give the whole "I'd like to rest and prepare" run-around, didn't cite an injury or an illness… nothing. So there's a degree of unknown here. 2 for 2 on cuts made at Augusta, no notable finishes though. Nothing strong enough for me to overlook the unknowns. Leaving Abe be.
Hideki Matsuyama - Speaking of injuries… defending champ here has been on the fritz with a neck injury for several weeks now. He withdrew from THE PLAYERS, passed on the Match Play, and tried to tough it out at Valero last week to get some sort of prep in for his title defense… and he withdrew from that too. By all accounts, this is one to stay away from. Dinner Wednesday should be lit though.
Tyrrell Hatton - Tyrell's been playing sneaky good golf in 2022. He's played 7 events worldwide and his worst finish is T-28. Going against that is mediocre play at Augusta. I'll be watching Tyrell because he's an incredibly entertaining character, but I won't be betting him.
Daniel Berger - I like Berger as a player a lot but I'm not crazy about how his game fits here. He almost exclusively plays a low cut and Augusta favors the high draw. Doesn't mean he doesn't have a chance here and it's not like he's played poorly here either, I just don't see it for him in the ways I see it for other guys of his caliber.
Tony Finau - Great results here, terrible 2022 so far. No top 25's since Kapalua. I thought his win at Liberty National might launch him into the top tier of guys on Tour and it seems like it's done the complete opposite. 50/1 is probably a fair price for Tony as long as he keeps his ankles in tact.
Matt Fitzpatrick - Fitz has made the cut all 6 times he's played The Masters as a pro, but really hasn't posted a result worth writing home about. His game has been solid but not spectacular in 2022 either. Maybe all that experience can help him make a jump this week and contend, but I'm not holding my breath.
The Heavyweights
Ross Kinnaird. Getty Images.
Here come the big boys. Fun fact, the lowest ranked player in the past decade to win the Green Jacket was Bubba at #18 in 2012. Yes, even Danny Willett was sneaky 12th in the world going into that 2016 Masters. All of these guys below fit that criteria (Oosthuizen, Matsuyama, Burns, Horschel, Ancer, and Hatton are the others mentioned previously) and all of these guys are green jacket material, especially in 2022. Let's rock.
Scottie Scheffler - World number 1. On an absolute heater right now, having won 3 of his last 5 tournaments. This is his 3rd go at Augusta, having finished 19th and 18th the last two years. I took him after the win in Phoenix at +3100 to win this thing (and +1400 to win a major this year) with the idea that that number would shrink, and that's exactly what's happened. I am sitting pretty. With that said, he doesn't have as much experience here as some of his peers. Nothing could surprise me with him at this point, but +1400 is a little rich for my blood if I was trying to get aboard now. I'll be rooting hard for him though.
Collin Morikawa - Morikawa hasn't had the 2022 you'd like to see if you want to back him here, but it's not as if there were a ton of reasons to back him at the Open last year either. He's another cutter of the golf ball and can be shaky with a wedge around the greens, a deficiency that a course like ANGC quickly exposes. What Collin does have that few do is a tremendous head on his shoulders. I just watched his press conference and the guy just oozes the type of confident energy that makes me want to believe none of that matters. The ball-striking and accuracy he has is so pure that things like shot shape matter way less. And the easiest way to fix chipping woes is to simply hit all the greens. Doesn't mean he'll putt well, but if his irons are on, look out.
Viktor Hovland - The Hov is like Morikawa Lite. They came out of college at the same time with a lot of buzz and both have delivered. Their skillsets are very similar and so are their weaknesses. But it's been Morikawa who's really stolen the show. Hovland's first truly big win is just around the corner. He's won 3 times worldwide since November and almost nabbed the Arnold Palmer. I took him weeks ago at +2500 and +750 to win a 2022 major like I did with Scottie. I like his chances better at a US Open than I do here though, at least this early in his career.
Brooks Koepka - Brooks is a tough one. He's obviously got the history of big game hunting, but it's been a while since he's caught one. He's mixed in some solid results with missed cuts throughout 2022, and says he's pissed off about his world ranking. This would be one way to do something about it. He's been trending up at The Masters, especially when you throw out last year's missed cut when he was struggling to even crouch to read greens. It'd be unfair to hold that against him, but he's also not done enough recently to make me think the variety of injuries that have plagued him the past few years aren't still an issue.
Cameron Smith - I love Cam this week. Probably will every week at Augusta until he gives me a reason not to. 5 starts at ANGC, two top 5's and a 10th place finish last year. The only man to ever shoot 4 rounds in the 60's at a Masters, which they honestly should have given him a green jacket for. Him winning THE PLAYERS a few weeks ago just adds to that. He's +1600 and I'm surprised it's not lower. He's one of the best short game players on planet Earth and his creativity is matched by close to none. I'm on him this week and I'd take him Top 5 +350 and Top 10 +163.
Dustin Johnson - DJ had been reeling for a bit over the past year. I got the feeling that The Masters was a mountain he'd been working to climb for so many years and when he finally reached the apex in Fall 2020, a letdown was understandable. Hence the missed cut last year, hence a lackluster 2021 (Ryder Cup aside) without a PGA Tour win and hence him falling out of the Top 10 last month for the first time since that whole "non-suspension suspension" thing a few years back. But Deej has started to show a little bit of life over the past few weeks. He backdoored a T-9 at Sawgrass with a Sunday 63 and made the semifinals before losing to Scheffler in Austin. Is DJ back? We just might find out this week.
Patrick Cantlay - I'm surprised Cantlay's results haven't been better here. He's missed the cut twice in 4 pro starts. Because of the smaller field and the handful of competitors that are hardly that (former champs, amateurs, etc), this is by far the easiest of all the majors to make the cut. Very odd. His 2021 was such a monster year that I have to think this is the year he changes that narrative. There are no holes in his game and I'm bullish he's on the front page of the leaderboard on Sunday.
Rory McIlroy - What can you say about Rory that hasn't been said during every Masters week the past decade? Augusta National is his white whale. It's the last of the 4 majors for him to get and every year that passes, the narrative shifts from "he'll get one eventually" to "will he get one?" and we're getting towards "it's getting late early" for him. Which seems ridiculous, he's only 32 years old. There are a ton more opportunities for him to get it done. We're just so far removed now from crowning him as the next big thing and so many great young players have since emerged. He tried to swerve his Masters prep from previous years by playing Valero last week and he missed the cut against a meh field. He's so freakin talented that nothing could surprise me but nothing gives me reason to believe this week is the week. 2011 might haunt him forever.
Xander Schauffele - Xander's a guy I've had my eye on closely throughout the road to Augusta, looking for signs of life that he might be ready to win that first major. He's got a 2nd and a 3rd place finish within the last 3 years at Augusta, and certainly has the game to win majors. Hell, he's finished in the Top 10 in half of the 18 majors he's played, and finished top 5 in 6 of them. He's certainly been knocking. But his results in 2022 have been a mixed bag. He hasn't been bad or anything, but I was looking for something that would have me ready to dive in head first. I don't think I'm quite there on X.
Jordan Spieth - Five top 3 finishes in 8 starts. FIVE. You're foolish if you count Jordan out at Augusta National. He's coming off what he considers to be the worst putting week of his career at Valero (and the numbers back that up), but something comes alive with him at this place. You'll hear this week that his game isn't at its best right now. There's some truth there, but it's also not the entire truth. Buried in that mediocre T-35 performance at Valero was some strong play tee-to-green, good enough for 4th in the field in strokes gained. That's why there's some value in Jordan at +2200 and Top 10 +220. If Jordan can just give himself chances to make birdies, the putts will fall. I'm sure of it.
The Co-Favorites At +1100
Augusta National. Getty Images.
hey look, Phil made the blog!
Jon Rahm - Rahmbo has a lot going for him. I feel like the golf gods owe him a few. The quality of golf he played in 2021 with relatively little to show for it is pretty ridiculous. And I'm saying that about a guy who won the fucking US Open. He had Jack's tournament in the bag before a symptom-less COVID positive took that away from him, which took away the exact amount of Fedex Cup points that would have put him in position to win the Tour Championship at East Lake. Plus the consistent high results he posted reflect that of a guy that you simply would have expected to have won more. He was far and away the best player on Earth last year.
His game at Augusta holds up too.
That's why he's a co-favorite here at Augusta. I really wish I had a good reason for why I'm not picking Rahm but I really don't. He's a machine. The best I can come up with is his temper. I think the guy just wants it so damn bad. It can be his biggest strength and his biggest weakness. I have vivid memories of him losing his mind on 17 here a few years back and I just can't shake that I guess. He's just not my guy.
Justin Thomas - I've picked JT the last two years to win here. Am I really gonna do it again? I'm just so confident that JT wins a green jacket at some point. He's too good an all-around player and his best strengths are perfect fits here. There's nobody I'd rather have with a wedge in their hands and a tight lie than Justin Thomas. This entire course is a tight lie. It's also a 2nd shot golf course. Morikawa is the only guy I'd put on the same level as JT with the irons. And this is a shot-makers golf course. JT has proven as the years have passed that he loves to work the ball and make shots. He hasn't played poorly at The Masters by any means, but he hasn't put himself in the mix on a Sunday yet either. This year changes that. This is the year. He's played enough practice rounds with the right people and knows the course like the back of his hand. He's just gotta go out and do it. Justin Thomas +1100 to the bank.
THE GOAT
Kevin C. Cox. Getty Images.
Tiger. Fucking. Woods.
He's really gonna play. It's really happening. It isn't official yet but it might as well be.
What can you really say about Tiger? I don't think there's anybody in modern sports who could go through what he has and still have you thinking they could show up to the Super Bowl of their sport and truly have a chance at winning it. Common sense dictates that there's just no way he could show up and contend but this is a guy who's defied logic time and time again. The reports coming out of Augusta seem to be unanimous with regards to his game.
He's still got it. Which of course means that the rigors of walking 72 holes of hilly terrain are the biggest obstacle for him. He's been very open and honest about that throughout his recovery process, but he's also a guy who could have a double PHD in pain tolerance and short-term recovery techniques. The amount he endured just to make it through the 2008 US Open is the stuff of legends. Same goes for his morning routines to have his body ready to win the 2019 Masters. 
It's becoming increasingly clear the swing and the swing speed (reports of 170+ mph off the tee, peaking at 176) are pretty much there, the feels are there, the course knowledge is there… it would seem to just be a matter of mental fortitude. And if there's one thing to know about Tiger Woods, it's not to doubt him in a battle of wills. He was around +6000 on Sunday and the public has bet him down to +5000. I'm on him for that and for a Top 10 +500.
And I lied about JT and Morikawa being on their own level with the irons. Tiger Woods is very much alive and kicking.
The Card
Outrights
Justin Thomas +1100
Cameron Smith +1600
Jordan Spieth +2200
Will Zalatoris +3500
Tiger Woods +5000 
Bubba Watson +8000
Top Finishes
Patrick Cantlay Top 5 +400
Adam Scott Top 5 +1000
JT Top 10 +110
Tiger Woods Top 10 +650 (don't buy +500, go to Predictions and it's in there as a yes/no prop, yw)
Marc Leishman Top 10 +550
Robert MacIntyre Top 10 +900
Cameron Champ Top 20 +500
Garrick Higgo Top 20 +650
Harry Higgs Top 20 +900
Props
Jordan Spieth Top American +1400
Jordan Spieth 1st Round Leader +2500
Takumi Kanaya Top Asian +800
Bernhard Langer To Make Cut +160

Talor Gooch Top Debutant +750
Bryson DeChambeau Missed Cut +160
Hole in One in the tournament -137
Tournament Matchups
Jordan Spieth (-114) over Shane Lowry (hammer this one)
Viktor Hovland (-103) over Rory McIlroy
Talor Gooch (-114) over Seamus Power
Kevin Kisner (+100) over Luke List
As it relates to daily picks, plenty more to come from me @BarstoolBanks. Hope to do daily blogs too, as is tradition. I plan to be pretty involved on the Barstool Golf Twitter Community, which was just recently created HERE.
Damn near 6,000 words on The Masters. Let's have a week.
Enjoy The Masters Tournament.