'Prisoners', 'Whiplash' And 8 Other Movies You Should Stream
1. I Love You Man - Netflix - 86/100
Peter Klaven is a successful real estate agent who, upon getting engaged to the woman of his dreams, Zooey, discovers, to his dismay and chagrin, that he has no male friend close enough to serve as his Best Man. Peter immediately sets out to rectify the situation, embarking on a series of bizarre and awkward "man-dates."
I recently recommended this, but I've since rewatched it and just have to recommend it again. This movie is not part of the Judd Apatow sphere of movies at all, but I still count it as one of my favorite Apatow movies ever. Is that fair? Does it make sense? No. Nevertheless, it is a hilarious movie that still holds up extremely well. I forgot how funny it was when Paul Rudd's coworker referred to M. Night Shyamalan as "The director of 'The village'" 
2. There Will Be Blood - Netflix - 95/100
Ruthless silver miner, turned oil prospector, Daniel Plainview moves to oil-rich California. Using his son to project a trustworthy, family-man image, Plainview cons local landowners into selling him their valuable properties for a pittance. However, local preacher Eli Sunday suspects Plainview's motives and intentions, starting a slow-burning feud that threatens both their lives.
One of the best performances from one of the greatest actors working in Daniel Day Lewis. There are so many incredibly iconic scenes in this movie that I am more than comfortable labeling it must-watch. Also, this movie is part of one of my favorite pieces of movie trivia. They had to stop shooting 'No Country For Old Men' when a smoke cloud from the set of this movie(which was shooting nearby) covered the set. 
3. The Longest Yard - Netflix - 70/100 
Pro quarter-back, Paul Crewe and former college champion and coach, Nate Scarboro are doing time in the same prison. Asked to put together a team of inmates to take on the guards, Crewe enlists the help of Scarboro to coach the inmates to victory in a football game 'fixed' to turn out quite another way.
Call it a guilty pleasure. Call my score overrated. I don't care. This movie still kills me and was one of my most quoted movies growing up.  
4. The King of Staten Island - HBO Max - 90/100 
Scott has been a case of arrested development ever since his firefighter father died when he was seven. He's now reached his mid-20s having achieved little, chasing a dream of becoming a tattoo artist that seems far out of reach. As his ambitious younger sister heads off to college, Scott is still living with his exhausted ER nurse mother and spends his days smoking weed, hanging with the guys — Oscar, Igor and Richie — and secretly hooking up with his childhood friend Kelsey. But when his mother starts dating a loudmouth firefighter named Ray, it sets off a chain of events that will force Scott to grapple with his grief and take his first tentative steps toward moving forward in life.
I am far from the biggest fan of Pete Davidson. In fact, I might say I'm even a little sick of him. That said, this movie absolutely rocked. He was an awesome tandem with Bill Burr and the movie did great work on both the dramatic and comedic fronts. 
5. Moonrise Kingdom - HBO Max - 94/100 
Set on an island off the coast of New England in the summer of 1965, Moonrise Kingdom tells the story of two twelve-year-olds who fall in love, make a secret pact, and run away together into the wilderness. As various authorities try to hunt them down, a violent storm is brewing off-shore – and the peaceful island community is turned upside down in more ways than anyone can handle.
Wes Anderson is an acquired taste without a doubt. This is a great movie for those of you that like like artistic, weird "films". It won't be for everyone, though. 
6. Bullitt - HBO Max - 95/100 
Senator Walter Chalmers is aiming to take down mob boss Pete Ross with the help of testimony from the criminal's hothead brother Johnny, who is in protective custody in San Francisco under the watch of police lieutenant Frank Bullitt. When a pair of mob hitmen enter the scene, Bullitt follows their trail through a maze of complications and double-crosses. This thriller includes one of the most famous car chases ever filmed. 
This movie is such a god damn blast. It stars one of the greatest movie stars ever in Steve McQueen, it features one of the best detective stories AND features one of the coolest car chases along with the coolest movie car. 
7. Whiplash - Hulu - 95/100 
Under the direction of a ruthless instructor, a talented young drummer begins to pursue perfection at any cost, even his humanity.
This is arguably the career best performances from both Miles Teller and J.K. Simmons. The movie also delivers some of the most intense tension that goes just short of serious physical violence. 
8. Prisoners - Hulu - 94/100 
When Keller Dover's daughter and her friend go missing, he takes matters into his own hands as the police pursue multiple leads and the pressure mounts. But just how far will this desperate father go to protect his family?
I don't think nearly enough people have seen this movie, which comes from director Denis Villeneuve (Sicario, Arrival, Blade Runner 2049) and has two of my favorite career performances from Jake G AND Hugh Jackman.
9. The Prestige - Prime Video - 86/100 
A mysterious story of two magicians whose intense rivalry leads them on a life-long battle for supremacy -- full of obsession, deceit and jealousy with dangerous and deadly consequences.

A fantastic Christopher Nolan movie that doesn't get nearly as much love as the movies he made after it. I don't like magicians, I'm not overly fond of the turn-of-the-century time period, but this movie fucks. Christian Bale and Hugh Jackman are incredible and this has a ton of great twists and turns.
10. Jiro Dreams of Sushi - Prime Video - DOCUMENTARY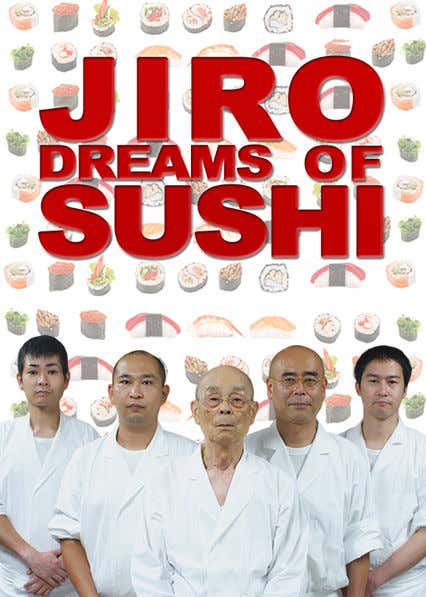 A documentary on 85-year-old sushi master Jiro Ono, his renowned Tokyo restaurant, and his relationship with his son and eventual heir, Yoshikazu. In the basement of a Tokyo office building, 85 year old sushi master Jiro Ono works tirelessly in his world renowned restaurant, Sukiyabashi Jiro.
This doc fascinates me no matter how many times I watch it. It's very rare to watch someone who is an absolute and total master of their craft show you how it's done, and this doc shows you exactly that. All this man lives for & thinks about is sushi, and it is honestly hypnotic watching him work. 
SHOWS
1. Halo - Paramount+
An epic 26th-century conflict between humanity and an alien threat known as the Covenant. Halo will weave deeply drawn personal stories with action, adventure and a richly imagined vision of the future.
2. Minx - HBO Max
In 1970s Los Angeles, an earnest young feminist joins forces with a low-rent publisher to create the first erotic magazine for women.
We interviewed Jake Johnson for this pretty recently and I am liking the series a lot so far. It's really raunchy, subversive of the recent trend of movies/shows to make very hollow properties about a social topic like feminism, race etc. with seemingly no objective other corporate virtue signaling. 
3. What We Do in the Shadows - Hulu
"A documentary-style look into the daily (or rather, nightly) lives of four vampires who've "lived" together for hundreds of years in Staten Island."
I recently re-watched this series and forgot how god damn funny it is. Just a perfect follow up to the hilarious movie, and a great series to double feature along with Wellington Paranormal on HBO Max.