Welcome Back to the Fast Lane, Buddy. Everything You Need to Know to Become a F1 Super Fan for the Start of the Season This Weekend
F1 is BACK for the 2022 season which starts this weekend. After a long winter break with zero controversy and nothing to debate from the 2021 season, we finally get to see very expensive, fast cars go around in circles again!! While that sounds boring to most people, you clicked on this blog so you're at least a little bit interested. This blog is dedicated to getting you up to speed for this season so when you wake up hungover Sunday morning after three days straight of watching college basketball, you know which color car you want to root for in the race.
If you want to get fully caught up on what happened last season, go watch "Drive to Survive" on Netflix which just dropped last weekend. It's still the best way to fully understand this crazy world and all of the drama that happens in the paddock, especially the insane ending to the 2021 season. 
Great, now that you've watched all ten episodes, let's get into this season.
What's New this Season
The entire car. No joke, they just threw out the entire design of the previous cars they've been using the last few years and introduced brand new regulations for how the cars are designed. If you're an F1 nerd like myself, you've spent the last year watching endless YouTube videos about sidepods, ground effect, ride height, turbulent air, wheelbases, tyre covers, etc. but here's the basics you need to know.
They made all of these changes for you. The entire goal of the new regulations is to make it easier for cars to follow and pass each other on track, giving us, the fans, better racing on Sundays. The biggest criticism of F1 compared to other racing series is that there's no passing and the same people win every weekend, hopefully these new cars help change that moving forward. These new cars could also completely change the pecking order of which teams are at the top. All potentially big, exciting things coming this season.
After two weeks of testing, here are the three buzz words you need to know so you sound like an expert this weekend.
Sidepods
The side pod area pictured above plays a super important role in the aerodynamics of the car and how the car cools its incredibly hot engine. Every team has an interpretation of the new regulations leading to vastly different designs. Teams being this far apart on a design does not usually happen and is awesome to see because we don't know right now who's is better or worse. All of this is going to get settled this weekend, but get ready to hear the word "sidepod" a lot this weekend and over the season.
Ground Effect
You're going to hear this phrase a lot over the weekend because it's the massive new change in the car downforce philosophy for this era of F1. In the simplest terms, instead of just the wings on the front and back of the car generating downforce to keep it on the ground, now it's also the floor of the car. Basically, as the car is going super fast, air moves super fast through tunnels built under the car which sucks the entire thing to the ground. The cars now have walls on the side of the car that almost touch the ground forcing the air through those tunnels instead of out the side. This concept became very popular several decades ago before being banned by the FIA. Now it's back because it creates less dirty air directly behind the cars making it easier for drivers to follow and pass each other due to less turbulence.
Porpoising
So now that you know the basics of ground effect, porpoising is what happens when it's not working properly or working too well and has a lot to do when the car hits the ground. It's complicated, but what you need to know is that the car starts violently rocking/shaking when the cars are driving fast in a straight line. It looks like a nightmare to try and drive a car with this going on. Almost every team has been battling this during testing, some have solved it, others have not, cough Mercedes. It's something you're going to see and hear a lot about these first few weeks of the season.
There are a million of other small things you'll hear about but those three are important to know going into this weekend. When in doubt, just throw out the term "dirty air" and you'll sound like you know what you're talking about. Now that you know about the cars, let's get into picking a team and driver to root for this season.
Mercedes: George Russell (Left) and Lewis Hamilton (Right)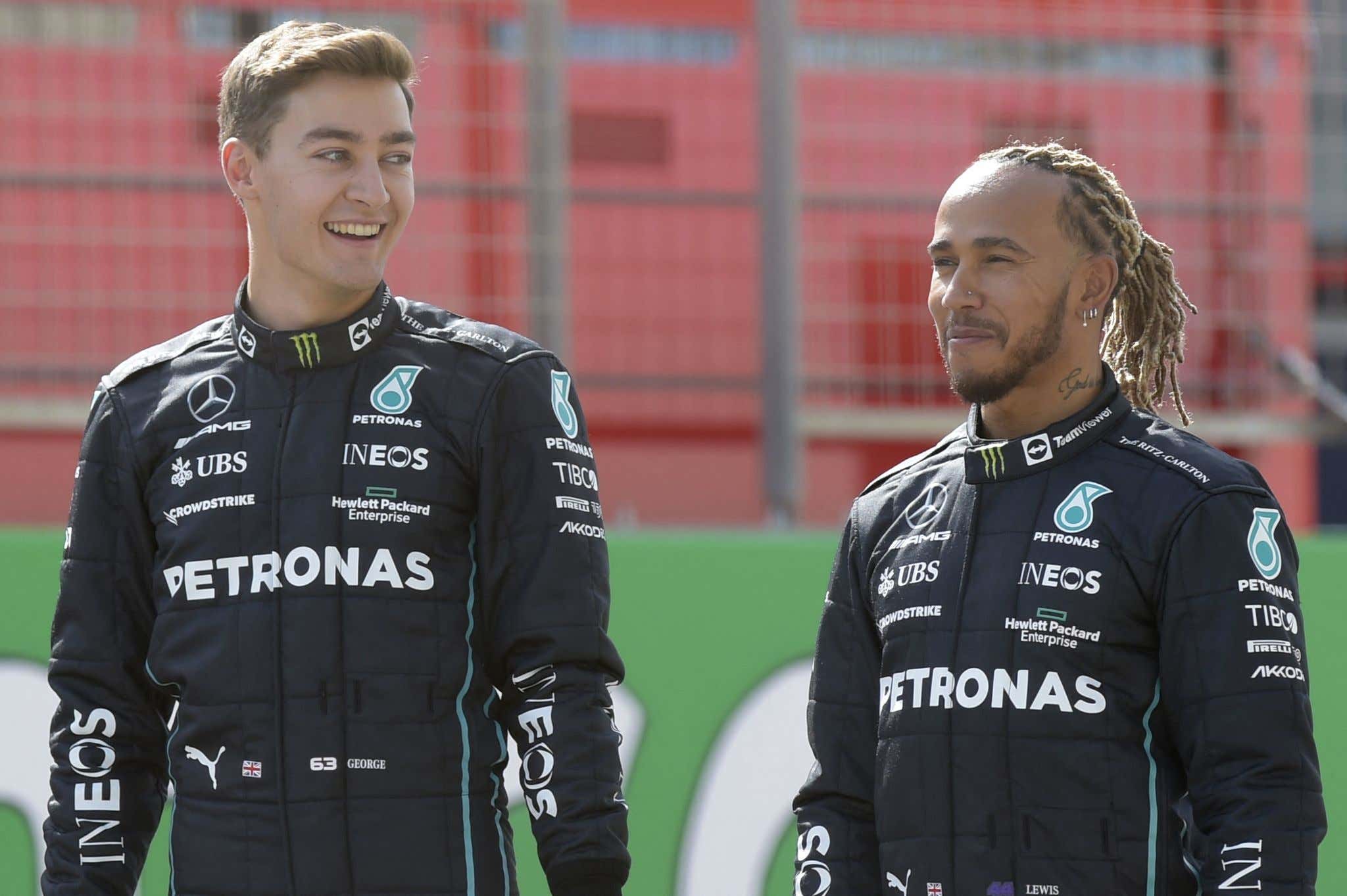 MAZEN MAHDI. Getty Images.
Mercedes AMG dominated the last car era in F1. They won eight Constructors Championships in a row. When you talk about dynasties in sports, Mercedes' run is up there with the greatest of all time. However, these new regulations have the potential to shake things up. This year will be the biggest test for Lewis Hamilton, Toto Wolff, and the German manufacturer. Throughout testing, Mercedes hasn't looked as strong as they have in past seasons. Their car design philosophy is drastically different than the rest of the grid (i.e. sidepods) and it will be interesting to see if this risk pays off. Mercedes is notorious for sandbagging during testing and practice sessions, so we don't really know how they will perform once everything is on the line this weekend. If you're someone praying for the downfall of Mercedes dominance in the sport, this could be your year. Or they could come out and dominate again, we don't know yet… sports!
If you're looking for a team to root for, Mercedes will always be your safest bet. This is like becoming a Patriots fan during the Brady era, the World Championship will always go through Mercedes until proven otherwise. Even if they start the season off slow, they will make changes and stay competitive. As a Mercedes fan, every race weekend you'll have a chance at winning because you have the greatest driver in F1 history behind the wheel, Lewis Hamilton.
Hamilton has won eight seven World Championships, tied for most all-time, and holds almost every other record in the book. He finished second last year in the Drivers Championship behind Max Verstappen. Did he deserve to win the title last year? I don't know, I'm not Michael Massi, stop yelling at me, I don't make the rules around here, pal! Just like Mercedes, he will always be your safest bet to root for every weekend, he could put any car on the grid in contention. If you love guys like Tom Brady, Hamilton is your guy. 
New to the Mercedes driver line up this year is George Russell. Replacing Hamilton's long-time teammate, Valterri Bottas, Russell is a young, hungry, extremely talented driver. As Mercedes starts preparing for life after Hamilton, they are making their bet on this 24-year old British driver, who has already had an impressive three seasons on the grid for Williams. Despite being new to the team, he is not going to back down from competing with Hamilton. This driver line up has the potential to get contentious, especially because there's a good chance Russell out qualifies Hamilton a lot this season. It's a great storyline to watch, get out the popcorn.
If you want to root for Mercedes, but don't want to be a bandwagon Hamilton fan, then root for Russell. He's going to be competing for race wins and World Championships for the next decade, so now is a great time to become a fan.
Red Bull: Sergio Perez (Left) and Max Verstappen (Right)
Mark Thompson. Getty Images.
Second in the Constructors Championship, first in the Drivers Championship, Red Bull is coming off their best seasons since 2013. Team Principal, Christian Horner, pushed Mercedes and Wolff to the edge of breaking last season. The team finally gave Max Verstappen a car that could compete with Hamilton and they took the fight all the way to the last race of the season, which hadn't happened in several years. Go watch "Drive to Survive" if you want the full story of all the drama, but Verstappen won the World Championship and is back to defend his title. Red Bull throughout testing has looked solid and it appears they'll be back at the top of the grid competing for race wins every week. If you love teams that talk shit, get under everyone's skin, but also can back it up on the track, then Red Bull is your team. They look like they have a great car again and you'll have plenty of moments to rub it in that you're not a bandwagon Mercedes fan. It's like rooting for the Red Sox, you have the pay roll and talent to win World Championships like the Yankees, but you're not a Yankees fan.
Max Verstappen is back to defend his title and is proudly rocking the #1 on his car. He proved last year what everyone has thought since his rookie year that he has the talent to win World Championships. This will be his EIGHTH season in F1 despite only being 24 years old. The Dutch driver is the favorite to repeat as World Champion if the Red Bull car is as strong as it has looked in testing. He is easily one of the most aggressive drivers on the grid and is blunt when it comes to the media. If you want to root for a driver that is going to win races at all costs and not give a fuck what people think about him while doing it, then Verstappen is your guy.
Back for a second year driving along side Verstappen at Red Bull is Sergio Perez. The Mexican driver is a veteran in the sport and is easily one of the most liked guys on the grid. He's brought stability to Red Bull in the second seat which was needed after Alex Albon was dropped in 2020. He proved that he can compete at the top of the grid for consistent podiums and race wins when Verstappen is out of contention. He knows that he is second fiddle to Verstappen on the team, so don't expect the same drama between teammates that you might see at Mercedes this year. If Verstappen rubs you the wrong way but you like Red Bull or you're just looking for a super likable guy who will be near the top of the grid every weekend, then Perez is a great guy to root for this year.
Ferrari: Charles Leclerc (Left) and Carlos Sainz Jr. (Right)
MAZEN MAHDI. Getty Images.
The past three years have been a roller coaster for the Italian team. Caught cheating in 2019, disaster of a season in 2020, return to being very competitive in 2021. Ferrari last season was never in contention for the World Championship, but this year appears to be different. All throughout testing every expert and their mother has talked about how competitive the car looks. The car looks beautiful and fast. I mean look at this sexy piece of machinery!!! THICCCC
The hype around Ferrari being officially BACK in the World Championship conversation is VERY real. Last year, I told people who wanted to buy low on a team with huge upside to pick Ferrari. This year is when you push your chips all in. Only downside is that when you root for Ferrari that people are going to tell you that you're basically rooting for the Yankees of F1. Just like the Yankees they've won the most World Championships in the sport, usually spend the most amount of money, and think it's their god given right to win the title every year even though they haven't won in fourteen years, but you became a fan when they were bad! Shrug that off and tell them to count the rings, bro.
Another huge selling point for Ferrari, is that have the most interesting driver lineup, in my opinion, on the grid this year. The golden boy of Ferrari is Charles Leclerc. He has the talent to be one of the best drivers of his generation. It's harder to be cooler than growing up in Monaco and driving a race car for Ferrari as a living. He's super likable and backs up all of the hype around him on the track. This year it looks like he finally has a car to match his talent which makes him the betting favorite outside of Hamilton and Verstappen to win the world championship at +500. The only thing he hasn't done is prove that he's capable of handling the pressure of a World Championship fight, but this could be his year. If you don't want to root for Hamilton or Verstappen, but still want a chance to celebrate winning a World Championship this year, Leclerc is your guy.
The other driver at Ferrari is Carlos Sainz. While Leclerc is the golden boy at Ferrari, Sainz is more than just a second driver. He proved last year that he is bloody quick and is capable of delivering results with several podiums, finishing ahead of Leclerc in the season standings. This is his second year at Ferrari after several years of jumping around to other teams. Ferrari announced this season that there will be no team orders between the drivers, which doesn't seem like a big deal, but it is a big deal. The team clearly sees that Sainz has the potential to be just as fast if not faster than Leclerc this year. Sainz has the years of experience under his belt and has earned through hard work and determination to being a part of the World Championship conversation. While he's still a big underdog at +1000 to win, it's not crazy to think he could do it. If you want to root for an underdog with a serious shot this year who is also a super likable, well respected driver, the Spaniard is your guy.
Going to put my nuts on the table here and call it, Sainz is winning the world championship this year. Also, wouldn't hate to see Leclerc win, but Sainz is my pick.
McLaren: Daniel Ricciardo (Left) and Lando Norris (Right)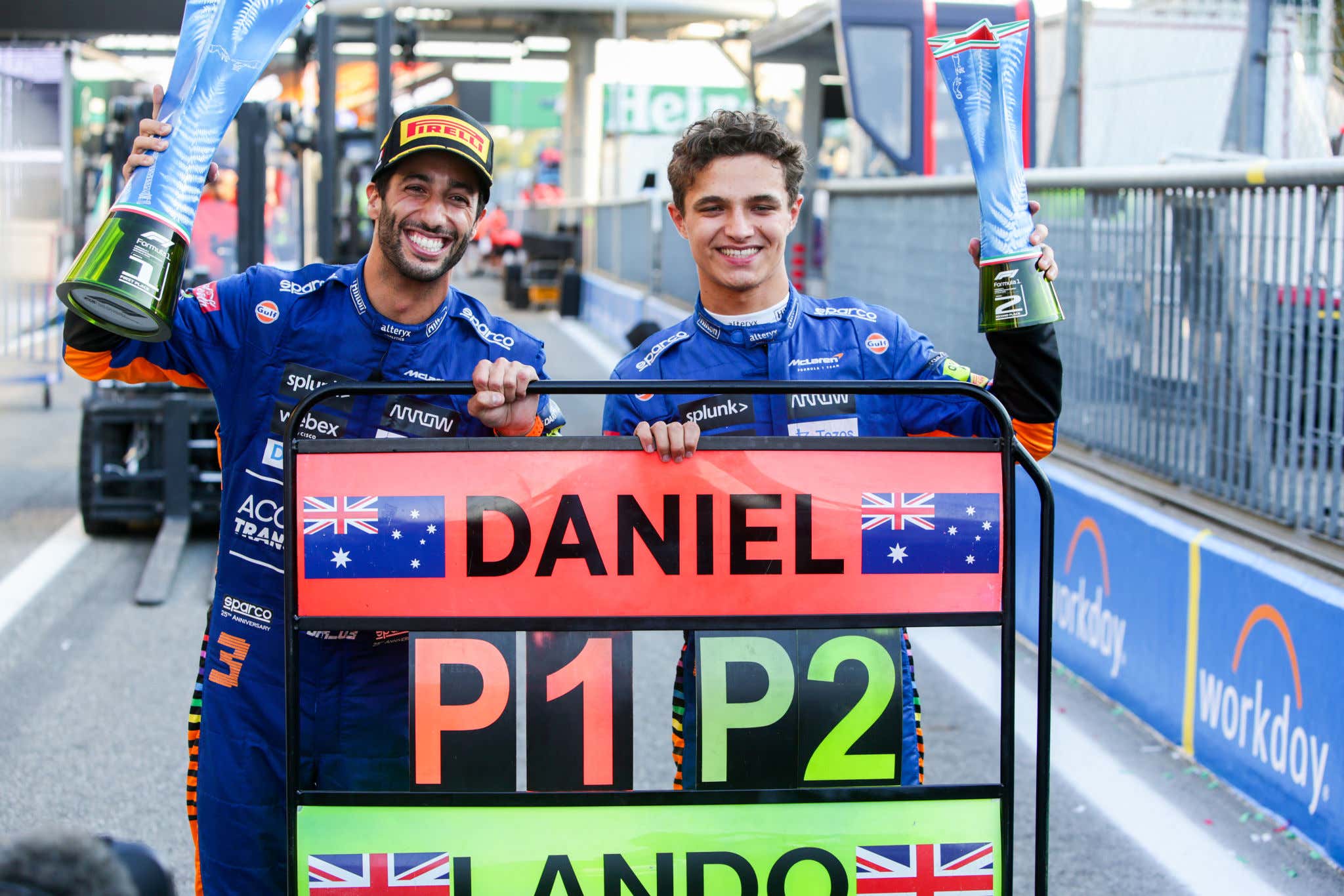 Peter Fox. Getty Images.
Ok now that all of the Ferrari dick sucking is out of my system, time to talk about the other team that I personally love on the grid, McLaren. Historically, McLaren has been one of the most successful teams in the sport, but in the 2010's fell from being a consistent favorite to win the World Championship to a team struggling to survive. Under the direction of CEO, Zach Brown, one of the few Americans in the sport, the team has turned around and is now competing at the top of the midfield with hopes it can make the jump to being in the world championship battle this year. Throughout testing, McLaren's car has looked like it will be just as competitive as last year, but reliability issues have plagued the team so we still don't have a great read on how competitive they'll be this year. The team has all of the pieces to make the jump to the next level, they just need to prove they can do it. If you want to root for an underdog this season in the world championship battle and Ferrari is too rich for your blood, then McLaren is your team. They're like the Toronto Maple Leafs, so much history, talent and potential, just need to put it all together.
Rooting for McLaren you also get one of the best driver lineups on the grid. Lando Norris and Danny Ric are both super talented and are also two of the most liked drivers on the grid. The best comparison for Lando Norris is Austin Mathews. Still young despite being in the league for several years, unbelievable potential and has already delivered incredible results, just needs to prove he has what it takes to win it all. If the McLaren car is competitive, Norris will continue to deliver results and has the chance to shock the world this year. But the pace of the McLaren car still continues to be the biggest question mark. If you're looking to invest your fandom in a young driver with potential in hopes of a massive return, Norris is your guy. The Brit is going to be competing for World Championships in F1 for the next decade if he's in the right machinery.
Daniel Ricciardo made the jump to McLaren last year and after a very rocky start, delivered the first win for McLaren in years. Ricciardo is a star and easily one of, if not the most liked guy on the grid. I don't think it's possible to hate Ricciardo. People's biggest criticism is that he is too well liked and has jumped around to a couple of teams. The best comparison for Ricciardo is Gronk. Super talented, always has a smile on his face and loves to fuck around and have fun. Picking Ricciardo as your favorite driver is the easiest decision you'll make all year. Just right now, you don't know if that means celebrating race wins or finishing in the top 10 this year.
Haas: Mick Schumacher and Nakita Mazepin Kevin Magnussen
I'm jumping out of order in last years constructors standings to talk about Haas, because we need to talk about America's team. Haas has been terrible the last few years. Like really, really bad. Not only that, they almost went out of business but the American owned team was saved by Russian Oligarch money. Last year, the Russian driver, Nakita Mazepin, joined Haas as a rookie and with him came his father's money to keep the team afloat. The team's main sponsor was Uralkali, Mazepin's father's company, and the car had a very Russian inspired design. What used to be America's team, overnight, turned into Russia's team. So between that and Haas being easily the worst constructor on the grid last year, I disavowed them from being America's team.
A year later, the Russians, Mazepins, and Uralkali are out at Haas due to recent world events and the Haas car looks like it has serious pace. HAAS IS BACK TO AMERICA'S TEAM!!!!
Almost every expert agrees that the Haas car has been one of the biggest surprises so far this year throughout testing. While it's way too early to think that they will be competing for World Championships, they look poised to jump from being dead last to a solid midfield contender that could surprise people in a few races this season. If you're looking for a true underdog team to root for this season and want to root for AMERICA, then Haas is your team. 
Besides rooting for America, you also get an awesome driver pairing. Back for his second season is Mick Schumacher, the son of the most famous F1 driver in the history of the sport. He showed he has a ton of potential last year despite being in easily the worst car on the grid. He's more than his last name and just seems like an all-around solid dude. This year could be his coming out party. 
Replacing Mazepin is Kevin Magnussen, who left the team in 2020 after four years racing for Haas and seven years in F1. He raced last year in Indy Car and despite the very short notice to race this season, already looks up to speed in the car. He's a great character to have back on the grid this season. Can't go wrong being a fan of either of these drivers. It's not crazy to think one of them could end up on a podium this year, which would have sounded insane last year.
Alpine: Esteban Ocon (Left) Fernando Alonso (Right)
MAZEN MAHDI. Getty Images.
Formerly Renault, the French team changed their name to Alpine last year and had a solid season in the midfield in 2021. Alpine has been relatively quiet throughout testing other than changing their entire color scheme from blue to pink. They appear to have a solid car for this year, but based on everything we've seen it doesn't look like they're going to make the jump to the next level out of the midfield, but you never know with these new regulations. The team pulled off a surprise victory last year in Hungary due to some chaos with the top teams, so it's not crazy to see them in the mix at the top on any given weekend. Alpine is a great team to root for if you are 1. French 2. You like a historically great team working their way back to the top.
The driver pairing at Alpine is strong. They bring back both Fernando Alonso and Estaben Ocon, who had solid seasons in 2021. Alonso is a two-time world champion (2005, 2006 with Renault) and is one of the biggest characters on the grid. He will go down as one of the greats in the history of the sport, so for everyone who loves F1 it's just fun to watch him race every weekend. I can understand if you're new fan to F1 that it might be tough to jump in now to becoming a massive Alonso fan. The best equivalent is watching D-Wade on the Heat after Lebron left. If you saw him in his prime you still see the magic, but don't expect him to go out there this season and be in contention for the championship… unless Alpine has been hiding a ton of pace all throughout testing.
On the other side of the garage is Ocon, who is entering his sixth season in F1. He lost his seat on the grid in 2019 after a rocky start to his career, but got a second chance with Alpine and has made the most of it. He had a very solid 2021 which peaked when he won his first ever Grand Prix in Hungary. He isn't talked about in the same as Verstappen, Leclerc, Norris or Russell in terms of potential, but is someone to keep an eye on to see if he can continue this strong run of form.
Aston Martin: Sebastian Vettel (Center) and Lance Stroll (Not Pictured)
Antonin Vincent. Shutterstock Images.
This team has gone through massive changes over the last several years. The team went into administration during the 2018 season and was sold to Canadian Billionaire, Lawrence Stroll, whose son "happens" to drive in F1. The team was previously named, Racing Point, but in 2020 Stroll bought a 16.7% stake in Aston Martin and the team was re-branded last year. Since buying the team in 2018, Stroll has not held back investing a ton of money into the team to make it competitive. Last year had its highs and lows with Sebastian Vettel being consistently in the mix for top ten finishes and even a surprise podium in Hungary*. Their car this year looks like it will probably be around the same pace as last year, which would put them firmly in the fight in the midfield, but no real hopes of breaking through to compete with the top teams. With the new regulations anything is possible, but it doesn't look like this year will be that different from last year.
One reason to be a fan of Aston Martin is that they have one of the most successful and well-liked drivers on the grid with Sebastian Vettel. Vettel is a four-time world champion, winning the 2010-2013 World Championships with Red Bull. He's been there and he's done it. However, since 2013 when Mercedes/Lewis Hamilton took over the sport he's been struggling to get back to that World Championship form. He moved to Ferrari in 2015 and he and the team were the biggest competition for Mercedes for several years, but could never win the title. Last season, he delivered consistent results for what was possible in that car and will do the same again this year. He's someone worth being a fan of even if he's not in contention to win. We need to soak up every second Vettel is in F1 because it won't last forever and he will be greatly missed whenever he decides to hang it up.
Lance Stroll is young, cocky, and also the son of the owner of the team. I still firmly believe that Lance Stroll is a good driver. He'll always be discounted for being the son of the owner of the team, but he has proven that he can compete at a high level. His downfall is that he is inconsistent, for as many highs as he has there's also a lot of weekends where he's not in the mix at all. With an Aston Martin car that doesn't look like it will be that much better than last year, I don't expect him to "wow" anyone this year. He'll continue to be hanging around the hoop and might pick up a surprise podium on a chaotic weekend.
Alpha Tauri: Pierre Gasly (Left) and Yuki Tsunoda (Right)
Peter Fox. Getty Images.
Alpha Tauri is the sister team to the main Red Bull team. In the past, they have been more of a "junior" team to Red Bull basically being the feeder system of drivers to the main team and weren't close to the same level of pace in the car as the main team. That has changed over the last three years. They finished sixth last year in the Constructors, but could have easily finished higher if Tsunoda would have been more consistent. This is a "dark horse" team, if you can even call them that after such a strong 2021, that will continue to have their chances at podiums. They will just always be a "second" team to Red Bull, so don't ever expect them to out perform the main team, but they will be in the mix. A very fun team to root for because of their driver line-up.
Pierre Gasly is now a battle tested veteran despite only being 26. He was moved up to the main Red Bull team in 2019, it did not go well and he was sent back down to Alpha Tauri where he's completely rebounded his career. Last year was one of his best season in F1. He's set up for another solid season with an Alpha Tauri car that looks just as competitive as last year. The Frenchman is a great driver to root for in the midfield because he still has so much potential to do big things in F1 over the next few years.
Yuki Tsunoda is now in his second year in F1 after a rookie season that was a tough learning curve for the Japanese driver. He had flashes of brilliance where he showed the incredible potential that Red Bull sees in him, but was very inconsistent. He is an absolute wild card. Listening to his radio while he's driving is hilarious. The guy just loves talking shit, eating, cussing, and pushing everything to the limit. Yuki is still young and has a ton to learn but the potential is there, this is the year he has to prove he can deliver it every weekend. I don't think Red Bull will stick with him for another year if he continues to be inconsistent, so this is a massive season for the young driver. Despite all of that, quotes like this are why you become a Yuki fan
Williams: Alex Albon (Left) and Nicholas Latifi (Right)
Clive Rose - Formula 1. Getty Images.
Williams had a surprising amount of success last year compared to what everyone expected. They were always going to be at the back of the pack, but through the sheer will and talent of George Russell, he dragged the car into mix for top tens at a few races and ended up on the podium in Belgium. Despite the race being cancelled due to weather, he still put in one of the greatest qualifying laps of the year that weekend that stunned the entire grid. Last season was a massive step forward for a team that had fallen off a cliff the past several years. The Williams name is a legacy in the sport and they spent decades in the mix for the World Championships. The team is hoping it can continue the momentum that George Russell brought to the team last year and fight back to being in the midfield this year. Throughout testing they have looked ok, but it will be interesting to see where they will stack up this season. If you're looking for a former blue chip team to buy low in hopes they can turn around the program in the next few years, then Williams is your team. 
Latifi is returning for his third season in F1 and while he hasn't really done anything of note, he's proven he can hang on the grid despite many people discounting him for only being in F1 because of his family's money. If the car is better this year, it will be interesting to see if he can deliver more results. If you're Canadian, this is your guy. 
Returning to the grid this year is Alex Albon. This is his fourth year in F1, but last year he lost his seat after struggling at Red Bull competing against Verstappen. Despite that Red Bull never gave up on him and he spent last year as the reserve driver behind Verstappen and Perez. He's now getting his second chance in F1 at Williams and has everything to prove. He should be able to step in and immediately perform, it just comes down to how strong the Williams car is this year. He seems like a super nice guy who just went through a rough patch in his career, so he's a great story to follow this year to see if he can make the most of this second chance.
Alfa Romeo: Valtteri Bottas (Left) and Zhou Guanyu (Right)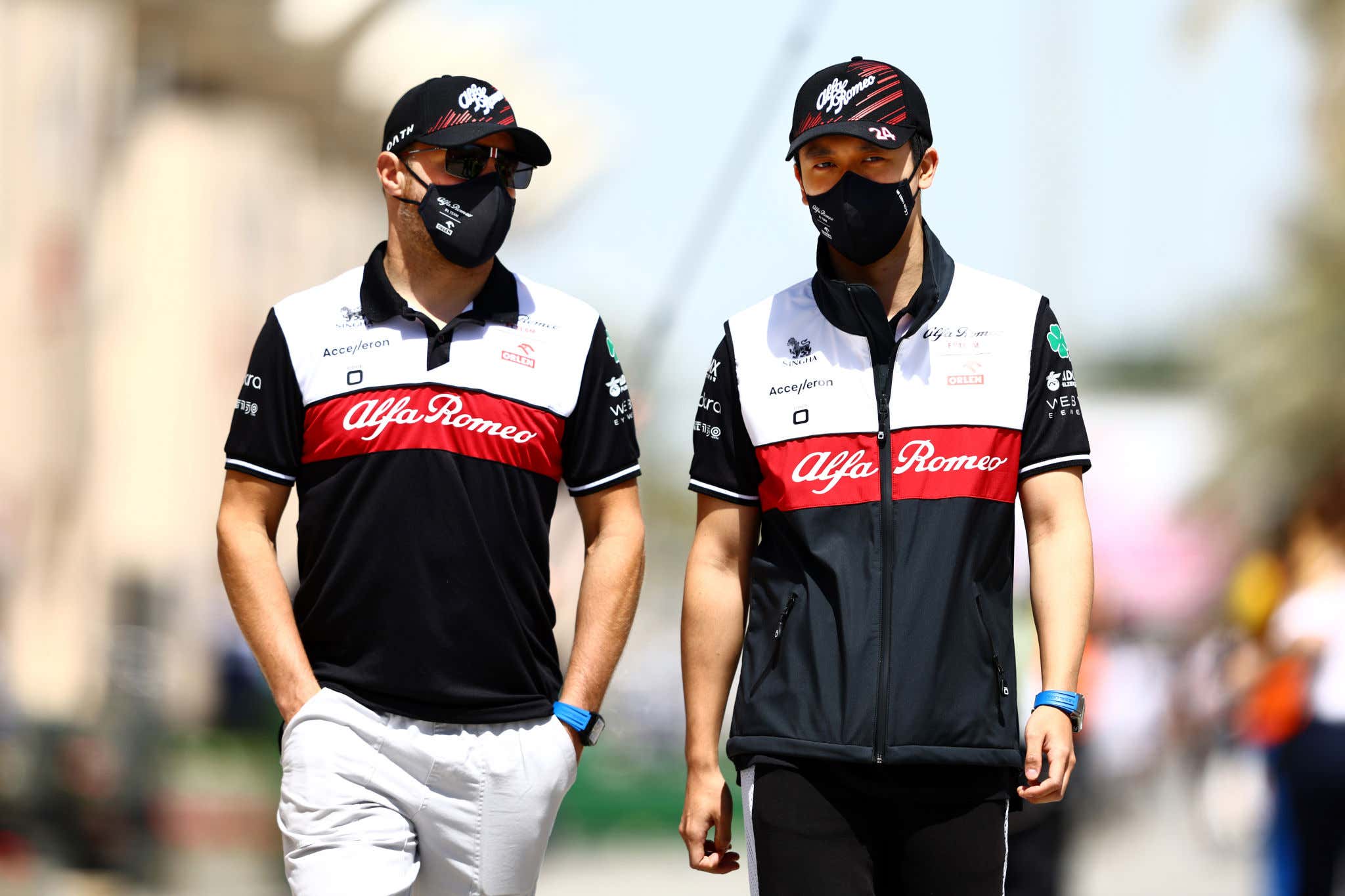 Mark Thompson. Getty Images.
Similar to Alpha Tauri with Red Bull, Alpha Romeo is sort of a junior team to Ferrari. They made some noise last year in the midfield with a couple of top ten finishes, but never had any hopes of ever breaking out of the midfield. Their car looks like it might be faster than last year, but with so many other strong teams this season it's hard to think that they will have a break out year. But also, new regulations, so what the hell do I know!! 
The one thing Alfa Romeo does have going for them this year is that they added Valtteri Bottas to the team who is fresh off getting replaced by George Russell at Mercedes. Bottas was a big part of helping Mercedes win five Constructors Championships even if he was always in the shadow of Hamilton. He's still a very talented driver and will have a major chip on his shoulder. Someone to keep an eye on this year to potentially shock some people if the car has pace. A great "underdog" story this season.
The other Alfa Romeo driver is also the only rookie, Zhou Guanyu. He is the first Chinese driver ever on the grid and after a fairly decent junior career, he got the call up to be the second driver for Alfa. Zhou will have to go through the massive learning curve that every rookie goes through when taking the next step to F1, so this year is more about survival and looking for flashes of potential. Don't expect much in terms of results this year from Zhou, but he is interesting to watch to see if he sinks or swims.
That's everything you need to know about the teams and drivers going into this season. Now comes the fun part, racing. This weekend is the first of twenty two races this season. It's a long season and it's shaping up to be one of the most interesting years for the sport with all of the new regulations. Qualifying is this Saturday morning at 11am ET and it will be the first real test to see which teams have pace and who's been sandbagging. Then it all becomes very real when the lights go out Sunday morning at 11am ET in Bahrain.
I'm not an expert, I'm just a guy who really fucking loves talking about F1, so I probably messed something up in this blog. The best part about putting this blog out on Friday is that anything I've written will immediately get proved extremely correct or extremely wrong by Sunday. So when that happens, send any all chirps my way.
Now's your time to call your shot and sign up for our F1 Barstool Sportsbook promo. Place a $25 bet on either who wins qualifying, who wins the race or who wins fastest lap. If your bet hits, you win sportsbook bonus cash. It's a great weekend to gamble responsibly on F1.
AND FINALLY…
IT'S LIGHTS OUT AND AWAY WE GO TO THE 2022 SEASON!!!