Kevin Garnett Not Only Changed My Life, He Changed The Celtics Franchise Forever
Brian Babineau. Getty Images.
The day has finally arrived to raise Kevin Garnett to the rafters for the rest of time. It almost doesn't even seem real, and you bet your ass I'm already emotional about it. How could you expect a Celtics fan in his mid 30s to not be? There are a lot of things that Celtics fans disagree with each other about. The one thing everyone unequivocally agrees with is the fact that Kevin Garnett changed this franchise. Shit, he saved it. There's a reason this NBA commercial is the most accurate piece of advertising to ever be created
This is how every single one of us felt when we first heard the news on July 31st 2007. I remember where I was to this day. I was standing in the kitchen of my girlfriend's townhouse in Tempe Arizona. The Celtics were coming off a stellar 24-58 campaign and had just missed out on Kevin Durant. A month earlier, they traded for Ray Allen and it was a little confusing at the time, but suddenly everything made sense when we saw what came next.
For outsiders or non Celts fans, I'm not sure they can truly understand what Kevin Garnett means to someone like me. Honestly, the same might be true of older Celtics fans that got to witness and experience the golden era of basketball. That was NOT the case for my generation. We were molded by Dana Barros, David Wesley, Tony Battie, young Pierce and Rick fucking Pitino. All I knew my entire life was losing. Seasons where it would be a prayer if the Celts won over 35 games (which they did a total of 2 times from 1993-2001. Even after that brief run of "success" in the early 2000s where the deepest they went was a single ECF appearance, after back to back first round losses it was back to the gutter. Just 33 wins in 2005 and a lottery appearance. Then 24 wins and all that losing, just to miss out on KD. But then this happened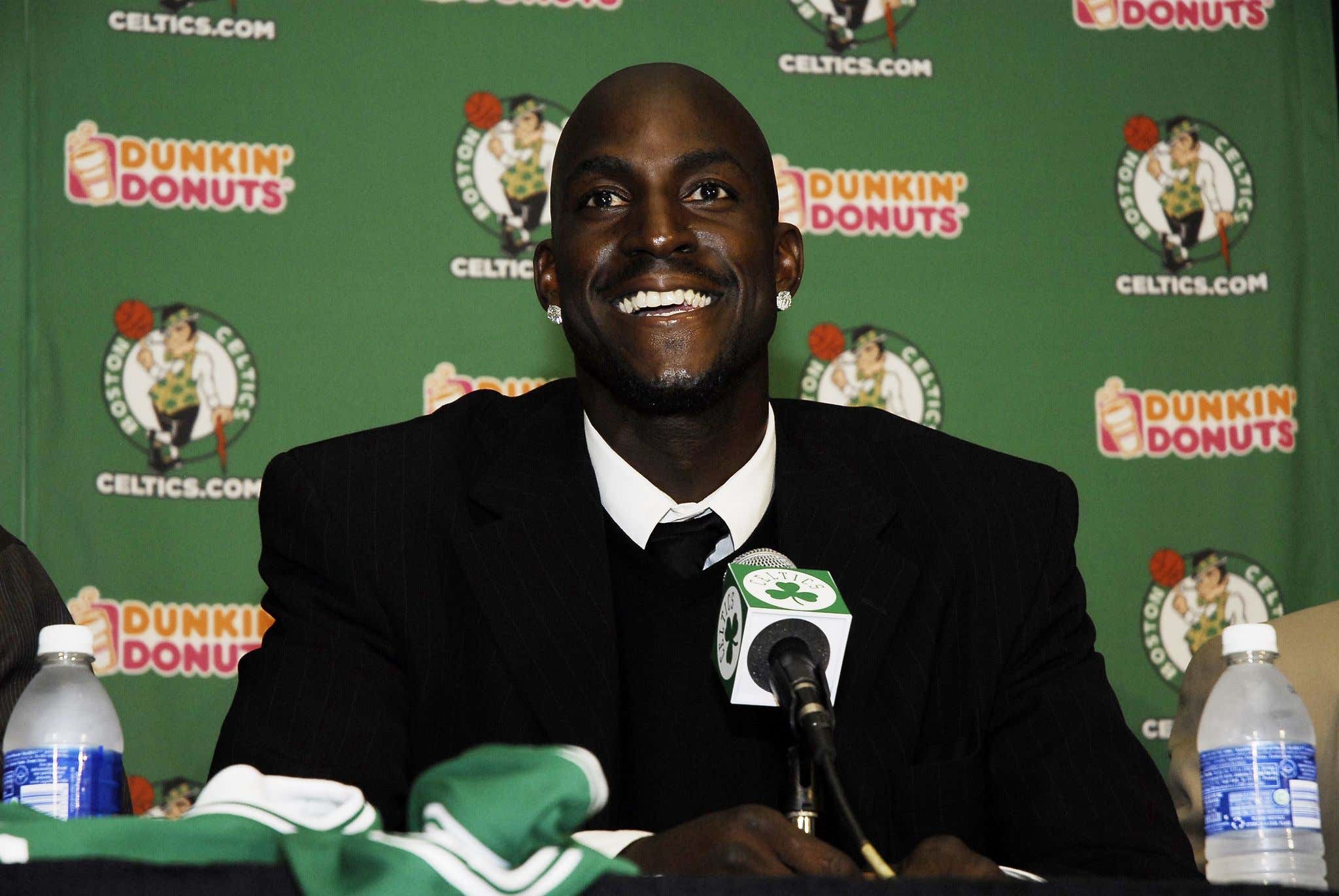 Brian Babineau. Getty Images.
This guy…..was a Boston Celtic
When I say everything about my life would be forever changed immediately following that welcome press conference, that is not a lie nor is it hyperbole. KG showed up and immediately the Celtics were incredible. That first year they went 66-16 and won the fucking title. To this day, that remains the only Boston Celtics championship I have ever seen with my own eyes. None of that happens without KG. Sure you can talk about the ones they let slip away either due to injury or some late game collapses, but this is the reality. The Celtics would be inching closer and closer to 40 years without a title if it were not for this man. I cannot imagine that feeling considering the 14 years since the last one already feels like an eternity. 
So when you talk about KG's legacy and his candidacy to be raised to the rafters, I think you have to look at it through that lense of this most recent Celtics generation. Pierce and KG were ours. We didn't get to experience the magic of Bird or the dominance of Russell. All my life going to the Garden I would always look up at the rafters and see the championship banners and retired numbers and wonder if I would ever get to see shit like that while I continued to believe in Vitaly Potapenko. Thankfully, the answer to that is yes.
Everything about the KG experience was incredible. The energy in the building was palpable anytime he was on the floor. His pregame ritual became iconic. It took a while to get used to seeing at first because all I keplt thinking was "I cannot believe Kevin fucking Garnett is a Celtic". To be honest, I still can't believe it happened. Aside from the accolades, the production, the winning, what I'll always remember and love most about KG was how much he loved and embraced being a Celtic. Sure it took him some convincing at first to approve the trade, but once he was here it was like something clicked. You could have told me he was a 15 year Celtic for how he talked about it, the way he played, and the respect he had for the legends that came before him. 
Listen to Bill Russell man….
Those who fully understand and accept what it means to play for this city and to wear this jersey are few and far between. Those that get it and embrace it, become legends. That's how it has always been and will always be. Kevin Garnett did all of that right from the first second he touched a Celtics jersey. The stories we would hear about practice, what we saw him do in games, how he delivered in the postseason, the way he talked about being a Celtic, all of it. 
Today is a day that was never promised to us way back in July 2007, but one I think every Celtics fan hoped and pray would one day arrive. Now it has, and I can't think of a more rightful place for KG to spend eternity than right next to his buddy Paul up in the rafters amongst the rest of the legends of the greatest franchise the NBA has ever seen. 
There will never ever be another Kevin Garnett. What he did for this city, for this franchise, will be talked about for generations to come. To the young Celts fans in the stands that are looking up at the rafters today hoping that one day someone from their era will one day have a moment like this, today is proof that it absolutely can. 
And when it does, cherish it.