Featured Matchups For NASCAR Just Got Boosted in The Desert
Spider and I have been trying to highlight "Featured Matchups" every week for NASCAR's Cup Series races, and this week, the Barstool Sportsbook has graciously made betting these matchups a little more interesting for us greedy little pigs...
After opting-in and then betting at least $25 on any Featured Matchup for this week's Ruoff Mortgage 500 in Pheonix, the Sportsbook will add $5 in BONUS CASH for every position your chosen driver finished ahead of the driver they were pinned against.
The only catch is that the bonus awarded will not exceed what you wagered… So if you bet $25 and your guy wins 10 cars ahead of his matchup, you will only get a bonus of up to $25.
There are 4 matchups this week, but only one I care about… (lines can move)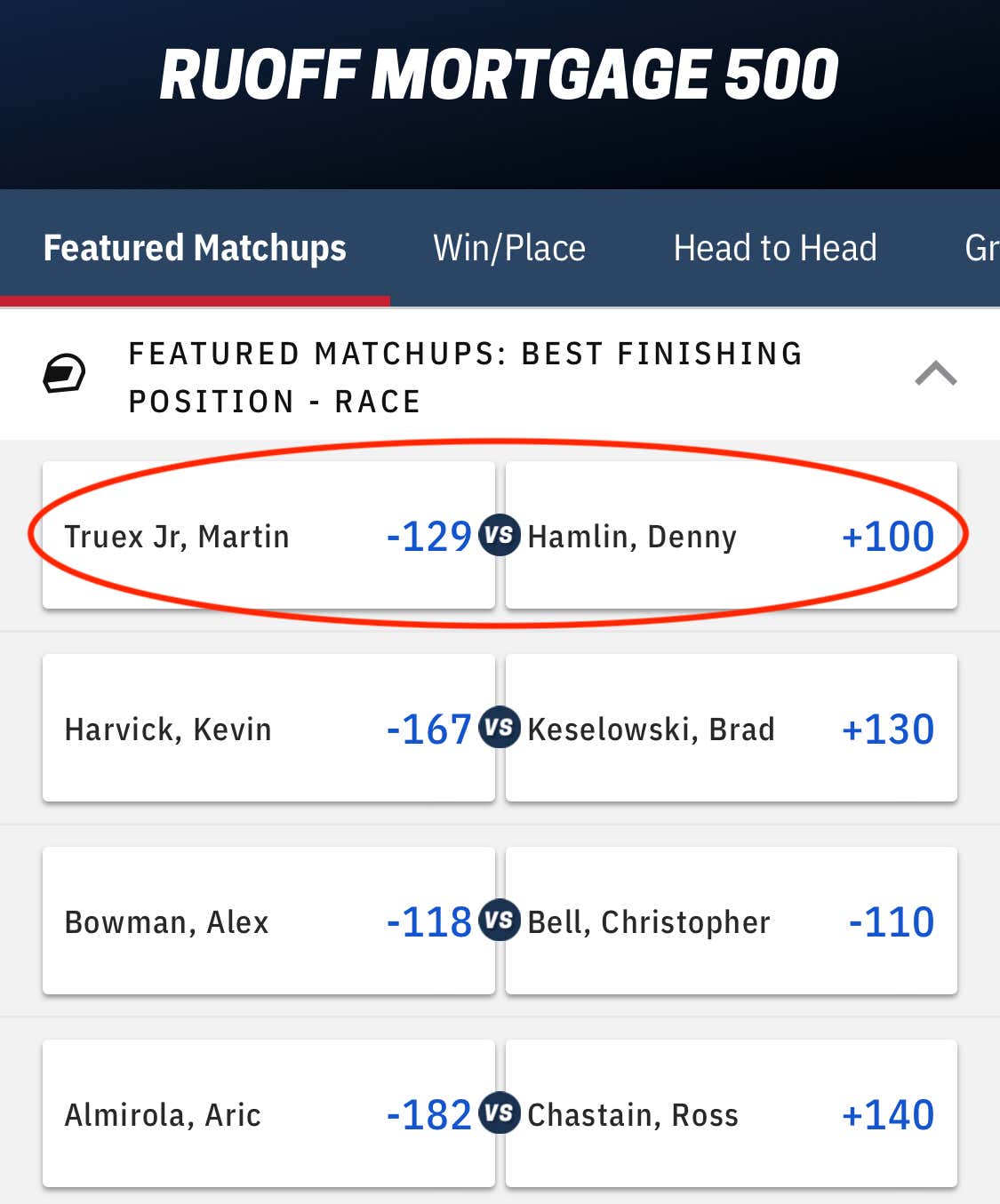 Denny Hamlin VS. Martin Truex, Jr.
A battle of veteran Joe Gibbs Racing drivers is the premier matchup this week… Both are among the best drivers statistically at Phoenix and were each in the thick of the championship battle at the venue last November.
- Truex enters Phoenix red-hot, sitting 2nd in points after nearly putting himself in position to win last weekend at Vegas prior to a late caution which shuffled him out of the top 2 before the final restart. Hamlin also showed strength in Vegas, possessing one of the fastest cars all race long and leading 31 laps early before an uncharacteristic driver error led to Hamlin blowing a drivetrain late in the race, effectively ending his day.
- Both drivers are among the series' best as of late at Phoenix as the pair finished 2nd (Truex) and 3rd (Hamlin) in last fall's championship event at the track… Plus, Truex won the spring race at the facility last year, and Hamlin won the fall race at the track in 2019.
My affinity for Truex is well-known, so there is no reason to jump off him now, and Spider and Denny are developing a relationship that many would envy…
So I just jumped on the #19 and Spider has Denny.
You can watch/listen along as NASCAR wraps up its West Coast swing with The Rouff Mortgage 500 at Phoenix Raceway's 1-mile, D-shaped oval today at 3:30 PM EST on FOX or SiriusXM NASCAR Radio.
Take a lap.
-Large