So Like I Was Saying About the Patriots Trading for Calvin Ridley ...
Icon Sportswire. Getty Images.
As reported by Adam Schefter and very capably blogged by Big Tennessee, Calvin Ridley is getting the one-year treatment previously meted out to NFL greats Paul Hornung and Alex Karras in 1963:
For Hornung, it was a fall from grace for man who earned the name Golden Boy winning the Heisman at Notre Dame and being the first pick in the draft by Green Bay. For Karras, it is generally considered the second worst thing he ever did, after only a despicable act of animal cruelty in Rock Ridge in 1874:
But aside from losing a season's worth of paychecks, gambling on football didn't leave a scratch on either guy. Both made it into the Hall of Fame. Hornung cut the ribbon on a sports book that opened in 2019. And Karras reputation was intact enough that he got to play the dad in one of the most unwatchably sappy, treacly family sitcoms to ever appeal to America's lowest common denominator, with an "Awww" to laughs ratio of about 30:1 per half hour. And that was 50+ years before the NFL started embracing gambling and letting casinos name their stadiums. 
Which might explain why Ridley doesn't seem to be too distressed about it:
Especially for a guy who took the last half of last season off to work on some vaguely articulated personal issues he was having. 
Which brings me to why all this matters to me. Because not a few hours ago I was talking about the Patriots being linked to Ridley in trade rumors. Rumors I was in favor of:
The first name that's been trending on Patriots Twitter has been Calvin Ridley. Who, as has been suggested by some could be had for their first round pick. Which might make sense in that way they established the going rate on Brandin Cooks was a first, both when they traded the 32nd overall pick for him in 2017, and then flipped him to the Rams for the 23rd pick a year later. …

[But] there's a much more reasonable deal that's being floated by ESPN's Bill Barnwell (paywall):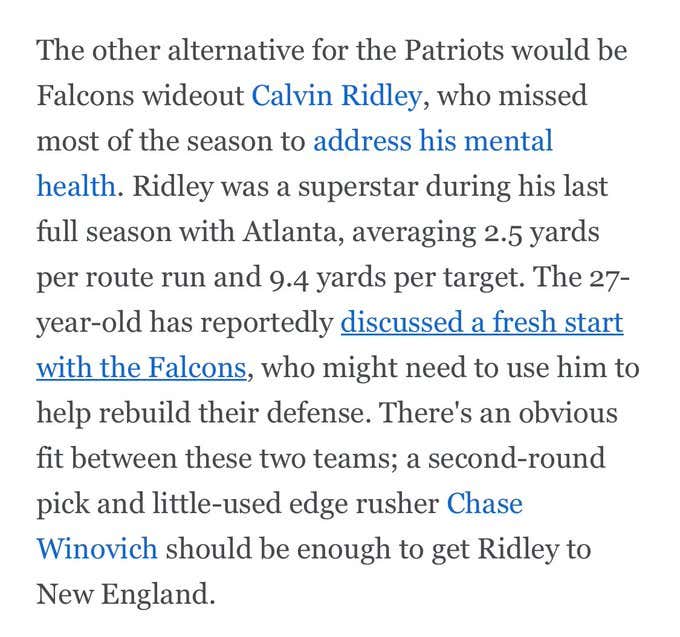 The Pats second pick, which is 54th overall, plus an expendable spare part they have replacements for? Um, yes please.
Yeah, about that. While I was offering a lot of caveats about my desire to get Ridley if his mental health situation was squared away, I should've added that it was also dependent on him not missing all of next season because he can't figure out how to bet on games without getting caught. Maybe my standards are too high and I need to cut a guy some slack, but that's a deal killer for sure. 
The question now becomes, how will the Patriots get punished for Ridley's indiscretions. I think it's safe to assume Roger Goodell has a Pre-Crime Unit in the basement on Park Ave, with precogs floating in a sensory deprivation tank who know Future Belichick was planning on swinging this deal of Ridley for a 2nd and Winovich. And so they must be punished. I'm thinking that they'll at least lose that 54th pick. And Winovich. As a warning to others not to obtain players who have gambled in the past. And if my post is what tipped them off, I regret that. But as Past Belichick has often said, I was just doing what's best for the team. 
Remember to gamble responsibly. 1-800-GAMBLER if you need help.