The Patriots are Reportedly Talking Trade for Some WR Talent and I'm All About That Life
Doug Murray. Shutterstock Images.
I believe that if there's one trait that all truly great artists share, it's that they are never completely satisfied with their work. From Mozart to Michelangelo to Shakespeare, it was in their nature to always strive to improve even their great masterpieces. Consider how Francis Ford Coppola continues to release new edits of "The Godfather" films. Or how Bob Ross was always turning his mistakes into beautiful birds. 
Or, look no further than Bill Belichick. In 2021 he won the NFL's Executive of the Year award, on the basis of one of the greatest free agent shopping sprees of time and a highly productive rookie class, which together turned the franchise he manages back into a playoff team. Yet in spite of all the money he spent completely overhauling his wide receivers and tight ends, he realizes it's not enough. Even though Pro Football Focus gives the Patriots the 7th highest receiving grade on the season (ahead of the Bills, Chiefs and Buccaneers, among 25 other teams), the analytics nerds' grades don't count for squat when there's Super Bowls still to be won on Mac Jones' watch. However good some people think that unit was last year, it wasn't good enough for the only opinion that matters. 
And therefore, Belichick sounds ready to rebuild his receiving corps for the second year in a row. Fortunately, this is the year to do it. The 2022 WR class is considered one of the best in recent memory, if not ever, with no less than six expected to go in the first round and eight prospects in the Top 50 on NFL Mock Draft Database's consensus big board. And the Patriots had meetings at the Combine with pretty much every one of them. And more. 
By the same token, four wideouts make pretty much everyone's Top 10 free agents list: Davante Adams, Chris Godwin, Mike Williams, and Allen Robinson II. It's a buyer's market for both new- and preowned models. And Belichick is on the lot looking to drive away in something better than he got last year. And, it would appear, he's coming with a trade in. In addition to the draft and free agency, the Pats are calling around looking to make deals. 
The first name that's been trending on Patriots Twitter has been Calvin Ridley. Who, as has been suggested by some could be had for their first round pick. Which might make sense in that way they established the going rate on Brandin Cooks was a first, both when they traded the 32nd overall pick for him in 2017, and then flipped him to the Rams for the 23rd pick a year later. But Cooks was and is guaranteed 1,000 receiver. Ridley has had monster seasons, including 2020 when he had 1,374 yards, nine TDs and a 15.3 yards per catch average. Last year he only played five games due to unspecified personal issues:
Assuming he's gotten the help he sought and is back in a place where he can return to football - with a change of scenery - there's a much more reasonable deal that's being floated by ESPN's Bill Barnwell (paywall):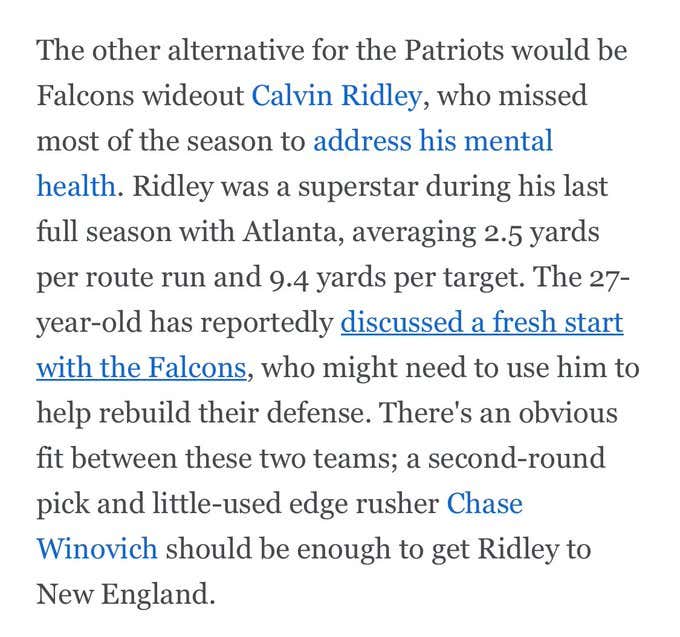 The Pats second pick, which is 54th overall, plus an expendable spare part they have replacements for? Um, yes please. 
Again, this presumes Ridley is OK and is capable of something approximating his pre-sabbatical self. Even his 2018-19 self, when he was good for 800 yards and had 17 total touchdowns, would be good enough to establish him as Mac Jones' WR1. And assuming the Nick Saban transitive property, it's safe to assume they'd have some sort of chemistry from having played in the same system. 
Then in the last day or so, another name has emerged:
Anderson is likely being considered the discount, off brand Ridley. More dependable by virtue of the fact he's only missed two games in his five season. And, assuming he's telling the truth about Belichick saying nice things while trying to sign him, someone the Pats have liked for a while. But there's no getting around his 2021, when he had literally half the production he had the season before:
2020 - Targets: 136, Receptions: 95, Catch %: 69.9%, Yards: 1,096, 1st downs: 49

2021 - Targets: 105, Receptions: 53, Catch %: 48.2%, Yards: 519, 1st downs: 27
And his analytics grades reflected the drop off year-to-year:
A reasonable question would be how much you can blame that on trying to catch passes from Sam Darnold and Cam Newton. And the even more reasonable answer is "fuck tons." But if I'm Carolina, I'm looking at DJ Moore having twice as many catches and yards and a Catch % 10 points higher and probably concluding it wasn't all terrible quarterbacking. And undoubtedly willing to listen to New England's offer. 
But I'm not Carolina. I'm just a charming Masshole who wants to see my wide receiver corps upgraded. And I'm seriously questioning whether Anderson is an appreciable upgrade from Kendrick Bourne or Nelson Agholor. Maybe I'd do a player-for-player swap of him for Agholor, just because I'm not sure Agholor ever going to be the fit here he was with the Raiders. But unless this is a situation where the Pats are really buying low, just giving up a Day 3 pick or some depth player to get him, I'd rather see them swing for the fences with a true WR 1 in Ridley. Then by all means, supplement him with one of the promising but less highly rated wideouts expected to still be on the board in Rounds 2 and 3. Just as long as we agree this is a currently a WR corps of all complimentary type receivers which needs a real game changer. Fortunately it sounds like Belichick is leaving no stone unturned to find himself one. 
P.S.  I'm proposing one trade that makes all the sense in the world for all involved, but I didn't get to it until now because it will change no games for anyone. Andy Isabella has asked and received permission to seek a trade from Arizona. He went to UMass. N'Keal Harry went to ASU. A simple swap of 2019 draft busts, each being given the chance to salvage their careers in the states where they played college ball seems like the most natural move in the world. One where everyone has everything to gain but nothing to lose. Make it so.