NASCAR and Showgirls...Featured Matchup for Week 3
Coming off of a thriller at Auto Club Speedway last Sunday, NASCAR heads to Vegas this week for the Pennzoil 400 at Las Vegas Motor Speedway... Deep in the land of heart-attack-inducing buffets and coked-out strippers...
(Saved By The Pole)
The biggest storyline coming out of last weekend was Kyle Larson's late-race surge into Victory Lane and his 'incident' with Hendrick Motorsports teammate Chase Elliott as the two battled for the lead in the late stages of the race.  
Larson and Joey Logano were racing side-by-side for the lead with 21 laps go when Elliott, running behind them, moved to the outside to pass both, and you can see in this clip that Larson's 5 car runs Elliott into the wall just as Chase makes that move to take him on the outside…
Chase was visibly (and audibly) pissed after it happened so the brewing intra-team rivalry at Hendrick served as inspiration for our Featured Matchup.
9 – Chase Elliott VS. 5 – Kyle Larson
This one's easy because, disregarding last week's smoke, this pair of young superstars are the two most accomplished drivers in the sport under the age of 30 with each having won a Cup championship in the past two seasons… Both while driving for the powerhouse Hendrick Motorsports organization.
Plus, they have shown significant strength at Las Vegas in recent races at the track… Larson won the spring race at Las Vegas in March of 2021, and Elliott finished 2nd in the Fall 2021 event at the track after a late battle for the win with Denny Hamlin.
As a result, both drivers have the shortest odds to win with Larson at +400 and Chase +700 currently on the Barstool Sportsbook.
But it's the Head-To-Head result I am more interested and the Sportsbook has it as its FEATURED MATCHUP…
I know Spider was upset when his boy Elliott was pushed into the wall last week, so I will gladly take the most recent Cup Series winner ahead of a kid who looks like he's about to fucking snap like he did with "Old Man" Harvick last season in Bristol…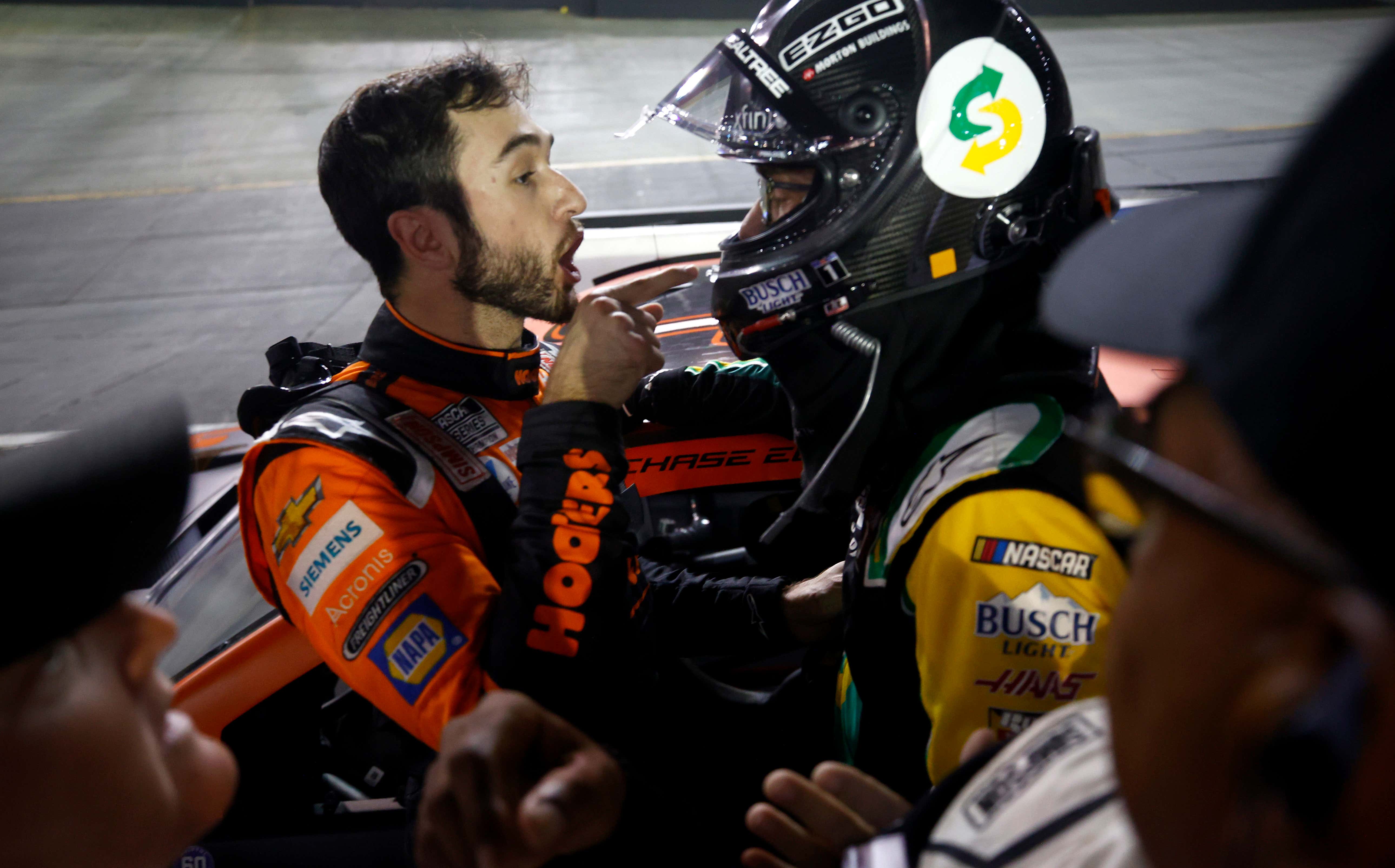 Jared C. Tilton. Getty Images.
They drop the flag on The Pennzoil 400 at Las Vegas Motor Speedway today at 3:30 EST, and you can catch it on FOX.
Take a lap.
-Large
---
Last thing…
As I was searching for a Showgirls GIF that was SFW…
… I came across a fact I wasn't aware of… They made a sequel to that piece of shit movie.
Showgirls 2: Penny's from Heaven starring an incredibly forgettable "Czechsploitation" actress named Rena Riffel… And it was AWFUL… Stay away.
But if you still crave a little bit of Vegas in your living room after NASCAR ends, I suggest you stick with the king of the stripper/dancer genre… 
…1996's STRIPTEASE starring Demi Moore…
TAR
-L