More Signs Suggest That Ben Simmons Will Be Ready To Play Against The Sixers In A Few Weeks
Steven Ryan. Getty Images.
One of the biggest storylines in the league once the games start back up later this week mostly revolves around two teams. We all want to see what the Sixers look like with Harden and Embiid, and we all want to see how the Kyrie/KD/Simmons trio works. Some of it simply comes down to injured players coming back, and I think it's safe to say most people have looked at that March 10th date and have it circled. Nets vs Sixers, in Philly. While at the time of this trade we really didn't have an idea just how close Simmons may be to playing, the latest buzz now says "weeks", not "months" Why is this relevant? Well, March 10th is exactly 16 days away. That technically qualifies for "weeks" from now, because it's basically two. 
I know it's just a regular season game in early March, but would it be crazy to suggest that might be the most anticipated regular season game in recent memory? My guess is the Nets would want Simmons to play in a game or two before then, but imagine if that's his debut? By then KD should be back, there's talk he'll be back within their first 2-3 games post All Star break, and since it's in Philly, Kyrie will be eligible. Mix in the Seth Curry return as well and my guess the ratings on TNT are going to be through the goddamn roof. The best part is everyone involved knows how big it's going to be and that it's not just some regular season game
Given what the standings might also look like by March 10th, we're looking at a massive, massive game for everyone involved from the players to the fans. Can you imagine if the Nets go into Philly and wax that team? If Simmons has a great night and shuts down Harden on the defensive end? That'd be wild. Then flip it. Imagine if the Sixers completely wipe the floor with a fully healthy Nets team? If the Harden/Embiid pick and roll is unstoppable? That's a big time statement. Remember, these two teams have a little bit of beef at the moment
which is why I am praying both sides are fully healthy and active for this game. We deserve it as fans. After having to live through all the Ben Simmons trade drama, the fact that this type of trade happened and then these two teams face off against each other post trade deadline is a gift from God. Both teams should need the win given how tight the race is in the East, so they'll both have a reason to actually give a shit and play their best guys. 
It's pretty important that the Nets get their guys back soon, because this is their post All Star break schedule 
You already have Kyrie talking shit about it
and for a team trying to claw out of the play in, that's a pretty tough stretch all with important matchups leading up to the date with the Sixers.
On Philly's side, things aren't as tough in terms of opponents to start their stretch, but once they hit March they'll have a series of legit tests as well
As a reminder, here are how things stand in the East as of today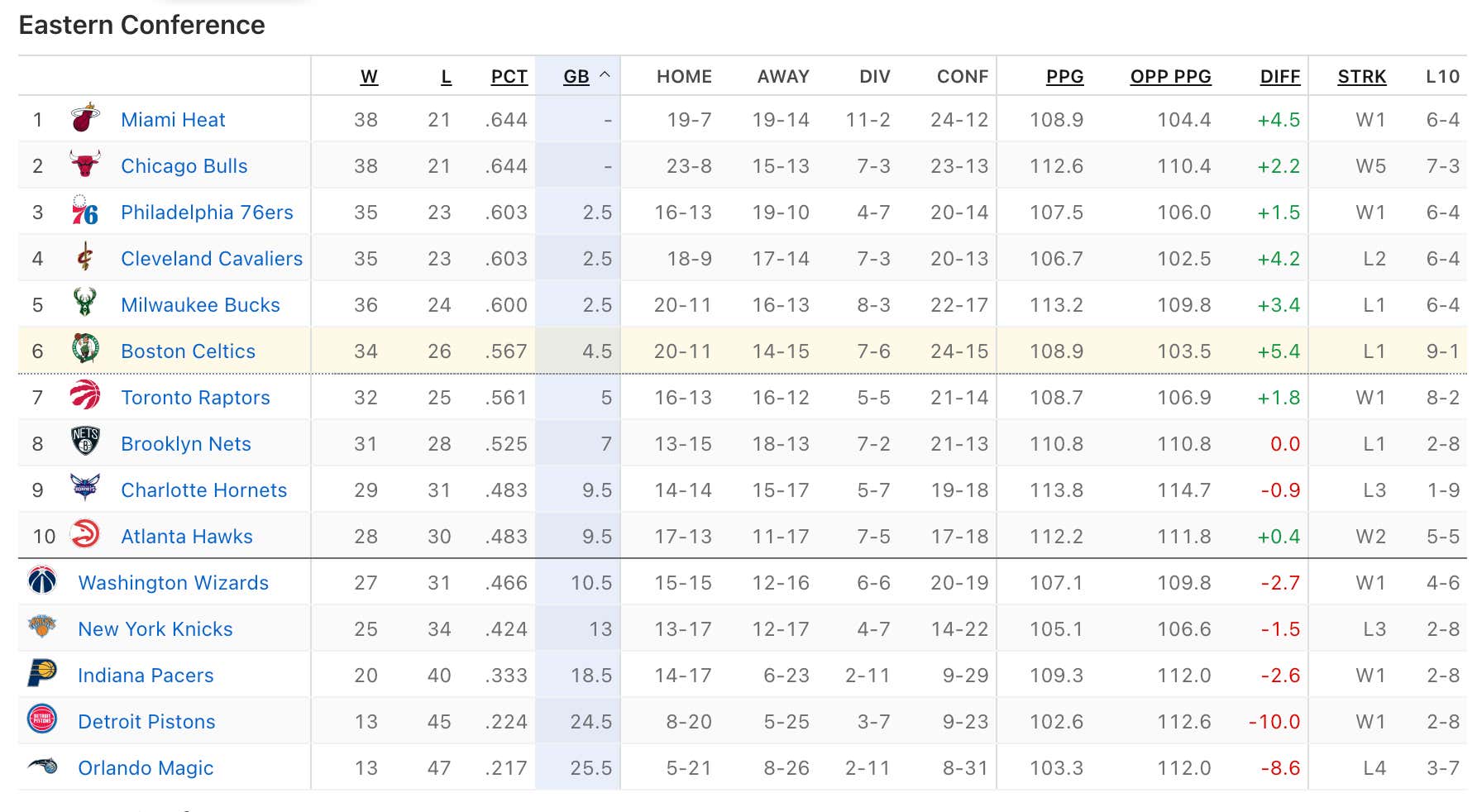 We are in for what should be an incredible final 22 or so games, especially if everyone gets back to being healthy after the break. The Heat, the Bulls, the Sixers, the Celts, the Nets etc were all dealing with little injuries here and there to their best players as we hit the pause button, so as a basketball fan, my hope is everyone is back and ready to roll for the stretch run.
Nowhere is that more true than that March 10th date. Give the people what we want. From the sounds of things, it looks like that's exactly what we're going to get.