I Want You Inside Me: HooDoo Brown BBQ
This is a long-ass food blog... You've been warned.
Last week, Ben Mintz and I made the journey out of midtown Manhattan heading North towards scenic Ridgefield, CT where we met my man Clem for some BBQ at HooDoo Brown.   
Clem jumped at the opportunity because it was close to his house AND it meant he would finally cross Co-Host After Dinner Mintz off of his Bucket List.    
I'll cut right to the chase for those who don't feel like reading- It was fantastic.  Arguably the best BBQ you can get around NYC (even though it is NOWHERE near NYC), and I highly recommend the place.
And for those who don't mind reading another 2,000 or so words on smoked meats, here we go…
Mintz and I are about to embark on our first competitive BBQ adventure this April.
Last year, Ben took Willie and me down to New Orleans for a food and music festival called Hogsfest, and I fell in love with it.  The band lineup was great, the beer was ice cold, but the focus of the event was the BBQ competition.  
I believe there were nearly 100 BBQ teams competing, and the names of all those teams had to have some reference to either pork and/or BBQ.  Cherrypicking some of the best names, if you ever make it to Hogsfest, you too can taste delicacies from:
2nd Hand Smokers
All Hail The Curly Tail
Beers Fly When Pigs Die
Chits & Piggles
David Hasselhogs
DeSwine Intervention
My Hammy Vice
Silence of Da Hams
Sweet Swine O' Mine
and Swinel Richie
Mintz and I embedded with one of the teams for the first day (which was boozy)…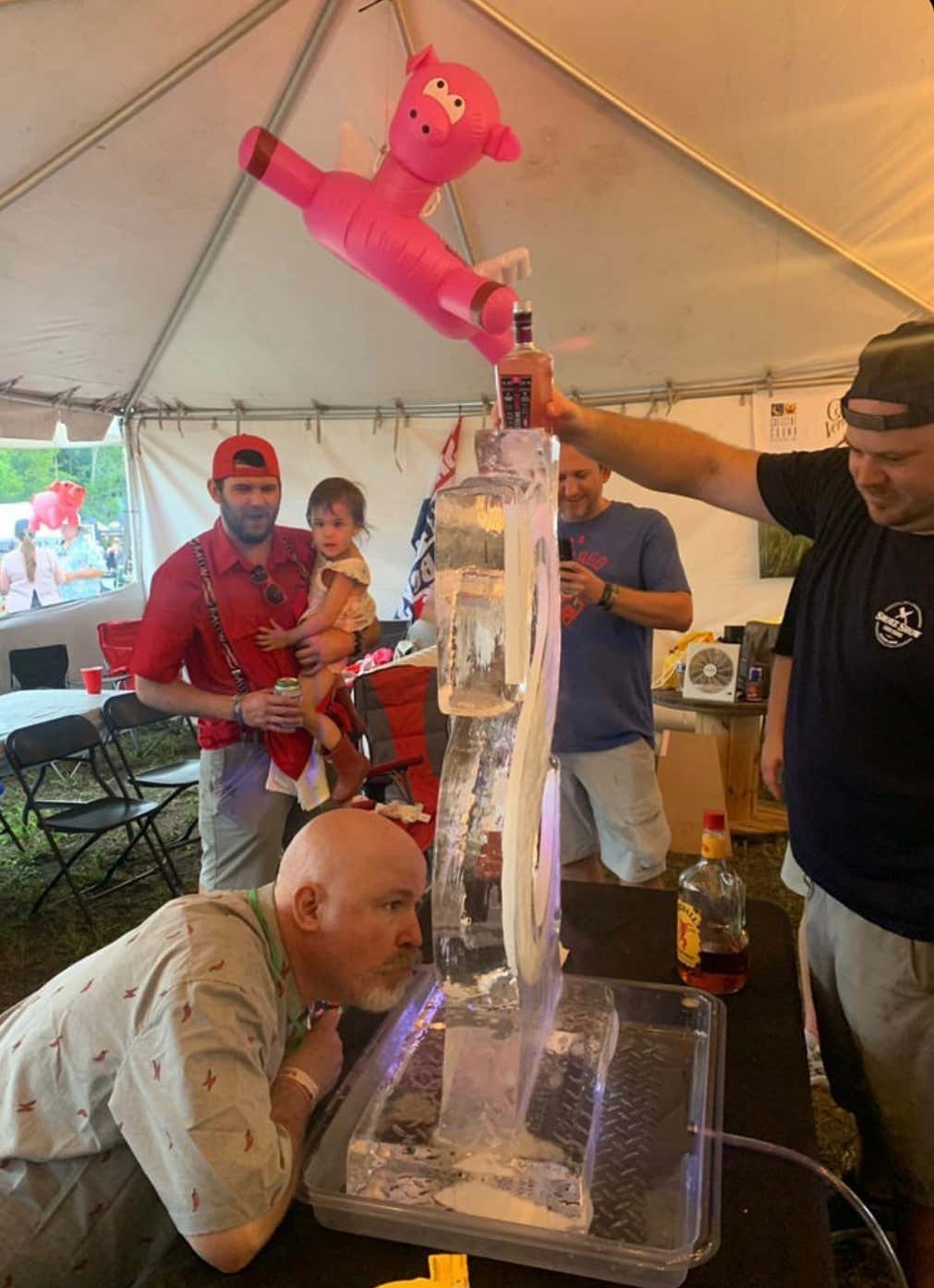 … and then spent the second day as judges in the Ribs and Pork-Pourri categories (which was friendly). 
"Sup, fellas!"
This year, we are going back, BUT THIS TIME, we are going back as competitors.
So along with Chef Donny, Glenny, Meghan Makin' Money, myself, and future Hall-of-Famer Nick Mangold, Mintz has enlisted the help of a couple of BBQ legends to help our team out.
I will not steal Ben's thunder on this, but I will say the proceeds from this event go to the organization that runs it… Hogs For the Cause.  These fucking angels are based in New Orleans and work with local and national children's hospitals to offer monetary relief for families with children who suffer from brain cancer.  Along with dozens of other teams, part of our involvement this year will be raising funds for the charity, and I will be proud to do it.    
But, again, Mintz will probably be driving that ship.            
What does this have to do with my meal in Connecticut?
Well, as luck would have it, the gentlemen who own HooDoo Brown BBQ also compete in HOGS every year, so part of the reason we made the trip North of the Wall was to spy on our competition. 
Let's get to the food…
Clem, Mintz, and I casually strolled in right before they opened on a random Tuesday, and the owner Chris Sexton (a long time Stoolie) rolled out the red carpet.
As soon as we sat down, a mason jar filled with bacon was plopped down on the table while Chris gave us a quick tour of the menu…
Right after the bacon, the wings were brought out.  HooDoo smokes theirs on the same outdoor rigs that house their other meats…
After they are smoked, they give them a quick fry and then a toss in the sauce…
I don't feel the need to blow this place more than I am about to, so when I told the owner the best smoked chicken wing I ever ate was at the Peg Leg Porker in Nashville, he was in no way insulted, and he actually agreed with me… Made me feel like I knew my shit, and it was refreshing to see a chef compliment a competitor.
After the bacon and wings, came dinner…
Similar to how we beat the phrase Saturdays Are For The Boys to death, the comedic minds at HooDoo coined the phrase Everyday Is Platter-Day… So a platter filled with their finest fare was soon brought out.
Look at this fucking thing…
(It's goddamned gorgeous.)
Let's take a clockwise tour starting at the pickles and making our way around.
- Homemade pickles next to a giant beef rib that is right above their brisket.
- The cracklin' pork belly is below the brisket and right next to a small mound of pulled pork and a small container of pico de gallo.
- Finally, the pork spare ribs are directly below 2 different types of homemade smoked sausage.
And then that little sidecar above the platter contained the following sides:
cornbread
collard greens
potato salad
apple vinegar coleslaw
pit beans
mac & cheese
Oh… And the Special of the Day was smoked prime rib, which they sent out separately, and Mintz refused to share with me or Clem.
In all, the food they sent out was meant for at least 5-7 people, but the three of us ate everything like we collectively had 5-7 assholes.
I like to get granular on dishes, but the sheer number of different offerings is overwhelming.  Therefore, if you like a deep bark and a nice smoke ring on meat that retains a great deal of juiciness throughout the smoking process, then HooDoo's brisket, ribs, and pork will not disappoint.
Similarly, the sides are all better than the bullshit versions of these dishes that you get in other less-authentic BBQ joints.
Chris and his partner in the restaurant, Cody, are students of the cuisine, and travel around the country tasting all the finest BBQ and then honing their own menu to a sharp edge.  So even though Ridgefield, CT doesn't normally pop up on BBQ destination sites, I promise you that this place is legit.
The two dishes I will comment on with a little more detail are the sausages and that pork belly.
First, the sauseetch…
Their smoked sausages are created in-house by a gent named Tyler Hodge, the self-proclaimed Sausage King of Connecticut.
We had two different types: the Jalapeño Cheddar (the two on top), and a special for the day: Cacio e Pepe…
I have had jalapeño cheddar sausage before and this is the best I ever had… The cheese didn't just disintegrate into oil that leaks out as soon as the sausage was cut, and the roasted jalapeño component was visible in the sausage and pleasantly palatable on the tongue.
But it's that fucking Caci e Pepe sausage that knocked me out.
For those who don't know, Cacio e Pepe is Italian for "cheese and pepper," and it's the name of a simply made Roman pasta dish that consists of spaghetti, black pepper, pasta water, and Pecorino Romano cheese (I throw in a little butter and crushed red pepper because I am fat and spicy).
It's the easiest dish to make and it is delicious, so the Sausage King of Connecticut took this iconic Italian recipe and stuffed it into a fucking sausage.  
It's lightly smoked (that's why the inside is lighter in color) because the bulk of that smoky flavor is purposely replaced with a deep funk of grated Parmigiano Reggiano throughout the link coupled with a pop from the coarsely grated black pepper.
It took me by surprise because it didn't have a Southern BBQ sausage profile nor did it have that fennel-y aftertaste of traditional Italian sausage… It was a perfect blend of both, and it was extraordinary.
The last dish I will highlight… And I appreciate anyone who has stuck with this so far… Was the pork belly.
Now, I make pork belly at home.  Whether it be homemade chicharrones, rolled-up porchetta, or sliced raw pork belly that I cube like a chicken fried steak, marinate in this Korean marinade, and then throw on the grill.
There's an argument that I not only make pork belly but that I also have a pork belly of my own hanging directly below my pendulous breasts.
Either way… I like pork belly more than most, and the way HooDoo prepares theirs is better than most.
It's salted, smoked, and then finished in the oven… Which sounds simple enough.  But however much they salt, and however long they smoke, and then however long they bake gives this fucking thing a top layer of skin that cracks like glass… Closer to a Peking duck than a cracklin'.  And the fat in the middle renders through the meat so there is no offensive amount of fat waiting for you as you bite through.  And then the bottom of the meat caramelizes slightly in the pan, adding another texture without any risk of drying put because of all that fat that is rendering its way from above.
You taste nothing but pork and salt… Like God intended when she created pigs.  But you taste those 2 things with three different textures, and the experience is AWESOME.
I hope to fucking God that they don't do this at Hogsfest.
Fuck!
I forgot one last thing. 
BBQ joints aren't known for their desserts, but the staff forced desserts on us and the three we tried were all home runs. 
A Banana Bourbon Cream Pie with a Nilla wafer crust… A Chocolate Chip Bread Pudding swimming in some type of salted caramel glaze.… And a S'mores Ice Cream Cake.
Just like the rest of HooDoo's food, we wiped these out as well… One member of our group, in particular, had more than his fair share…
Okay… That's it. 
Let's sum up… I am recommending that you take a trip to a BBQ restaurant in a small town in the middle of Fairfield County, CT that has (for me) become the only dining destination in the state outside of New Haven pizza. 
(If you have other "must try" spots in the Nutmeg State, I would love to hear about them.)
Plus, on any given night the dining room is packed and the majority of diners are from at least 45 minutes away (it took me an hour and forty minutes), so you won't feel like a fucking moron for taking the drive. 
Tell Chris I sent you and enjoy. 
IWYIM
-Large