What the fuck is NASCAR doing this weekend?
I'll tell you what they're doing… They're switching shit up. 
In the past couple of seasons, NASCAR has bastardized its schedule to include more road courses and dirt races.  Every sport makes tweaks to appeal to its audience, and since NASCAR really cannot fuck with the drivers (for example: make Kyle Larson wear an eyepatch) they have to fuck with the tracks.
But this weekend they went WAY out of the box and turned the Los Angeles Memorial Coliseum into a 1/4 mile NASCAR track for their annual pre-season NASCAR Cup Series exhibition event held before the season-opening Daytona 500 later in February.
What exactly did they do to the Coliseum?
I know the answer.
The Coliseum always had a track around its football field, so all NASCAR had to do was bring in 3,840 feet of temporary track walls, 9,200 cubic yards of base material, 1,400 feet each of catch fencing and safety barrier, 6,800 yards of asphalt infield paving, and then another 6,900 for the track. 
Easy peasy.
The construction started in December. and all of that shit will be removed once the race ends.
How big is the field?
I know that answer also.
36 drivers competed in a single lap qualifier yesterday (Kyle Busch set the fastest lap in single-car qualifying runs), and those drivers are split up into 4 Heat Races today.
The top four finishers from each of those 4 races advance directly to tonight's Clash (that's 16 drivers so far), while the fifth through tenth are split into two 50-lap "Last Chance" qualifying races.
The top three in each Last Chance race will also move on to the Clash (so those six plus the other 16 make 22) along with the highest finishing driver in the 2021 season that did not qualify through the heat races (and that one more wakes 23).
And that's how we get those twenty-three qualifiers who will race TODAY at 6 p.m. ET. in the 150-lap Main Event- The Busch Light Clash at the Coliseum.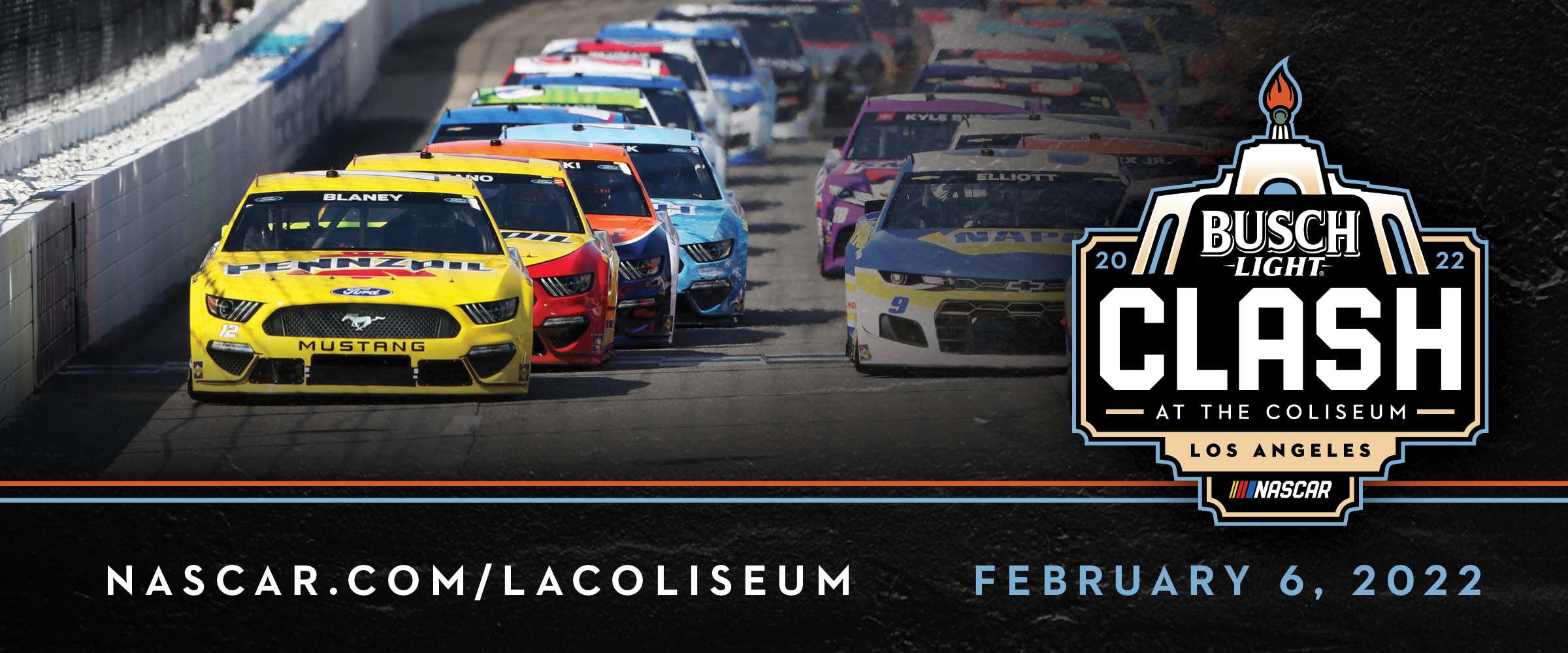 It'll be interesting to see how smoothly NASCAR can pull this off because I think you have an equal amount of casual fans wanting to see this break-from-the-norm to do well alongside traditional racing purists who are rooting for this to fail miserably.  
Personally, I'm pumped to watch that shorter final race (those 150 laps will only amount to 37.5 miles) and I am curious to see how much more contact we'll see between cars on this tiny bullring that is a quarter-mile shorter than any other track on the Cup Series circuit
AND to compliment the unique venue, this weekend will also be the debut of the all-new NASCAR Next-Gen car.
PLUS, Pitbull is set to perform a 45-minute pre-race concert, and then Ice Cube is scheduled to perform during a 10-minute break halfway through the race…
So there is a lot of shit to watch out for within today's festivities.
Spider and I are here in California for all the festivities and Jeff D Lowe is taking a break from making people like fucking morons on The Dozen to watch the race with us as well. 
We'll have an interview Martin Truex Jr. drop a little later today, probably just on social since we'll be at the race… We typically interview the previous week's winner, but this being opening weekend, NASCAR gave us a choice of anyone, so I went with the old guy from New Jersey who has very handsome fans.  
With my help as an athletic supporter, Truex finished second in the Cup Series last year behind Kyle Larson and is obviously looking to build on that.
You can watch the Busch Light Clash at The Coliseum later today at 6 PM EST on FOX…
Enjoy the races… Take a lap.
-Large