Last Night Was PERFECT For College Hoops And Exactly What The Sport Needed
I'm not even exaggerating or hyping up the sport I love the most here. Last night was perfect for the sport and exactly what the sport needed. It's not exactly a secret it's somewhat of a niche sport, with diehards watching the entire season, casual fans starting to watch starting this week with football winding down and even more in March. It's just how the season goes. But for those who really started watching last night? Pretty fucking good night to join in. Just take a look at the scores from the top-25: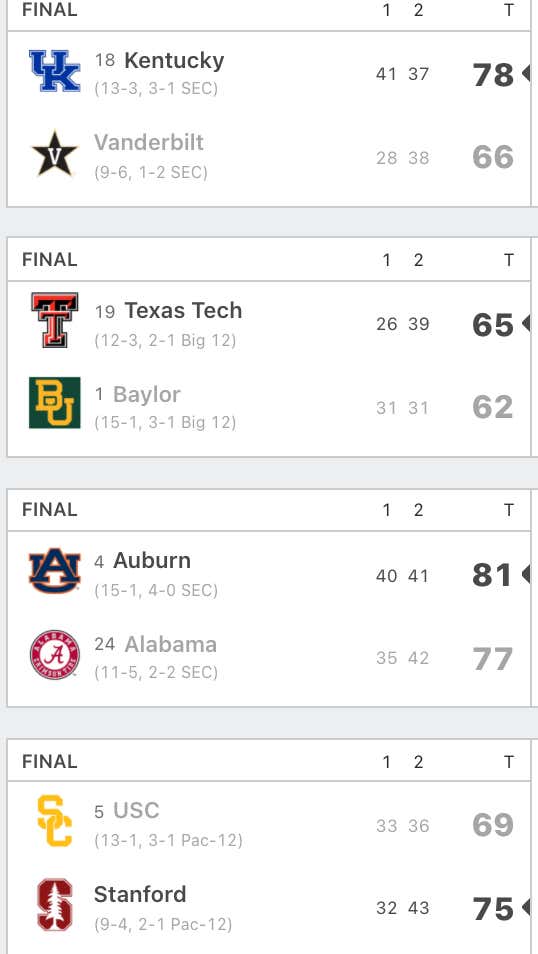 Allow me to explain even more - including videos! You see I don't have a podcast - maybe I should just ask for one?  - so you're going to my entire rambling here. 
Baylor losing - actually good
Why is Baylor losing actually good? Well, they were dangerously close to running away with being a clear cut best team. That's not the case. Losing at home when you're up 15 to a decent team, but a team that struggles offensively, is going to raise some concerns. Was it just an off night, are there bigger concerns? That's what we'll see down the line. But the last few years college basketball has been really dominated by just like two teams a year. Last year it was Baylor/Gonzaga. The year before that it was a little more open with Dayton joining Kansas, Gonzaga and Baylor. But the gap between these true title teams and others have been pretty far. That's not the case this year. I've said it before you can make a case for about 10 teams right now. Parity is what makes this sport awesome and we are going to get a WIDE open NCAA Tournament. 
Auburn might just be the best team in the country
Now we have Auburn potentially being the best team in the country. Going on the road and winning at Alabama, winning it in the last minute of a tied game. They have who probably will be the No. 1 pick in the country in Jabari Smith. It's sort of what I talked about before. You have a team who has just one loss in 2OT to UConn in the Bahamas. More importantly they now have wins over LSU, Florida and Alabama in the SEC. 
Kansas and Iowa State ending is what basketball should be
Give me basketball like this. Dudes hitting shots, no timeouts, just go play. I despise when people yell about coaches needing to call timeouts. Fuck that. Go play ball. Plus, you get defense scrambling. You know what play to call, you know what set to run. Get into it and go. That's what happened here. Tough ass finish by Dajuan Harris to win the game, but credit to Iowa State here. They were supposed to be bad. It's first year for TJ Otzelberger and he's damn good. The Big 12 is just going to be unreal, again. Baylor, Kansas, Texas, Texas Tech, Iowa State, Oklahoma State and WVU. They are all good enough to make the NCAA Tournament - well, if the NCAA didn't fucking stink and ban Oklahoma State this year. 
No more undefeated teams
USC lost to start the night. Look, they are good but I never thought they were 5th in the country good. But more importantly we now don't have the 'will x team go undefeated' talk. We had it last year with Gonzaga. Frankly, I enjoy when that narrative is out of the picture and we can just stupidly argue about whatever we want instead. 
Kentucky won
Hey, I said it was perfect for me. Suck my ass. 
Miami is still very average 
This was not good for the ACC. Miami had a chance to get another decent enough win and really solidify itself as the 2nd best team in the conference. But they lost on free throws late to Florida State. Duke is 15th in the NET. Then they don't have another team until UNC at 35. Miami is down at 81. Look at KenPom and Duke is 12, next team is UNC at 29. Miami is down at 77. My point is the ACC is still a mess with Duke and then a whole lot of average. Someone has to start winning games there.