The Time Has Come For 41 Stone Cold Facts That Help Tell The Story Of The 2021-22 Boston Celtics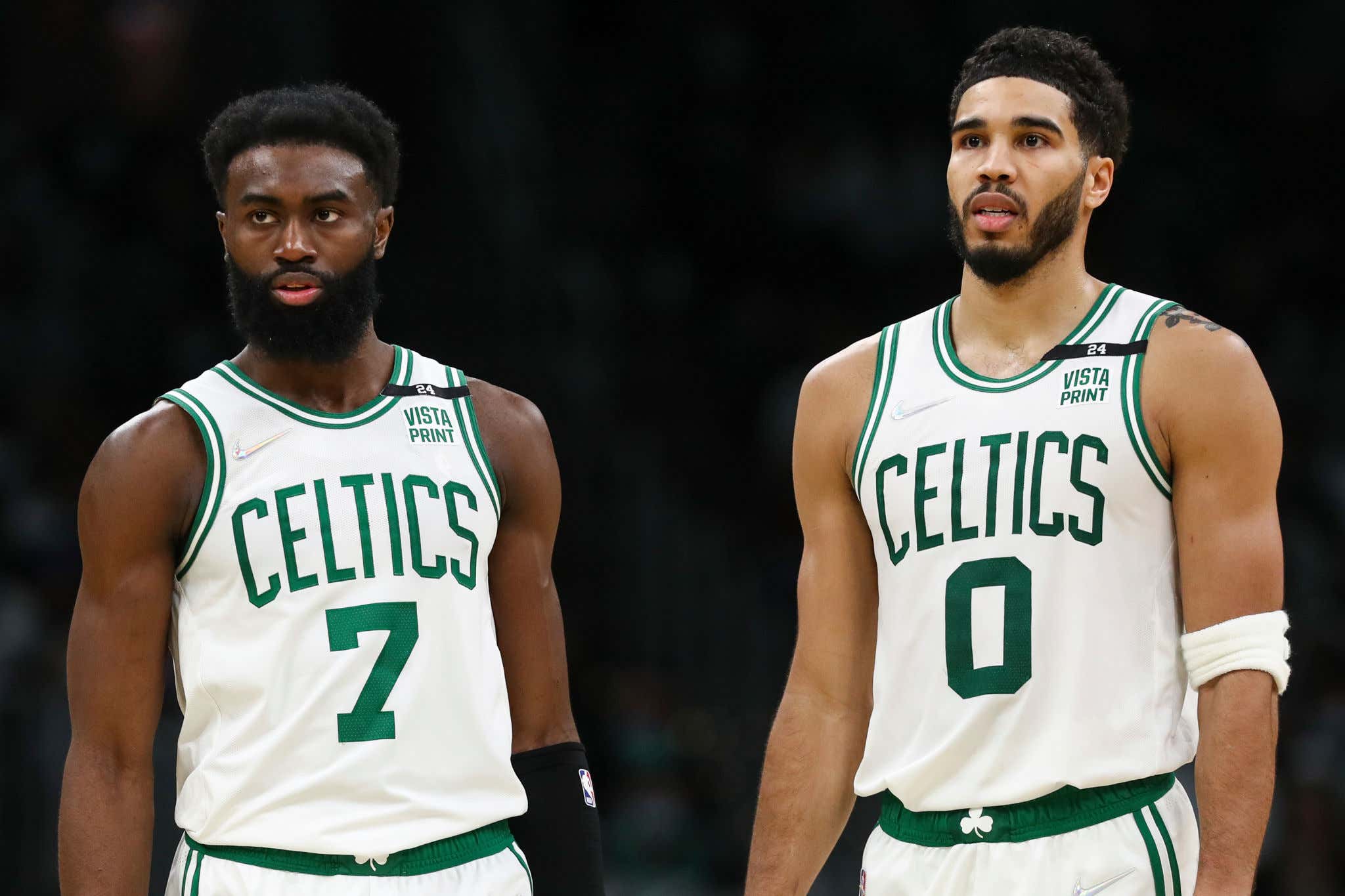 Adam Glanzman. Getty Images.
We are now 41 games into the Celtics season. Exactly 50% of the way through, and they stand at a disappointing and frustrating 20-21. Regardless of the context that might surround that record, anyone who is a fan of this team will agree that is in no way good enough. But that doesn't mean things are also as bad as the doomers will have you believe. That brings me to this blog. It's time for 41 undisputed facts that tell the story of this team. There is nothing subjective about what you are about to read. Some are awesome, some are bad, and some are downright pathetic. There are no "hot takes" about if someone has the "it factor" or whatever the hell people try to say that they can in no way prove. You want to know how to explain the first half of the season and what goes into what we're watching? I'll be happy to tell you. Let's begin
1. At 20-21, the Celts are currently the 10th spot in the East and are currently on pace to win just 40 games.
2. Their 11 wins against teams .500 or better are tied for the 2nd most in the Eastern Conference and are the 4th most in the entire NBA. On the flip side, their 14 losses against these same caliber of teams are tied for the most in the East and are the 2nd most of any top 10 seed from either conference.
3. The Celtics currently own the 5th best defense in the entire NBA with a 106.8 Drtg. They trail the Clippers for 4th by just 0.2.
4. Offensively, things are a disaster coming in at 24th with a 108.1 Ortg. Only the Clippers are worse from a team that sits in the top 10 seeds. 
5. As a team, the Celts run isolation with the 4th highest frequency in the NBA at 9.1% of their possessions. They currently rank in the 69th percentile in isolation and shoot 39.8% in that set. Their score frequency is 41%, which is 10th in the league.
6. At just 22.7 assists per game, this puts the Celts 23rd in the league. In terms of AST% the Celts also rank 23rd at 57.9%. For comparison, the Sixers are 22nd at 58%, Bulls are 24th at 57.6% and the Bucks are 25th at 56.5%
7. The Celts own the 2nd worst clutch time record in the NBA, coming in at 8-16. They are shooting 43/30% in these situations, and they average the 3rd most turnovers of any team in the league (1.3) during this time. 
8. The normal intended starting five of Smart/Brown/Tatum/Al/Rob have played in 12 games so far this season and 145 minutes. In those moments, they have a 109 Ortg / 91.6 Drttg / +17.5 net rating with a 61.6% AST%.
9. Jayson Tatum is 5th in the NBA in minutes per game at 36.7 and 6th in total minutes at 1359. 
10. Along those lines, the following players are experiencing a career high in minutes: Jayson Tatum, Robert Williams, Marcus Smart, and Grant Williams.
11. As a team, the Celtics rank 27th in bench player minutes at just 16.0 a night. The bench is currently shooting 41/35% on the season
12. The Celts have blown 4 separate games in which they have led by at least 19 points. That is twice as many as the next closest team.
13. They are now 3-11 in games decided by 5 points or less. That accounts for over half of their losses.
14. Jaylen Brown currently has the highest TOV% of his career at 13.1%
15. Grant Williams is now shooting 41.9% from three on 124 3PA. Of all forwards who have taken at least that many, Grant ranks 6th.
16. The double big lineups that include Al/Rob have been used in 24 games and 309 minutes. That pairing has a 98.9 Ortg / 101 Drtg / -2.4 net rating during that time.
17. When it comes to "open" threes, the Celtics are shooting 35.1%. This is good for 11th in the league. On "wide open" threes, they are shooting 34.4%, which is 27th.
18. A total of 7 different Celtics are shooting below their career averages from three. That list includes: Jayson Tatum, Jaylen Brown, Marcus Smart, Dennis Schroder, Al Horford, Payton Pritchard and Aaron Nesmith.
19. When it comes to defending without fouling, the Celts rank 8th in the NBA in fouls per game.
20. The Celts currently play with a pace of 97.35, which is the 23rd fastest pace in the NBA
21. Al Horford currently owns the 7th best AST% among big men at 19.3%
22. Rob currently owns a 58.8% BLK%. That is higher than the following big men: Embiid, Ivan Zubac, Clint Capela, Andre Drummond, Jarrett Allen, KAT, Jokic, Horford, Vucevic, AD, and Ayton. He ranks 5th in blocks at 2.2, just trailing Rudy Gobert at 2.3.
23. The Celts remain one of the worst 4th quarter teams in basketball, ranking 26th in offense, 24th in defense, 29th in net rating, 26th in AST%, 24th in TOV%, 24th in points, 27th in FG%, 27th in 3P%, and 29th in AST.
24. Josh Richardson is shooting the best we've seen since his rookie year from the floor (45.6%) and his 40.6% from three on 101 3PA is also the highest since his rookie year (46% on 115 attempts).
25. Jayson Tatum is shooting just 39% from 3 to 10ft and just 28% from 10 to 16ft so far this season. At the rim, he's only shooting 65%. That's down from 73% last year.
26. The Celts rank 4th in the NBA from the FT line shooting a collective 80.6%
27. Of all the top 10 seeds in the East, the Celts have beaten everyone outside of BKN/CHI (played both just once). 
28. Their 7 losses against teams under .500 is tied with MIL for the most of any team in the top 10 seeds. Four other teams have 6.
29. In clutch time situations Jayson Tatum is shooting 37/10%. Al Horford is shooting 28/33%, Marcus Smart is shooting 33/50%, Schroder is shooting 51/22% and Jaylen comes in at 46/41%.
30. In catch & shoot situations, the Celts are shooting 34.8% from the floor (24th) and 34% from three (26th). Their eFG% is 50.6%, which is 26th.
31. On pull up jumpers, they are shooting 35.9% (23rd) and 30.5% (21%)
32. The Celts average 289 passes a game, which is the 12th most in the league.
33. In terms of cutting offense, the Celts only do this 6.5% of their possessions which is 18th in the NBA. They should probably do it more, since they rank in the 82nd percentile. 
34. The Celtics lead the NBA in spot up shooting frequency at 28.0% of their possessions. They have a 37% FG% in those situations and rank in the 58th percentile.
35. At 13-6 in games decided by 10 points or more, that ties the Celts with the 2nd fewest loses of any top 10 seed. That win total is tied for 4th most.
36. When Marcus Smart is on the floor, the Celtics have a +3.5 net rating. When he's off, it drops to -2.5. Their offense, AST%, net rating, TS% and pace are all better when he is on the floor.
37. This season Jaylen Brown is tied for his 2nd lowest FTA rate of his career at 25.6%. Tatum is actually at his 2nd highest of his career at 28.7%. Both have their highest 3PA rate of their careers this season. 
38. Al Horford is shooting 21.9% on "open" threes and just 30.6% on "wide open" threes
39. Marcus Smart is 3rd in the NBA in deflections (121), 1st in the league in loose balls recovered (47), 1st in total steals, and 7th in steals per game
40. As a team, the Celts have the 4th best defended FG% in the league. Opponents are shooting just 43.8% when being defended. Only GS, BKN, and PHX are better.
41. In the 4th quarter, the Celts are tied for 25th when it comes to defensive rebounding at 7.7. The 29th ranked team averages 7.6. They are tied for 26th in opponent offensive rebounding in the 4th, giving up 2.8 a game.
So you add it all up and what do you get? A mostly underachieving 20-21 team that at times shows flashes of being competent on the floor. That there are combinations that work and situations in which they have success in. Ultimately, they remain wildly inconsistent, and now you have a better idea why. They now have 41 games remaining to turn a lot of this shit around, so let's see them do it.