It Was Impressive That The Celtics Found A Way To Win Last Night Despite Playing Some Of The Grossest Basketball You'll Ever See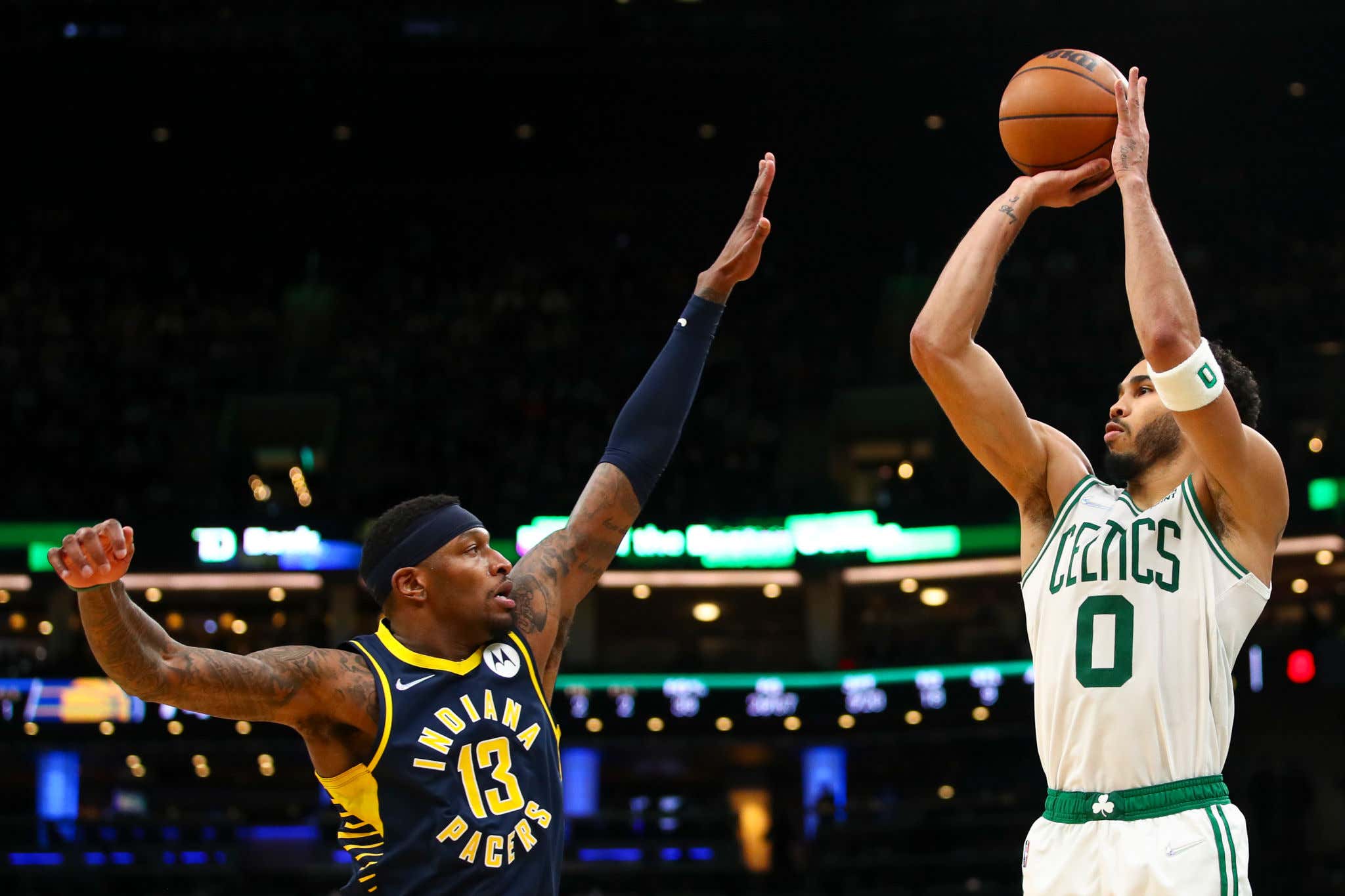 Adam Glanzman. Getty Images.
If we're in the trust tree, I'm not totally sure what you could call what we watched last night basketball. In fact, outside of the final score and a few plays down the stretch, I mostly hated how the Celts played. While it's a relief that they avoided what would have been another notch on the worst loss of the season belt, they still played like dogshit for about 95% of this game. At home, pretty much at full strength, and they were in a dogfight against a bad team missing nearly all their good players. That's never what you want. While I'll certainly take any win I can get right now, I also think we can agree that if the Celts play this way against pretty much any other team in the NBA with a pulse, they get destroyed. But at the same time, winning ugly still counts. You don't get 0.5 wins added to your record from a game like last night. Sometimes finding ways to win ugly games and ones you probably shouldn't win are half the battle. Especially for this team who will more often than not have an ugly performance. These are the type of games they've dropped all year, so it was nice to see what life is like on the other side. I am begging them to stop playing like this overall, but like I said after the Knicks win. I don't care how this team gets wins or who they come against. Just stack them. Consecutively if we're being honest. Every other team in the league can take advantage of their easy schedules, I need the Celts to continue to do the same. 
The only thing the Celts truly did last night was avoided disaster. Whatever, I'll take it. Nobody is throwing a parade or saying the season is fixed because they held on against a depleted Pacers team. But it was a win they needed to have, and they found a way to grind it out. They only partially collapsed but still found a way to win. Some might even call that progress. Not the type of progress where they aren't collapsing in the first place, but the type where they did it and still found a way to respond. Admit it, that was a pleasant surprise and not something you saw coming. 
So for now, the pain and suffering remain dormant. Will it last? Probably not, but let's not worry about that. Let's instead focus on how the hell the Celts won a game playing some of the ugliest basketball you'll ever see. 
The Good
- Jaylen Brown is making one hell of a push for an All Star spot. Not only is he 10000% healthy which is such a relief, he's starting to put up massive production on a consistent and nightly basis. Last night was just the latest example
Right after we watched Jaylen have a career high in assists (11), he responds with a career high in rebounds (15). Not only that, but he finished with 6 AST and 0 TOs in his 43 minutes. The efficiency from the floor wasn't what I would call good (11-26), but he was 3-6 from deep including some HUGE threes in the fourth, and when this team needed Jaylen to come through in big moments, that's exactly what he did. I thought he looked much more in control with the ball in his hands, and even on plays where his handle looked a little shaky, he still found a way to make plays whether it be a bucket or assist. That needs to be cleaned up, but it's hard to argue with what Jaylen is doing on the floor right now. 
Since he returned on December 13th, so basically a month, we're seeing 26.8/7.9/3.57 on 46/37% with 3.1 3PM from Jaylen in those 13 games. That's as legit production as you'll find from any star in the entire league over that span. Nobody is saying he's been perfect, nobody is saying there aren't things to improve on, but Jaylen has been giving this team All Star level production basically for the last month. His season long production is essentially identical to his All Star season last year. 
- There was a time when people would give you shit when you talked about how valuable Robert Williams was to this team. Well, who's laughing now? You could argue he's no lower than the 3rd most important player on this roster, and that might even be too low. I'm not sure what I love most about Rob's season. What he's actually doing on the floor
or the fact that he is out there every night and played 41(!!!!!!!!!!!!!!) minutes last night. Ime needs to be pretty careful with that given that we are now in uncharted waters when it comes to Rob's availability, but there is no denying that every second he is on the floor Rob finds a way to make an impact on both ends. Every single night are more and more examples of him doing cool shit on the court. It's amazing to watch and what we ALL knew he was capable of, despite only seeing it in small samples to start his career. I'll remind you, this player is 24 years old. He's making this type of impact all while not having really any sort of offensive arsenal. Imagine what he looks like with any sort of jump hook, 10ft jump shot or post moves? Scary stuff.
What I liked about Rob's night was it came against a good frontcourt. Sabonis is an All Star and people still tweet me about how good Myles Turner is and what a colossal fuck up it was to not trade for him. I dunno, 14/12/1/4/3 on 4-5 shooting seems pretty good. Given how poorly this team shoots the ball, Rob's putback ability cannot be overlooked. Defensively, he's getting so much better at reading plays on the fly and better timing his weakside help. He's blossoming on that end just like we always hoped he would
When Rob is locked in and engaged, it changes everything on both ends. I think we have enough of a sample of that to make such a claim. Also, tell me this doesn't fill you with joy
- I don't want to get ahead of myself, but I'm starting to wonder if Jayson Tatum has found his clutch gene again. This was now the second time in the last three games we've seen him come through with a game saving jumper (at that time). He came through twice in last night's game in the biggest moments. His game tying bucket and then the huge OT jumper were some of the biggest plays of the entire night
While that was crucial and important to the win, I also thought what he said postgame was just as notable
Hm. Interesting. 
- Shoutout Enes Freedom. He didn't play a lot, but those were some pretty massive 7 minutes he was on the court. At that time the Celts couldn't stop airballing shots, so it was nice to have Enes there to clean things up and score. He wasn't a total disaster defensively until Carlisle started attacking him in the P&R, and then Ime quickly took him out. That's really all I want from Enes. Come in, get easy buckets, and don't fuck things up too badly on the defensive end.
- Grant made 1 shot all night but boy was it a big one
What I loved about that play was we saw Jaylen give up a good shot, one he makes in his sleep, for a great shot with Grant. Not surprisingly, the Basketball Gods rewarded such decision making. It was nice to see Ime realize he doesn't have to close with a bunch of non-shooters on the floor, and while there are still issues with what we saw last night (more on this in a minute), give credit when it's due. He didn't overthink things, and it worked out.
The Bad
- Oh boy, where to start. I suppose the 3 point shooting would suffice. You'll never believe this but the Celts once again had a sub 30% shooting performance from deep. A final tally of 8-28 which is good for a solid 28.6%. I've lost count as to how many of these we've seen this season, but I know it's far too many. Sure, it's great to keep teams to under 100, but I'm not sure how much more Brad needs to see for him to realize that shooting is this team's #1 need. Let's just see what it looks like to not shoot sub 30% on a nightly basis. I legit think you can't even count all those type of performances on two hands. You need to start using your toes, which is a problem. 
As a whole offensively, the Celts shot 39.8% against a roster that had like 3 NBA players on it. It wasn't as if their approach was all that bad, only 28 of their 88 FGA were threes, they just couldn't hit anything. So many smoked bunnies in the paint, missed layups, it was all mostly gross. Their two best players combined to shoot 18-47. That's really bad. If you factor in Smart's 4-11, it's even  worse. Their three main bench guys combined to shoot 5-19 (2-9). Dennis didn't make a single FGA and missed 3 FTs. 
- The Celts bench was outscored 50-23. That's not exactly what I would call a recipe for success. Their second unit made the same amount of threes as the entire Celtics roster. For that to happen at home, well it's in this section for a reason.
- It wouldn't shock me if Marcus sits tomorrow night against this same team, but I am hoping his thigh contusion doesn't linger, especially with PHI/CHI coming up to end the week. We are just getting everyone back, all I want is a prolonged stretch to see how things look. We see the potential, the advanced metrics are all great, so fingers crossed there. If you have to sit him tomorrow, so be it. 
- What do we have to do for this team to not completely fall apart as soon as a game enter the fourth quarter. Just tell me what it is and I'll do it. I am desperate at this point. The Pacers had not scored more than 22 points in any quarter in this game, yet we get to the fourth quarter and what do we see? Exactly what every other collapse has looked like
Brutal play from their two best players for the majority of it, no offensive flow whatsoever, and even worse defense. Something to note here was even when Ime went to the more spacing/shooting lineup, we still saw how glaring a need there is for better shooters. The Pacers did not respect Grant/JRich one bit. They still doubled Tatum/Brown pretty much any chance they had, and why wouldn't you? The Celts won this game because those two made shots down the stretch. That's it. The "strategy" behind it didn't really make a difference. Their two guys just made big time shots when it mattered. They could have easily missed, and the closing lineup decision wouldn't have made a difference. How many times did we see this from the Pacers in the fourth
Tatum did a good job of moving the ball when doubled, but it just goes to show how important it is for Brad to find consistent shooting. Especially for these late in game moments. I would argue that the spacing still wasn't what I would call ideal in this final frame, so while they didn't completely blow it in terms of a loss, there is still a ton of room for improvement to close out these games.
The Ugly
- He may have redeemed himself, but Tatum was pretty bad for most of this game. The shooting was brutal at 7-21 (0-7), and the turnovers, my god. Under no circumstances is it acceptable for him to finish a game with 8 TOs. He finished with more TOs than FGM! I'm sorry, but if you do that, you have to be mentioned in this section. Smart did the same shit. Again, the way Tatum ended was massive, they don't win the game without him, but they also aren't in a dogfight against a 15 win team without how he played the initial 95% of the game. The shooting is whatever, that's not new. But the TO issue is something that cannot happen.
- That wasn't just a Tatum problem though. As a team, the Celts finished with 20 TOs. That is so pathetic. Those turnovers led to 18 Pacers points. You want to know why this was a game? When you can't shoot for shit and won't stop turning the ball over. That's exactly how you lose to bad teams and it's one of this team's biggest issues. The reason they are in all these close games is because they play with their food against teams like this. They are careless with the basketball and give up easy points. You shoot 39/28% and have 20 TOs, I'd say 9 times out of 10 you lose. 
Considering Tatum/Smart both combined for 13 of the 20, that's an issue. I thought Smart was pretty careless with the basketball before getting hurt as well, and that is not what you need from your starting point guard. They weren't even the "good" type of turnovers that you can sort of live with. They were the ones that spark collapses, which is why this team ya know, collapsed. 
This may not have seemed like a big deal, but we learned at the start of the game the Celts were 0-9 in the first game of these home/home series. That was surprised yet predictable. As we know, this is the month we're all hoping to see some movement, and to do that you need to take care of the games you should win. Ultimately, they did. We may not have always enjoyed how it looked, but the result is what we wanted. Now they need to just keep doing it. Build that momentum and gain confidence. Maybe finally not losing one of these type of games will do the trick. They still need to prove it before we can fully believe, but at least we were granted another night off from the pain. At this stage, I'll take it.