2022 NFL Mock Draft For Teams Not In The Playoffs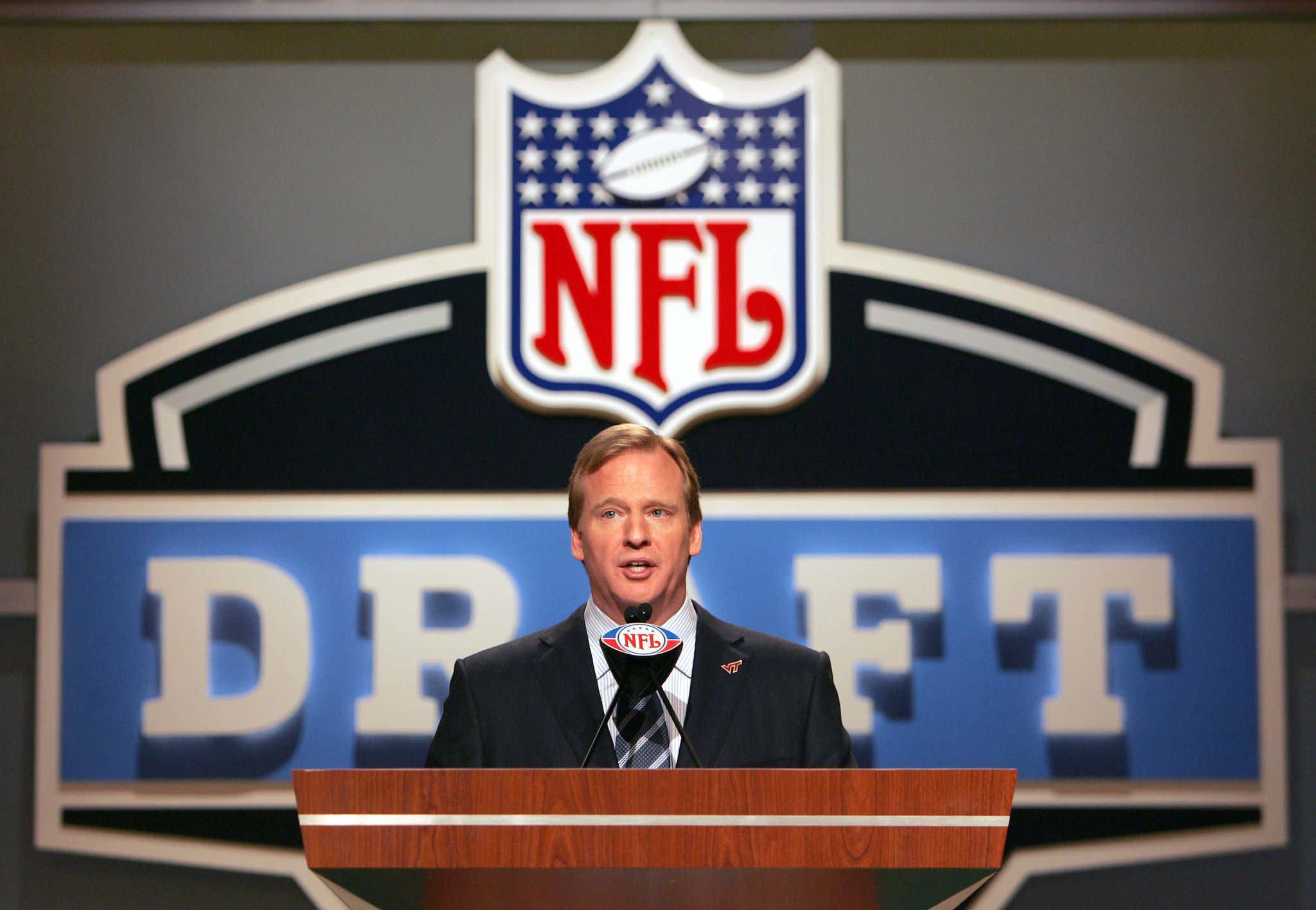 Richard Schultz. Getty Images.
The NFL regular season ended on Sunday and with the College Football season ending last night, so welcome to NFL Draft SZN. With a bunch of NFL GM/Head Coach firings and new vacancies, there is a TON up in the air, but let's do a preliminary look at where I'd see things shaking out as of now. 
1) Jacksonville Jaguars - EDGE Kayvon Thibodeaux (Oregon)
This seemed like a lock all year until, but Aidan Hutchinson continued to ascend as the season went on and he's definitely a threat for this spot. But I'm a traits over production guy and while Thibodeaux had exactly half the number of sacks as Hutchinson last year, but he's every bit as freaky. He'd form a terrifying duo opposite Josh Allen.
2) Detroit Lions - EDGE Aidan Hutchinson (Michigan)
How great would this be? Keep the hometown kid in the great state of Michigan. After a Junior season in which he was limited to just two games after fracturing his ankle, he came back better than ever and set the single season sack record for the Wolverines. At 6'6" 265 lbs. he's got ideal size and he is expected and his strength coach at Michigan also worked with J.J. Watt at Wisconsin and expects similar testing numbers which could boost him up even higher than #2.
3) Houston Texans - OT Ikem Ekwonu (NC State)
Davis Mills has played pretty well so I don't think they're giving up on him yet, in fact, I have them investing this premium pick to protect their signal caller out of Stanford. Ekwonu is a nasty people mover that can give Mills a little more time to get through his reads or blow a hole for a Runningback.
4) New York Jets - CB Derek Stingley Jr. (LSU)
The Jets are woefully thin at Cornerback and play in a division with Stefon Diggs and Jaylen Waddle. They're going to need someone to guard them who is more than competent and Stingley is absolutely that. He is a tremendous Cornerback with terrific ballskills who would fit in great with Gang Green.
5) New York Giants - OT/OG Evan Neal (Alabama)
Dave Gettleman has retired, but this is very much a Gettleman guy. Neal is enormous at 6'7" 350lbs. and can definitely move a man from point A to point B against his will. 
6) Carolina Panthers - QB Kenny Pickett (Pittsburgh)
The Panthers will have a new Quarterback taking snaps next year. Their owner has made it clear they are able to spend at the position until they get the right guy. Picking at #6 in a weaker draft class with no standout QBs allows Pickett to slide in their lap and the Panthers to just make the call. This offense is anemic with everyone they trotted out there this year. Pickett is so innovatite that he made up a play and it was so good it got outlawed.
7) New York Giants - S/LB Kyle Hamilton (Notre Dame)
Jabrill Peppers is a free agent and Hamilton could bring a different attitude to the Giants secondary they've been missing since Landon Collins left. He's also big enough where he could transition to Linebacker and be one of these new age 220 lbs. guys who can run like the wind and cover Tight Ends.
8) Atlanta Falcons - WR Garrett Wilson (Ohio State)
The Falcons are in shambles. An aging and very expensive QB in Matt Ryan and a talented yet unhappy Calvin Ridley headline their issues. Ridley is apparently looking for a trade and the Falcons simply cannot go into next year with Russell Gage as the #1 WR. Kyle Pitts is awesome but they need more firepower. Here they get that in Wilson who is a gamebreaker and could help open up the field and truly unlock Pitts.
9) Denver Broncos - LB Devin Lloyd (Utah)
The Broncos have a ton of questions with their HC slot being open. Quarterback is definitely a priority but I'm not seeing a good fit here for their roster. They could use an upgrade at Linebacker and Lloyd would be just that. He is fast, efficient with his movements, and violent on contact.
10) New York Jets - EGE George Karlaftis (Purdue)
Karlaftis is big enough to put his hand in the dirt at 6'4" 275 lbs. But he's also athletic enough to stand up and rush. The Jets are in dire need of some guys to be able to heat up the Quarterback and Karlaftis can help get that done with more regularity.
11) Washington Football Team - OT Charles Cross (Mississippi State)
Washington isn't sure of their Quarterback for next year and at this point, they're not even sure of their team name for next year. But with Charles Cross, they'd be getting a very good pass protector who can play nasty in the run game. 
12) Minnesota Vikings - CB Sauce Gardner (Cincinnati)
A long, twitchy, press Corner that goes by the nickname Sauce? Sign me up! He also isn't afraid to hit as you can see here. The Vikings needs a ton of help on Defense and they start with Sauce here.
13) Cleveland Browns - WR Chris Olave (Ohio State)
The Buckeyes are LOADED at Receiver and I have Olave as their second one picked in the first 13 picks. He's a crafty route runner who should transition quickly and give the Browns a bit more juice in the Receiver room.
14) Baltimore Ravens - DT DeMarvin Leal (Texas A&M)
Both Calaias Campbell and Brandon Williams are free agents, to I've got Eric DeCosta going with a Defensive Lineman early here in Leal. He can play all along the line and has got a nice array of moves to go along with his power. 
15) Philadelphia Eagles - C Tyler Linderbaum (Iowa)
Jason Kelce is likely to retire after this season and while Linderbaum is one of the best players in the class, the Center position has always been devalued in the draft. This may just be the perfect intersection of opportunity and value when it comes to the grade of player Linderbaum is. This big man is nasty and can move! Imagine the Eagles going from Jason Kelce to Linderbaum!
16) Philadelphia Eagles (via Indianapolis Colts) - EDGE David Ojabo (Michigan)
With both Brandon Graham and Derek Barnett being free agents this off-season, don't be surprised if Howie Roseman dips into Graham's alma mater for another edge rusher. Ojabo played opposite Aidan Hutchinson, but was no slouch himself. He'd form a nice young pass rushing duo with Josh Sweat.
17) Los Angeles Chargers - DT Jordan Davis (Georgia)
The Chargers could have used Davis on Sunday night right after that timeout by Brandon Staley! He's a massive run stuffer that would be an upgrade over Linval Joseph, who is a Free Agent and can also make life very difficult for the Quarterback. His name should be called early on night one.
18) New Orleans Saints - QB Matt Corral (Ole Miss)
If this actually happens, you'll hear about six new Mintzy noises as it'd be his favorite QB from his school on his favorite football team. On the field, it's a good match and Corral can move, but he can really sling it. He'd be a great fit in the Big Easy.