More Details On Book Of Boba Fett's 'Black Krrsantan' - The New Baddest Motherfucker In The Galaxy
Here's another MMB short to fill ya in on Wookiee bounty hunter 'Black Krrsantan' a little bit before 'The Book of Boba Fett' returns this Wednesday! It's only a minute long clip so it's a true quick hitter.
Our full Chapter 2 recap can be found HERE or at the bottom of this blog.
'The Book of Boba Fett' introduced a buncha new characters this week, from the Hutt Twins to The Mayor to Bailey Carlin....
….but none stood out quite like the Hutt's security detail - a hulking Wookiee draped in spiked armor named Black Krrsantan.
Black Krrsantan is a real badass motherfucker from the Star Wars comic books. He was banished from his homeworld of Kashyyyk when he was younger, famously baited slavers into taking him to a gladiator tournament that he was the king of for years, 'Thor: Ragnarok' style….
He later went on to battle all of our favorite heroes, like Luke Skywalker/Obi-Wan Kenobi….
(What the fuck is that Luke face? Looks nothing like him!)
….and even Han Solo and Chewbacca….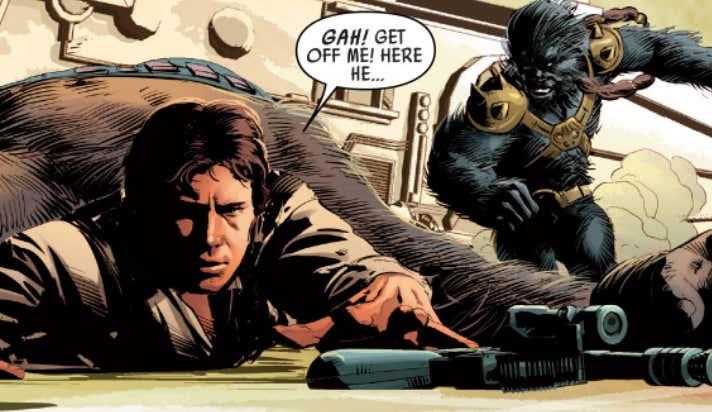 ….coming up on the winning end of a couple of those battles as well!
This is NOT somebody an aging Boba Fett wants to mess with, in my opinion. Black K will send him to the Bacta Tank in one shot. 
If you want to read more about Black Krrsantan, check out the Marvel's Darth Vader/Doctor Aphra runs; his whole origin story is in Doctor Aphra Annual #1.
---