The Top Ten Most Interesting "Bachelor" Contestants Based On Their ABC.com Bios Before Tonight's Premiere
No, you are not hallucinating. The Bachelor is back, again, tonight. At this point, this is the SIXTH season of Bachelor/Bachelorette in a row, in the past year and a half, with no more than a two week break in between each. We had Clare/Tayshia, Matt James, Katie Thurston, Bachelor in Paradise, and most recently Michelle Young, all starting in October of 2020. Should the show take a break? Probably. Are we all majorly fatigued by it? Definitely. Are we all going to watch? Absolutely. 
Let check out our new Bachelor, Clayton's bio: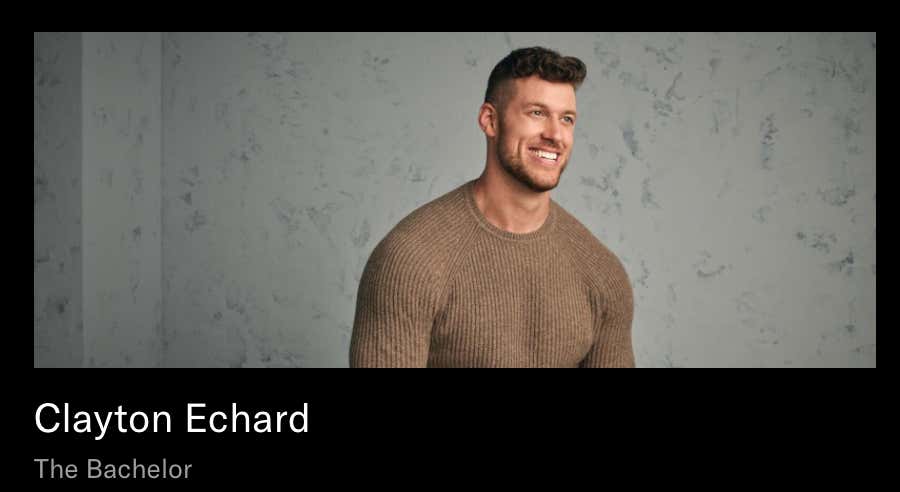 Wow! Something we've never seen before! A midwestern man who also played professional football! This season for our guy Clayton, we have 31 women who will be vying for his love. I'm not going to talk about all 31 women. More often than not, we won't even know anyone's names until there are 10 people left. So, in the spirit of refusing to make room in my brain for more people who will have zero impact on my life, I will comb through the bios on ABC.com and choose who I think will be making a splash this season. 
1. Cassidy
Right out of the gate, the #1 bio - Cassidy has all the makings of a potential villain. She's blonde, from LA, and described as a "bold, blunt woman." We all know "bold" and "blunt" are code words for "gets in fights with other girls." 
2. Daria
Daria checking in as "the smart one." She'll be the voice of reason, she'll probably roll her eyes a lot at the other girls, and she'll know how to have a real conversation with Clayton. I have a feeling I'm going to like her, but I'm willing to bet she'll be intense. 
3. Gabby
Gabby is the definition of cute. Clayton is an All-American kind of guy, looking for his sweetie, and Nurse Gabby might be exactly what the doctor ordered. She's looking for some depth, she wants to make a life with someone, she seems extremely genuine.
4. Genevieve
At first glance, the line of "when she wants something, there isn't much that can stop her from going for it" tells me that she is putting up a FIGHT if she needs to. She wants what she wants, and I have a feeling she's going to want to win. She's a no bullshit kind of girl, and she's looking for a mama's boy. She wants PASSION. Sure, could this translate to "toxic" pretty quickly? Time will tell. 
5. Hunter
Oh boy. A Disney Princess! I have Hunter on this list because, if I know a midwestern man, I know they have a soft spot for a sugar sweet bubblegum girl with a wholesome heart. Her ideal man is basically a direct description of Clayton, and she's looking to really lay the romance on thick. Clayton will eat this up.
6. Kate
The "top real estate firm" that Kate works for, is the firm that's on on Selling Sunset. She's not on the show, but I smell someone who's "not there for the right reasons!" Maybe she is, her bio does actually seem cool and normal, but I'm sure people will accuse her of being there for clout. She's probably rich AF already, she likely doesn't need it and truly wants a man.
7. Lindsay D
Another down-home kind of girl, and likely the only single mother who stands a chance. Sounds like she has a good head on her shoulders, she loves Hallmark movies which means she'll romanticize anything Clayton does, AND she's a former Beauty Queen. She could be the perfect positive challenge for Clayton.
8. Marlena

WOW. A VP, an Olympian, a real estate company and multiple properties? HOLY MOLY. Only someone like Clayton has the potential to be enough man for this woman. I wonder if he'd be intimidated by her? They could do sporty things together, she could be the breadwinner and she seems like a Grade A Independent Woman. I'll tell you this - her bio says "no one in this world" could convince her to go bungee jumping, I'm willing to bet my life that the Bachelor Producers will be forcing her to do this. 
9. Susie
I get interesting vibes from Susie. I get the impression that she's not fucking around, definitely knows her worth, but maybe won't be a great match for Clayton? She seems...too cool? I have her in here because of the emphasis on "trust" she has in this bio. I'm wondering if we're going to run into a scenario where her trust is broken...and maybe all hell will break loose? Fingers crossed.
10. Sarah
At first glance, Sarah doesn't seem totally right for Clayton. She's a little young, but I'm loving the mystery that comes from the line of "she's gone through more life than the average girl her age, and she doesn't let it slow her down." What does that MEAN? What has she been through?? Will we ever find out? Maybe Clayton will find it endearing? Hmmmm. I hope she sticks around long enough for us to figure it out. 
Honorable Mention: Kira
Another smart girl who knows what she wants, but...she taught herself to write hieroglyphics as a child? Excuse me? I know I personally had a full set of calligraphy pens (learning calligraphy seemed really important) and we were ALL obsessed with the Egypt section of Social Studies in 4th grade, but hieroglyphics? Is she applying for the next National Treasure movie?
That's all I've got about these ladies. The rest are generally carbon copies of everyone that's ever been on this show, and I'm interested in seeing how they attempt to set themselves apart from the others. We're due for a few catfights. 
Subscribe to the Chicks in the Office YouTube so you don't miss the premiere of Cutting Stems, every Monday right after the show.