Do We Have BEST PICTURE Front Runners? (Licorice Pizza, Belfast, Power of the Dog, Spencer Movie Reviews)
CHECK OUT ALL OF OUR RANKINGS AND WHERE TO STREAM OVER 5,500 MOVIES ON MOVIERANKINGS.NET
SPOILERS AHEAD
Here are some thoughts on these four movies!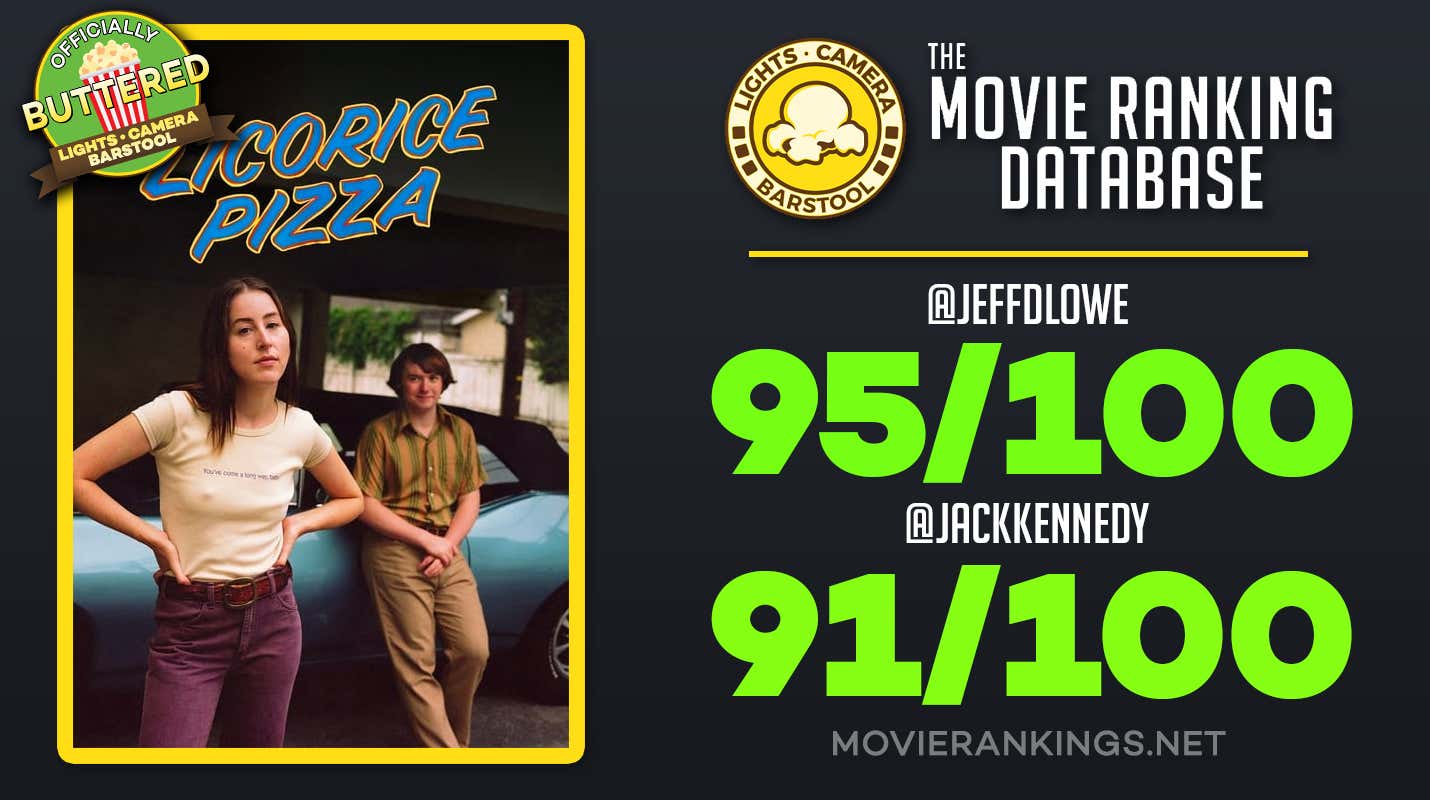 The story of Alana Kane and Gary Valentine growing up, running around and going through the treacherous navigation of first love in the San Fernando Valley, 1973. (via IMDb)
JeffDLowe (95/100): The newest movie from the great Paul Thomas Anderson, is an "instant classic" Coming-of-Age release anchored by standout roles from Alana Haim, Cooper Hoffman, and a wild Bradley Cooper. This movie is just everything that is right with a fun, original, cinematic experience. With Haim and Hoffman (son of the late Phillip Seymour Hoffman), you get excellent performances that perfectly complement a charming script. Cooper is just one of a few great supporting actors in the movie, but his role as the real-life Jon Peters will have you laughing out loud. Paul Thomas Anderson whips up a nostalgic and raw slice-of-life that stands up with the greatest releases from the genre. It's a must-see when it finally goes nationwide. 
KenJac (91/100): PTA can definitely be an acquired taste for some, and this is probably his most PTA-ish. That is to say, you can see a lot of his previous work in the structure of this movie. Anyway, it is a very solid movie with some heart that does a great job establishing the 70s world. The soundtrack kills, the scenery is great and I really felt like he immersed us into the period. The story is sweet and has a charming, awkward, and funny romance that is made incredible by the chemistry of Alana Haim and Cooper Hoffman. I don't think it's a movie that will necessarily strike a chord with everyone who watches it, but I also think anyone can appreciate it as a work of art.
A young boy and his working-class Belfast family experience the tumultuous late 1960s. (via IMDb)
JeffDLowe (92/100): Stylistically beautiful, 'Belfast' is a movie that tugs on your emotions with a feel-good story that carries enough thrills and surprises to avoid ever getting stale. You can feel director Kenneth Branagh's heart pouring off the screen with a story that is a look at his own childhood and youth life. 
KenJac (75/100): There is one word that I think defines this movie a lot for me and it is the charm. I felt very naturally charmed by this movie and how they presented a slice of life in the middle of a darker overtone. 
From an acting perspective, it's another reminder to me that Jamie Dornan has the potential to be an incredible actor outside of the 50 shades world. Especially when he is paired with someone he has chemistry with like Katrina Balfe who was also great. I think Ciaran Hinds crushed it and Jude hill was a great child actor. We always say it, kid actors can derail a movie. 
I think this is my favorite movie from Brannagh, at least from a visual standpoint. Just a gorgeous movie. I think the only place I can take off points is in the focus, so to speak. It tries to do a lot, right? Slice of life, family, religious persecution, social lessons, and more. A bit more focus on one element might have taken this to that S tier. 
Charismatic rancher Phil Burbank inspires fear and awe in those around him. When his brother brings home a new wife and her son, Phil torments them until he finds himself exposed to the possibility of love. (via IMDb)
JeffDLowe (91/100): Jane Campion returns with a powerful movie in terms of acting, script, and story in 'Power of the Dog'. The movie will get your cinematic intrigue turning at a high rate as it forces you to ask questions and analyze this deep and dark character study. There is palpable tension throughout the movie as it burns on and that is why it truly works so well. Everyone buys in when it comes to the cast and you begin to really connect well with the characters. A movie with this many metaphors, and this thought-provoking will always catch my interest, especially with someone like Campion involved.
KenJac (88/100): I think the primary goal of this movie was to keep the audience on their toes, and it is a total success in that regard. It's a movie that makes you feel like a fight is about to break out any second, but it just stays right on the edge of that without breaking through which I found very smart. 
The performances are really what makes this movie. Cumberbatch is a brilliant bastard. He is so unnerving and I think he can probably remind a lot of us of at least one person in our life. Someone you just try to keep your distance from because they have that air that they might pop off. Our thicc boy was fantastic as usual, and he did a great job with his wife. This also might be my favorite-ever Dunst role.
During her Christmas holidays with the royal family at the Sandringham estate in Norfolk, England, Diana Spencer, struggling with mental health problems, decides to end her decade-long marriage to Prince Charles. (via IMDb)
JeffDLowe (86/100): 'Spencer' is a really solid movie, if not a little underwhelming when you factor in potential, with a unique spin on the classic biopic format, but Kristen Stewarts Oscar-worthy performance is truly worth the price of admission. With a better, stronger script, from the mind of someone such as Aaron Sorkin, this could have been the best movie of the year. Still, what Stewart does with this role is truly breathtaking. Her career trajectory is both fascinating and admirable. This isn't her first role in which she has broken free from the shackles of the Twilight Saga stigma, but hopefully, it is the one in which everyone realizes that she is at the top of the acting game.
KenJac (87/100): This movie's success is 100% driven by the performance of Kirsten Stewart. She absolutely crushed the role and I think it is going to be a close race between her and Kidman for best actress this year. It's definitely a little shaky in the other areas and is a bit over-dramatic, but I think Stewart did a great job humanizing Princess Di. That's a pretty tall task as well since so much of our perception of her came through a very subjective media lens. If the royal family doesn't hold your interest at all, it's safe to skip. For me, I had only a passing interest in the subject but liked it a fair amount.
--
All four of these movies are Officially Buttered, and you should see them in theaters, if you can! A few of them will also be right up there at the Oscars when the show rolls around in March. You can head to Lights Camera Barstool right here to listen to our latest episode where we will discuss it on our new episode.
Until next time, enjoy some movies, and make sure to check out MovieRankings.net.