Force Majeure, Elf, And 8 Other Movies You Should Stream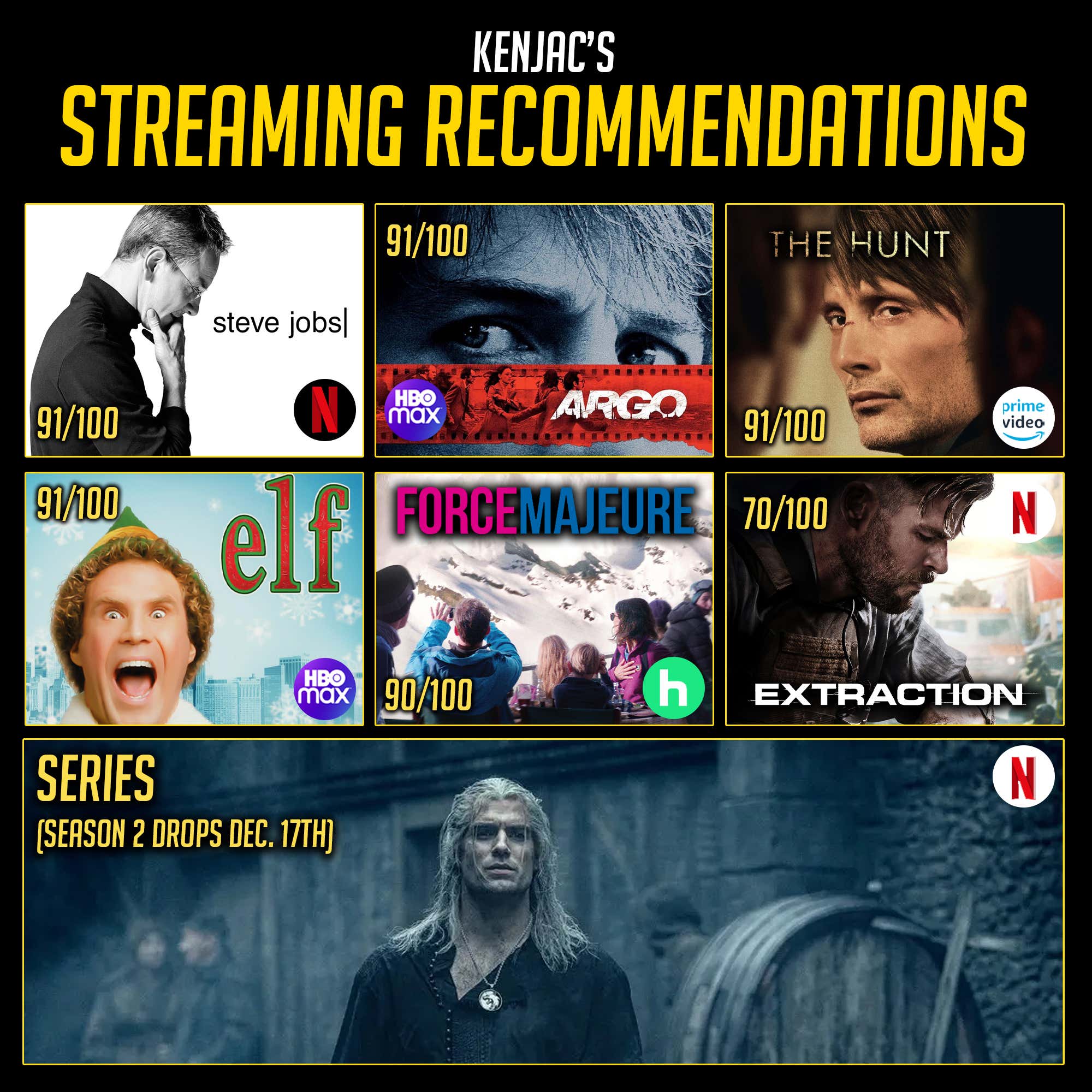 REMEMBER: USE MOVIERANKINGS.NET TO FIND OUT WHAT TO STREAM AND WHERE TO STREAM IT!
MOVIES
1. Lady Bird - Netflix: As a fan of slice-of-life/coming-of-age movies, this hit all the marks. Great drama and really stellar acting across the board. It also takes place in a period that feels fresh(early 2000s) for this sort of movie. 
2. Extraction - Netflix: I just saw this IG story of Hemsworth & Former LCB Interviewee Sam Hargrave filming the sequel to this movie, and it made me immediately revisit the first. It's by no means a perfect movie, It satisfies a "has fallen..." dudes rock portion of my brain. Awesome gunfights, crazy fights and one incredible long take. 
3. Steve Jobs - Netflix: It is kind of funny in retrospect how this was released not long after the subpar 'Jobs' and managed to wipe away the bad taste from that movie in an instant. This is one of Fassbender's best roles and a reminder that, despite all of his bad recent movies, he is a top-tier actor. 
4.  Argo - HBO Max: This movie has so much to offer. Action, suspense, political intrigue, historical storytelling, drama, comedy & more. I know it's tempting to avoid Oscar darlings, but this movie is probably the most mainstream-appealing winner of the last decade. 
5. The Matrix - HBO Max: With the fourth movie coming out soon, there is no better time to plug back in. It's crazy how great the special effects still look 20 years later as well. 
6. Elf - HBO Max: I don't need to pitch you on this christmas classic. I will pitch you to watch the episode of Netflix's 'The Movies that Made Us' on Elf, though. 
7. Logan - Hulu: It feels weird to say it, but I do think this movie is underappreciated. It's one of the best Comic book movies of all time and deserves to be treated as such. 
8. Force Majeure - Hulu: This is a really funny Swedish/Norwegian movie that I think a lot of you will like. Do NOT watch the hollywood remake of it, though. What a misfire that was. 
9. The Hunt - Prime Video: I didn't mean to, but this is also a Scandinavian movie. It stars Mads Mikkelsen and it is an exceptional drama 
10. Mississippi Grind - Prime Video: A gambling movie that doesn't get enough respect in my humble opinion. Solid acting from Reynolds and Mendo, good storytelling and a rare but welcome Sienna Miller sighting. 
SHOWS
1. Arcane - Netflix: I'm going to keep recommending this show because I found it to be one of the best animated series I've watched in a while. This show is built in the League of Legends universe, and despite knowing nothing about that world, I really got engrossed by it. 
2. The Witcher - Netflix: The second season is coming out soon, so it's time to catch up on the sex-fantasy goodness. As a fan of the games that hasn't read the books that they are based on, I found the storytelling to be a little bit confusing. It made a lot more sense after my second watch, though. 
3. Vikings - Prime Video: We just interviewed Alex Ludwig who plays Bjorn in this series, and his love for it made me immediately want to go back and rewatch it. One of the funniest points of our conversation was when I told him how me and a lot of other people were confused about the History channel making a serious drama. He said that he had someone tell him that his career was dead when he took the job, can you imagine?