IWYIM- My Christmas Day Menu Is Set
This is a food blog... Nothing more.  So move along, if you don't like shit like this.
My family celebrates Christmas Day every year at my house.
I do all the cooking, while my wife does all the cleaning, and our intimate group of 20, or so, eat and drink like it's the end of the world… Because it kinda is.
My birthday happens to be on Christmas Day and this year is especially festive because I will be turning 50… And because it is my day, I get to choose the menu with absolutely ZERO input from my guests.
And this year, you are FUCKED if you are coming over to my house and you don't dig on swine because Christmas 2021 will be 100% pork products.
(Then stay-the-fuck away.)
A couple of weeks ago, I purchased a gondola along with a 16 pound Serrano ham that I will be slicing all weekend and serving with Manchego cheese, some big old Cerignola olives, crusty bread, a porrón filled with chilled Silk& Spice, and some Marcona almonds that I toss in a little bit of olive oil and paprika and then roast in the oven for just a few minutes.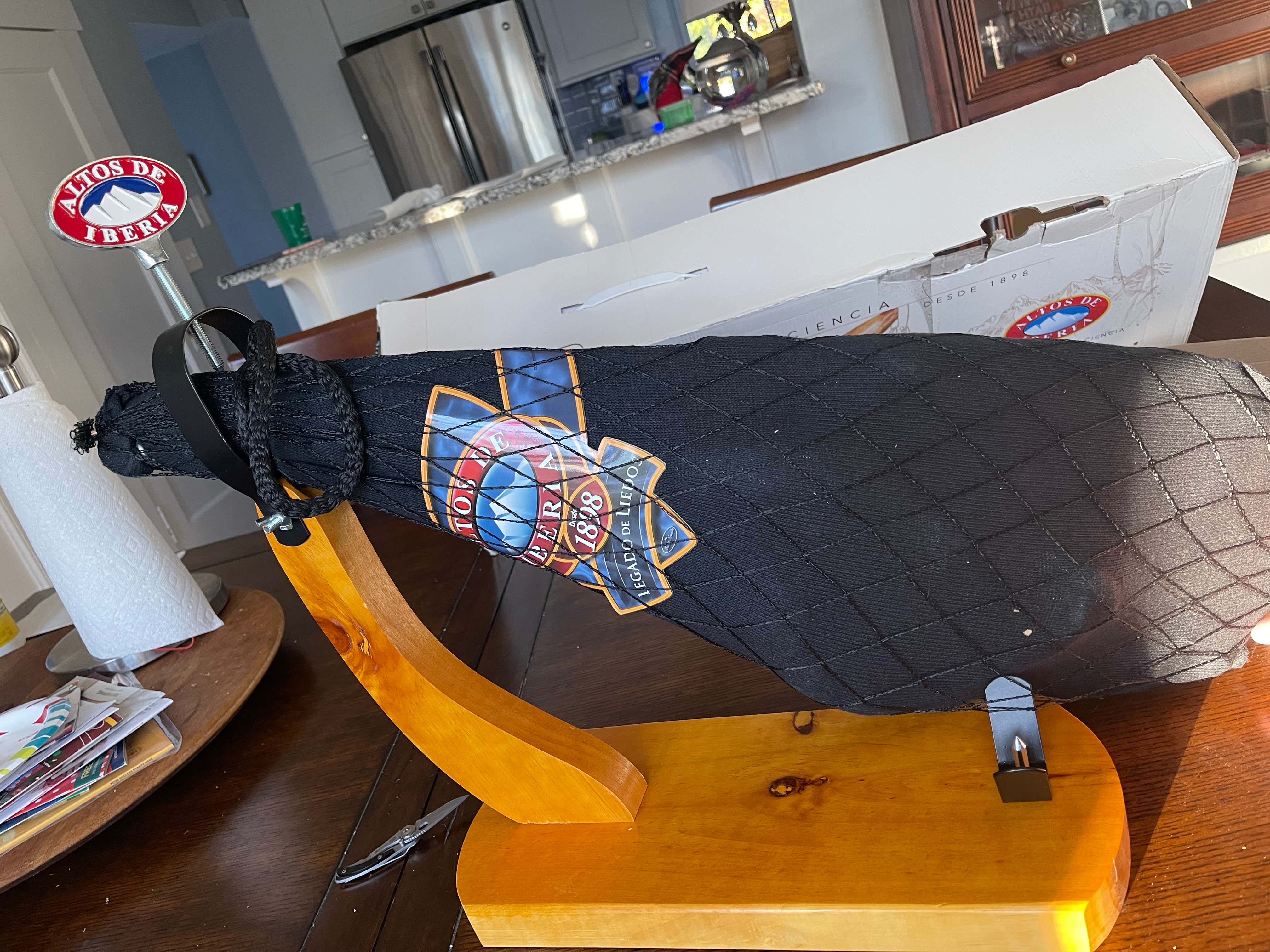 I have a spiral ham that I am going to glaze with orange juice, brown sugar, and some of the  JP Graziano dried seasoning and serve with homemade biscuits, some cornichons, 4 different types of mustard, and homemade pimento cheese from a recipe I stole from Ree Drummond who is the modern-day Paula Deen without the alleged racism.
The idea is that as soon as you step into my house, you can make yourself a biscuit sandwich or make yourself a small tapas plate before you even say, "Hello" to me.
For dinner, I will be equally all over the map… A pork bolognese will be on the stove since even the pickiest kids can't complain as long as there is pasta in meat sauce being offered.
But I will also have a shoulder in the oven… Seasoned with nothing but salt and pepper.  Slow roasted until I crank the oven up to 550 degrees for the last 10 minutes in order to crisp up the skin to a proper chicharron-type crackle.  I will slice and serve that with warm flour tortillas, some crumbled Cotija cheese, and homemade pickled red onions.
Then, outside on my grill, I have 7 pounds of Korean marinated pork belly just grilling away… Once those slabs come off the grill, I will hack them into pieces on a serving platter and cover them in pickled jalapeños, matchstick-cut raw carrots, fresh cilantro, and a drizzle of sriracha mayo.
And that's it… Not a single vegetable will be served unless it is nestled next to some pig, and not a piece of poultry, beef, or lamb to be found.
I just did a tally on how much pork I am preparing tomorrow…
2 lbs thick-cut bacon for the morning
7 lbs Korean Pork Belly
11 lb Spiral-Cut Ham
11 lb Pork Shoulder
16 lb Serrano Ham
3 lbs Ground Pork (for the bolognese)
This means for my 50th birthday, I am cooking EXACTLY 50 pounds of hog.
Some might call this a "super spreader event", but the only thing I plan on spreading throughout my guests is heart disease.
Merry Christmas to all, and to all a good night.