This New Jersey Realtor Didn't Know I Was Pre-Law
I've spent the last few months on the road with Frank, going to Pittsburgh, Chicago, Boston, and Florida a few times. Between our trips, I've been searching for the right apartment in New Jersey. Last weekend, I thought I found that apartment. I was wrong, very wrong. 
I was in Florida for Thanksgiving when I found the apartment online. Frank and his god brother, Abe, were nice enough to tour the unit and facetime me during the visit. I scheduled the viewing and when the time came, the agent I was working with seemed to forget and sent his brother instead. I took that as more of a lack of planning or organization than a red flag. The Unit was open and we looked it over while we waited for the agent's brother. There were some things that needed to be done to the unit before anyone could move in. The bathrooms needed tub fixtures, an exhaust fan, and some trim work. There were construction materials still in the living area and some random pipes sticking out of the wall. Over facetime, the agent's brother told us that many people are looking at this apartment and they are looking for someone to move in as soon as possible. I usually take that language with a grain of salt, but I was looking for months for the right place and this unit checked all the boxes, so I sent a security deposit and signed a lease. The contract called for the landlord to sign and me to sign again acknowledging the landlord also signed. Those last two signatures would be done when I received keys and paid the first month of rent.
The plan was to move up Saturday, but we pushed it back to Sunday to observe the Sabbath. I packed most of what I own minus furniture into the Tahoe and drove up. I arrived Sunday around 2pm. The agent was supposed to meet me then to sign the lease and give me keys. The agent's brother texted me and said it's the agents day off, so he would be dealing with me. Again, not a huge red flag as it appears they work as a team. The first red flag hit when the brother asked if I was just getting the keys or if I was moving in. I'm not sure who would drive 14 hours with most of their possessions just to pick up a set of keys, but that person is not me. The brother said he would be there in an hour or so and gave me the code to the door so I could start moving my stuff in, which I did. An hour passed and the brother still did not show, so I went to Walmart to pick up a few things. When I arrived back at the unit, he still was not there.
It's now about 5pm and the person I'm going to be rooming with arrived with all their stuff. Before they moved their stuff in, we toured the unit again and saw that none of the work that was supposed to be done was done. I texted the brother that I was packing my things and would be getting a hotel for the night. Amazingly, now the brother was only 5 minutes away. He arrived while I was moving stuff back to my Tahoe. I showed him the issues and he downplayed them while also stating that pipes sticking out of the wall were not a problem because they were capped. He tried convincing me to stay, pay the first months rent, and they would get workers in to finish the work after we were moved in. That's a No for me. There is a chance that they would get workers in there and it would only take a few days to fix everything. There is a possibility that would be the case. That or we move in and get the run around and are stuck in a rental we knew we should have walked away from with a bad landlord we must deal with for the next 12 months.
I got a hotel room and talked the situation over with my roommate that evening and the next morning. We were both in agreement that we did not want to put ourselves into a situation that didn't feel right and these vibes did not feel right at all. I texted the brother that we were not moving into an apartment that was not ready to be moved into and requested my security deposit back. I then received a text from the original agent asking me to call him. I replied that I wanted to text so that everything is on record. That is when things took an ugly turn. I get that he was mad at himself and I understand the frustration, but I was surprised that he actually hit send on some of these texts.
I did some research so I could use the appropriate terms. NJDOBI is the New Jersey Department of Banking and Insurance. They oversee licenses in the state of New Jersey. NJREC is the real estate division of NJDOBI.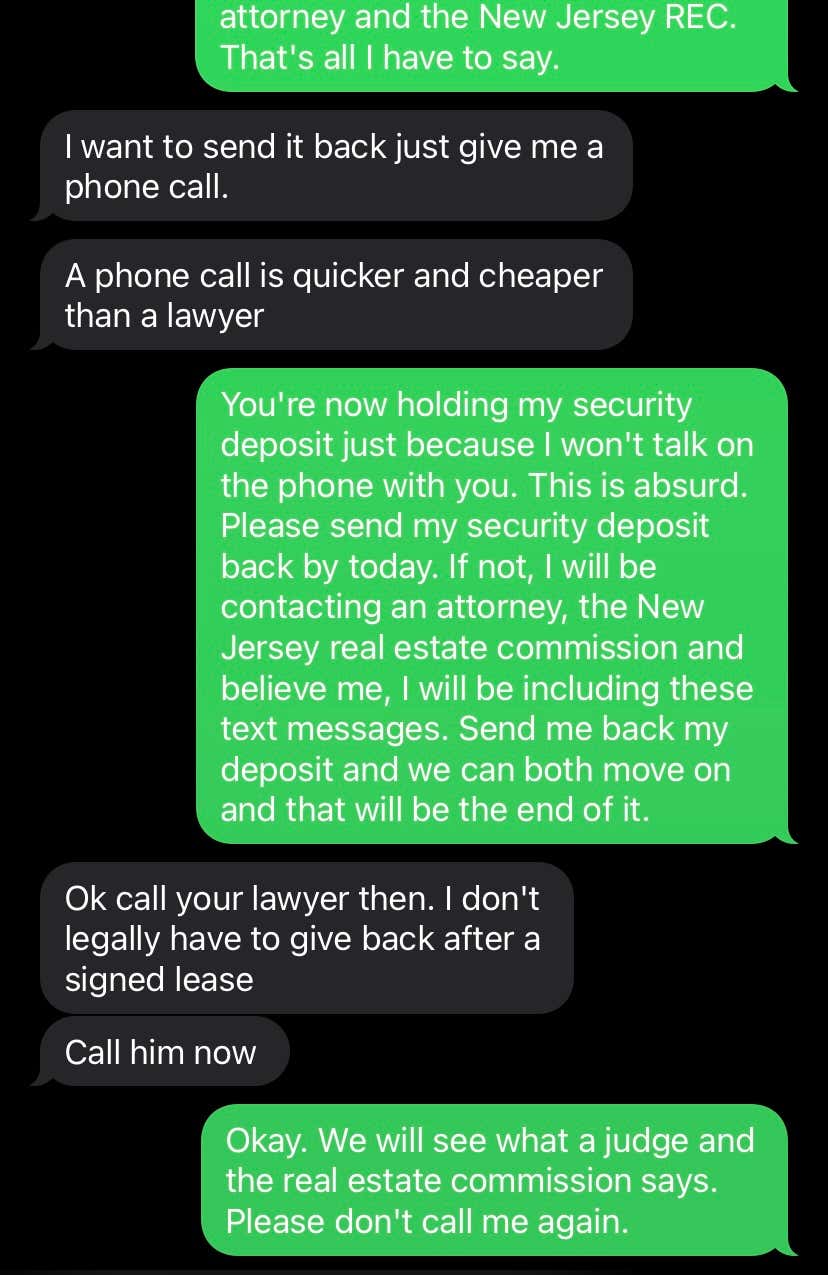 And the final text…
I don't mind him thinking I'm a prick, but using "your kind" to describe anyone is a wild move. I've never had to use "I'm calling my lawyer" before. Truthfully, between you and I, I don't even have a lawyer. I was pre-law at FSU though so I'm basically a lawyer. I'm staying at a hotel right now and I've applied to another place that happens to be real close to a Unit friend of mine. Moving on from this with my money without going to court feels more of a relief than a victory, but that's just another day of life in the big city.