Launching Pardon My Take 2016 Edition NFTS
After a ton of interest from the NFT community, Pardon My Take is finally entering the NFT space. Now you may be skeptical of this whole NFT business, but the internet is not going anywhere, and nor are these NFTs. I am not going to convince you of the value of NFTs and whether screenshotting them is basically the same as owning them. The smart people who believe in NFTs will take advantage of others' perceived ignorance. Look Zuckerberg is making sure we all get thrown into the Metaverse. Millions of dollars are being spent on virtual stuff. 
I do not know how exactly how much these NFTs will be worth in 10 or 20 years, that's why we are putting them up for auction and letting the market decide. The auction will end Tuesday, December 7th at 2 pm ET.
Our own Gaz, head of social media (this might be wrong, maybe the director of sales), has recently expressed interest in the company moving into the metaverse. 
The whole NFT thing I didn't really understand, but it's an outlet for content, and as content creators, we would be stupid to not move into these spaces. 
One of the main reasons I started compiling these NFTs was to sort of document a lot of the history of Pardon My Take. For the true 6x AWLs, many of these moments are very familiar, but they have been lost to many new 1x AWLs. Hopefully, there are at least 4 AWLs who are NFT connoisseurs who would like to purchase these finely curated video assets.
In a hilarious ode to football guys, Big Cat and PFT pack huge chaws and urinate in their pants. The first occurrence of Piss Dawgs.
This postgame Show was a courageous undertaking by Pardon My Take to provide sponsorship and a cause to the Boca Raton Bowl and give the trophy to the winning team.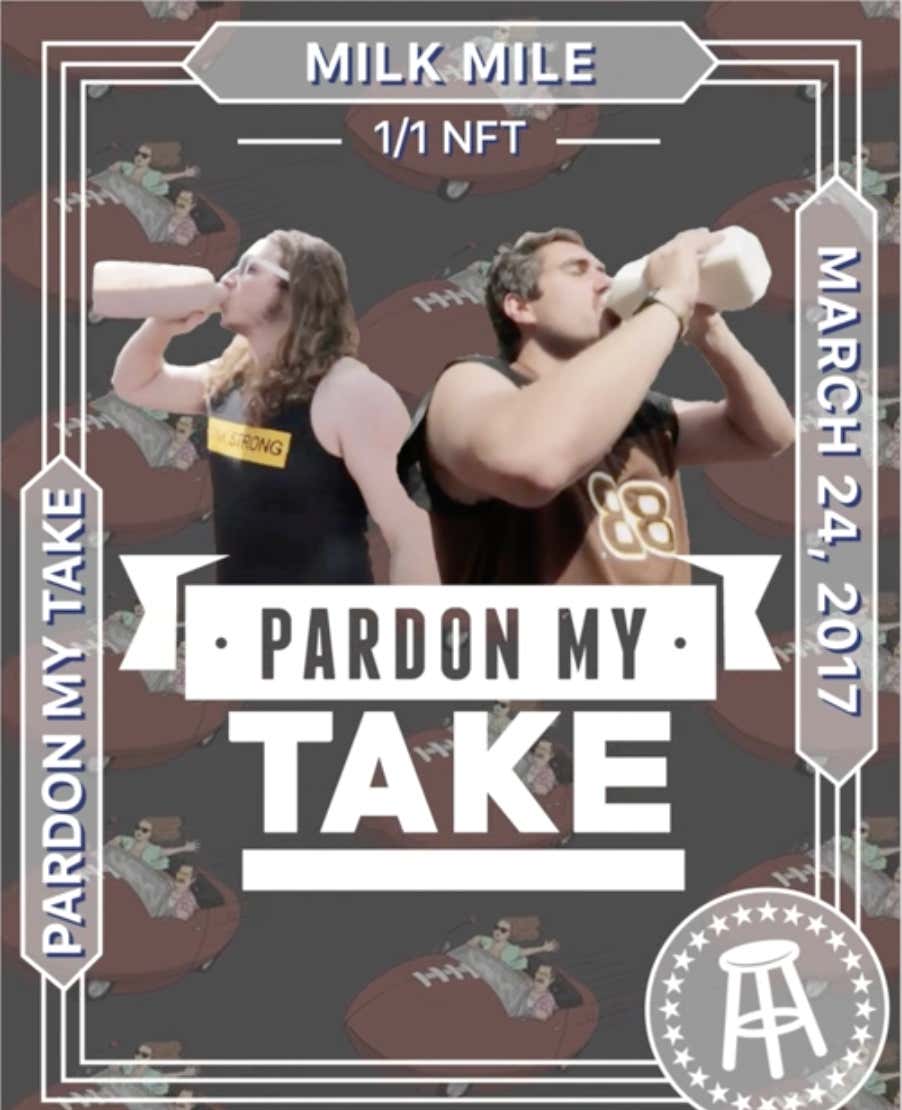 This original Gritweek moment includes 4 men who are determined to finish half gallons of milk and run a mile. Their grit and perseverance are on full display as they chug milk, run, nut tap, and puke. One of the original grit week masterpieces.
Larry I, The first-ever NFL football pick by the infamous first Larry. Larry was the first in a long line of gambling goldfish. Short-lived These are the only picks the first Larry ever gave. He went 4-1 and subsequently passed.
The 2016 collection! hope it all works out.