Will Ferrell Shut Down Production Company And Ended His 25-Year Friendship With Adam McKay Because McKay Cast John C. Reilly For HBO Lakers Series Instead of Him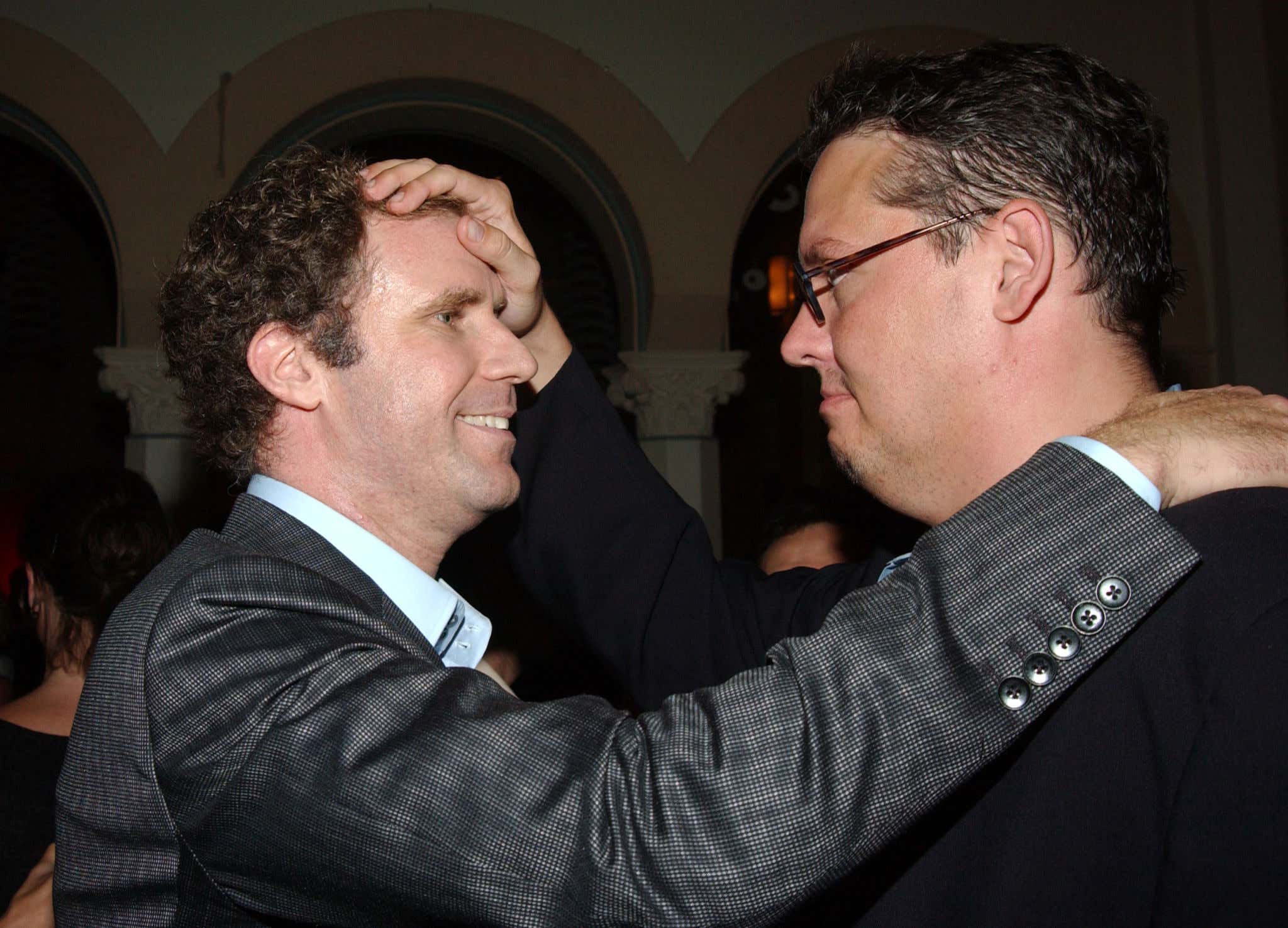 Jon Kopaloff. Getty Images.
NY Post —"Anchorman: The Legend of Ron Burgundy" director Adam McKay addressed for the first time the end of his partnership with actor Will Ferrell. 

The pair of funnymen created the comedy video site "Funny or Die" and founded the company Gary Sanchez Productions. But seemingly out of the blue, the once dynamic duo announced they were ending their working relationship in 2019. 

"The two of us will always work together creatively and always be friends. And we recognize we are lucky as hell to end this venture as such," they said in a statement at the time.

McKay, now 53, explained in a new Vanity Fair profile what went down between him and his "Step Brothers" writing partner, 54.
If you'll take a moment and think wayyyy back to 2019, which was approximately 14 years ago I think — you might remember that the most successful duo in comedy and real-life best buddies Adam McKay and Will Ferrell abruptly announced an end to their working relationship, shut down their production company, and parted ways. While nobody really knew what happened beyond speculation and rumor, you kind of had the feeling that their joint statement was using phrases like "we will always work together" and "we will always be friends" as professional PR-speak for something like "we will never work together again" and "I hope he dies slowly, and painfully."  I mean, partners with that kind of track record and that kind of earnings potential…they take vacations, maybe they take a break for 6 months, a year: they don't dissolve their production company that doubles as a money-printing machine, seemingly out of the blue.
The only explanation we've had to-date was this October, when Ferrell was interviewed by Hollywood Reporter:
"Adam was like, 'I want to do this, and this, and this'; he wanted growth and a sphere of influence, and I was just like, 'I don't know, that sounds like a lot that I have to keep track of,' " Ferrell told the outlet. "To me, the potential of seeing a billboard, and being like: 'Oh, we're producing that?' I don't know . . . At the end of the day, we just have different amounts of bandwidth."
The only person I've ever heard use the word "bandwidth" with a straight face and not imitating some productivity nerd describing the apps in his "GTD" workflow is my Fios technician and Erika Nardini. Will Ferrell….I get that he's a real person, not the characters he plays in movies: but Will Ferrell doesn't say bandwidth un-ironically unless he fuckin' hates someone's guts.
And now we finally have the proof, provided by Adam McKay himself:
The split and subsequent bad blood was because McKay not only cast someone else for the role of Jerry Buss in his upcoming Lakers HBO Series semi-behind Ferrell's back — he cast his own movie step-brother, John C. Reilly. 
"I've learned some lessons. It's always hard feelings," McKay said. The filmmaker and Ferrell discussed dissolving their production company, and when McKay decided to recast the role of LA Lakers' former team owner Jerry Buss for an HBO series, that's when stuff hit the fan. The director opted to cast John C. Reilly, Ferrell's co-star in "Step Brothers," instead of Ferrell for the coveted part.
While we'll find out the way McKay handled it was maybe, let's say "less than good," it's hard to find much wrong with the reasoning:
"The truth is, the way the show was always going to be done, it's hyperrealistic. And Ferrell just doesn't look like Jerry Buss, and he's not that vibe of a Jerry Buss. And there were some people involved who were like, 'We love Ferrell, he's a genius, but we can't see him doing it.' It was a bit of a hard discussion," McKay told the publication.
Wanting the actor who is portraying the real-life person to depict and represent the real-life person realistically…it seems — to me at least — that that's not the most controversial desire a director has ever expressed. Some supporting evidence for that opinion is the fact that "to depict and/or represent someone" is what an actor is. Like, literally, that's the definition. 
Will Ferrell agreed to disagree.
"[I] didn't want to hurt his feelings. Wanted to be respectful . . . I should have called [Ferrell] and I didn't. And Reilly did, of course, because Reilly, he's a stand-up guy."

McKay added that he hasn't spoken with Ferrell since the phone call when they decided part ways. McKay also said he tried to email him, but to no avail.

"I said, 'Well, I mean, we're splitting up the company,' and he basically was like, 'Yeah we are,' and basically was like, 'Have a good life.' And I'm like, 'F – – k, Ferrell's never going to talk to me again.' So it ended not well," he continued.
I'm sure a lot of people will come away from this story with the opinion that Will Ferrell is being kiiiiiiind of a little bitch. I mean, this isn't the local junior-high spring production of Fiddler on the Roof we're talking about here. Ferrell didn't get screwed out of a star turn as Tevye the Milkman. This is Hollywood. This is HBO. These are multi-million dollar productions with the best talent, the best crews, the best producers; the best everything. Ferrell has starred in approximately 940 Adam McKay movies — what's he think, he just has an automatic bid into every single Adam McKay project from now until the end of time, no matter the fit, the subject matter, the script, anything?  So if Adam McKay writes the screenplay and gets the greenlight for his remake of Sister Act, Will Ferrell just shows up on day 1 in a habit fully expecting to play Sister Mary Clarence the black nun in witness protection?
That being said…don't forget the part where McKay didn't break it to Ferrell face-to-face. McKay didn't even call Ferrell and tell him mouth-to-mouth. Didn't text him or email him and tell him fingers-to-fingers. He told him in NO ways,with no body parts. His partner and best friend had to find out from none-other than the man who took his part: John C. Reilly.  
Insult to injury, salt in the wound…whatever idiom you like best, McKay fucked up on how he handled that.
"I f – – ked up on how I handled that," McKay revealed. 
"I should have just done everything by the book. In my head, I was like, 'We'll let all this blow over. Six months to a year, we'll sit down, we'll laugh about it and go, 'It's all business junk, who gives a s – – t? We worked together for 25 years. Are we really going to let this go away?'

However, Ferrell "took it as a way deeper hurt than I ever imagined and I tried to reach out to him, and I reminded him of some slights that were thrown my way that were never apologized for."
He thought "it would all blow over." He thought that in a few months "we'll laugh about it," because "who gives a shit?" says Adam McKay. Adam McKay, the disloyal coward, who has no problem using his friendships as toilet paper to wipe his fat asshole, so long as he doesn't have to be anywhere in a 50 mile radius when they find out about his betrayal.  "Who gives a shit?" Not Adam McKay! He "never imagined" it might hurt someone to not be paid the absolute minimum amount of respect a person could possibly expect. Adam McKay, who, like the modern office coworker writ large, can't see past himself and his immediate interests to do the right thing for someone else, no matter how much that somebody has helped him professionally, or how many times that somebody has gotten his back personally. "It's just business junk!" That's just how it goes with co-workers sometimes.