After Another Ugly Loss, Until The Celtics Learn How To Properly Close Out Games They'll Forever Be Inconsistent
Logan Riely. Getty Images.
We're now 20 games into the Celtics season. It may be just 25% of the way through the year, but to me, it's enough of a sample to where I don't really want to hear "well it's early" when it comes to some of their glaring flaws. While I think it would be foolish to make any sort of big picture proclamations after a 20 game sample with 62 to play about what this team will look like come Spring, it is most certainly not foolish to be pissed about the product we're currently watching. Nobody is saying "man the Warriors are so fucking good right now, but it's early" you know? You tend to only hear that when things aren't going well. It's one of those things that while it may be true, it doesn't excuse this team's inability to close out a game. So what, in Game 35 they'll be able to hang onto a 7 point lead with 3 minutes left but those same players can't do that in Game 20? Sorry, I don't buy that. You can tell me that Ime will improve and get more comfortable as the year goes on, that I'll agree with. It's his first time through this experience. But the players? Nope. This is not a roster of inexperienced NBA players where they are taking the first chunk of the year to figure out how to play and win in this league. Outside of Schroder, everyone on this roster that we saw last night has already played together too! 
The first 20 games have been filled with frustrating losses that have come in a wide variety of ways. Double OT losses, boneheaded late game fouls that led to a game winner, blowing multiple massive fourth quarter leads, and now last night. Losing to a 4 win team that had currently lost 6 games in a row. That one might take the cake honestly. Especially with what is on the horizon in December, those are the games you have to win. The annoying part is we'd seen the Celts mostly take care of these bad teams this year. They were 7-2 against teams under .500 heading into this game. Only the Nets (10-0) and Bucks (9-2) have been better in the East. This isn't the same situation as last year where the Celts were losing to every bad team in the league whenever they had the chance. But then you remember who you are talking about here. Nobody can predict what version of this team we're going to get on any given night, which is the true sign of an inconsistent .500 team. Are they good? Maybe! Are they going to play the worst version of basketball you've ever witnessed? Pretty good chance! When this team plays to their ceiling they look unstoppable, but when they instead play to their floor they are the worst team in the history of the NBA. The nuts part is that can all happen in the same game and last night was the perfect example of that. 
I say it all the time and I'll reiterate it again now. Perspective is important. Nobody should have any sort of definitive big picture takes right now. Both on the positive side as well as the negative side. There's too much basketball to still be played. But in the "right now", this is not a good basketball team, especially when it matters most. They have glaring issues that need to be fixed immediately that are costing them games, and until that gets figured out they will remain inconsistent.
It's not going to be pretty, but let's dive in.
The Good
- One of the more frustrating parts of this 20 game start for me is the fact that we finally have Marcus Smart playing his role perfectly with some of the best basketball of his career, and it's basically all for nothing
Last night he once again finished with 8 assists and just 1 TO, and his three point shooting has actually been held in check for the most part. He went from 34 3PA in 5 games in October to just 57 in 14 games in November. In his last 6 games, he has just one night where he took more than 4 3PA. Over this span, Smart has 77 assists and just 16 TOs. That's good for a 7:1.5 assist to turnover ratio, which I think we would all take. Offensively he's also shooting 43.8% from the floor which is certainly much better than his October splits, we're just waiting for the 3P% to come around but if he's taking less threes then that's fine by me. Add in his All NBA caliber defense and Smart has done nothing but back up his early season comments with strong play. 
We're seeing Smart be better about attacking the paint, and when he does that he's actually a positive offensive player. Smart shoots 65% at the rim, 45.8% from 3 to 10ft, and 50% from 10 to 16ft. It's when he keeps moving out that he gets in trouble, but when he uses his size to get into the paint, good things tend to happen. Look at his shot chart from last night and tell me this isn't your ideal approach for Smart
We've had a large enough sample to know that the offense runs better when Smart is the primary ball hander. It's why I think you still keep Schroder coming off the bench even when everyone is back. There is better flow because Smart is the more natural playmaker/creator. I think when we look at this team's late game offense last night and who was running things, that becomes pretty clear.
- One of the main reasons this team was even able to get back into this game was the play of Grant Williams
He still gets a ton of shit despite being pretty damn solid this year. I get it if we were talking about his Year 2, but his Year 3 has been exactly what you hoped it would be. He was a +18 in his 27 minutes and was solid on both ends. On the year Grant's now at 51/41/88% in his 21 minutes a night. It was Grant's energy and effort on both ends that helped give this team life, especially in that second half.
The same was true with Enes Kanter. He was a team best +28 last night and was part of that comeback crew. Offensively he didn't do shit at 1-5, but he was great on the boards and actually wasn't a giant negative on the defensive end. Part of that was the Spurs not really attacking him in P&R, but whatever I'll never complain about that. Kanter deserves a lot of credit for how he's played since Rob went out after basically not playing to start the season and honestly I have no problem with him being in the rotation in a limited capacity once everyone is back. Given the fact that this team can't shoot for dick, having his offensive rebounding skills on the floor is a plus.
- While frustrating, this was not a game in which you could say the Celts played with no heart or energy. Their 24 point deficit was mostly due to missing every shot they took to start this game, but you don't battle back and go from down 24 to up 7 without playing hard. Once shots started to fall they looked a whole lot more normal
so this was great to see especially since Ime called out their effort against the Nets. They could have easily just folded things up after that first quarter especially coming off the 29 point deficit against BKN, but this team continues to show that's not their identity. Something that was a HUGE problem last year doesn't seem to be an issue which is nice. Shooting will come and go, but energy and effort are things that you can control and should never waver. 
- OK, we can be done here. Let's move on to the real issues with last night
The Bad
- For as good as Dennis Schroder was when Jaylen first went out, and he was incredible, it looks like we're now paying for that strong play. He's been pretty brutal over his last three offensively, and what makes that tough is the fact that he's going to be one of their higher FGA players. It's fair to say he's crashed back to earth a little bit, coming in 30/25% splits over these last three. There are going to be peaks and valleys with Schroder the same way there will be with someone like Smart, and right now we're in a valley. Missing layups, missing open threes, and now you can add a messed up ankle to the equation after Poeltl landed in under his foot. 
What bothered me most though was his defense late in this game. Everyone knows that Dejounte Murray looks to get into the paint by driving with his right hand so he can go into his floater. He kills the Celts with that every single time they play. Yet in the biggest moments, Schroder both gave him that landed and then also didn't even contest the shot. I can handle poor offensive showings as long as you show up on the defensive end, but Schroder has brutal on both ends last night.
- It's not exactly rocket science to suggest that this team will go as their best players go, so Jaylen and Tatum finishing a combined 15-39 (5-14) isn't anywhere close to good enough. Jaylen is still working his way back so that's whatever, but the fact remains that if they aren't going to find ways to consistently produce in an efficient manner, this team's offense is fucked. Tatum woke up in the second half and was a huge reason why they got over the hump and took the lead, but both disappeared in the big moments late. Tatum's 3 points in the first half on 1-9 shooting is what played a role in their huge hole. This is not a case like last year where those guys were consistently producing, but the rest of the roster let them down. I think it's OK to say that so far this season, it's been the opposite. There hasn't been anywhere close to that level of consistency from their two best players and when that happens you're going to struggle, it doesn't matter who they play.
- Let's talk about Ime. While there are things that are not in his control like someone's ability to hit a layup, he certainly did not do much to help the situation last night. In fact, you could argue he did more harm than good. In a game where nobody could hit a shot and one of his starting guards literally was a disaster on both ends, Payton Pritchard was a DNP-CD. Aaron Nesmith actually looked OK in his 10 minutes, he hit a three and played with good energy, yet he was a DNP in the entire second half. I just don't get it. 
A lot will be made about his late game rotations, subbing out Kanter/Grant with 3 minutes left and going with the starters. Personally, this didn't bother me. I expect the best players on this team to hold a 7 point lead with 3:21 left. I feel like you get out while you're ahead when it comes to the bench guys. But what I hated about Ime's end of the game was his lack of any sort of offensive plan. At least that's what I assumed happened. The alternative was that he actually decided to take the ball out of Tatum and Smart's hands down the stretch in favor of someone like Schroder, and that is one of the dumbest things you could possibly due. Especially with how well Tatum/Smart looked to start that fourth quarter. The Spurs went to a Box And1 against Tatum and Ime basically went
It reminded me of Brad when the Heat went to their zone in the bubble. There are things that I feel like people put on a coach that aren't warranted. Like guys missing layups or not playing hard. That's on them. But what is on a coach is the rotations and strategy. At what point in these fourth quarters do you feel like the Celts have any sort of plan? Especially when things get tight and they need to execute? The answer is none. That's on the coach. What we've learned about Ime is that he's definitely not shy to call out his players
and while he does say he needs to be better himself, I also expect a coach to actually have a plan at the end of a game. It doesn't guarantee that the players will execute it, but at no point do I see Ime putting his players in a position to succeed when it matters most. That has to get a whole lot better, and quickly. We've had a large enough sample to where this
is not just a player issue. It's a strategy and approach issue, and that falls squarely on Ime. 
- Nothing twists the knife quite like a Grande stat bomb after a loss like this, and of all the ones that we got last night I think this one was the most painful
You can't hit 44% shooting in 60% of your games you're not going to win many games in this league. 
- For as good as he's been basically all year, this has been a rough back to back games for Al. A brutal showing against the Nets and that was backed up by a -29 performance in his 25 minutes last night. That's a killer. His missed jumper at the 3:21 mark is what started the collapse, and he was outplayed by Jakob Poeltl which simply cannot happen. With no Rob available this roster cannot afford to be getting these type of no show performances from Al, because without him being a consistent safety valve for this offense, things are going to look gross.
- Look, I know Jayson Tatum has a complaining to the ref problem. It's bad and only does more harm than good. But maybe, just maybe he has a point? When something like this can happen
and it's a no call, no shit he's going to be upset. There's no denying at this point he gets a brutal whistle, even when he's aggressive and is actually getting fouled. I don't care if someone complains, plenty of star players complain and get calls when they get smacked in the face.
The Ugly
- Let's start with that first quarter because holy fucking shit. I'd say I've never seen anything like it but I definitely have while watching this team play. They got off to a 1-16 start and the brutal part was everything was at the rim! This wasn't a case where they fell in love with the three. This team was missing layup and layup and floater after floater. It was incredible and not in a good way. Look at this shot chart!
I mean what the hell even is that. They finished that frame with 19/14% splits. It was everyone too, with Jaylen at 0-3, Tatum 1-6, Horford 1-5, Schroder 0-3, and Smart 2-7. The Spurs aren't even good defensively, but it was a case where every single Celtics player could not make a shot from 2ft away. Doesn't get more pathetic than that. 
- For the game, we saw this team finish 37/29%. Another sub 30% night from three, and the issue here is it's coming from their best players/shooters. The Jays were 5-14 from deep. Horford was 0-3. Then there are the not so great shooters with Smart/Schroder, who were a combined 1-8. Shit, Tatum is 3-25 from three over his last three games. You cannot win in the NBA in 2021 if you're going to be this bad.
Sadly though, their struggles were from everywhere
- And finally, there's the collapse. A 15-0 run to close this game is about as inexcusable as it gets. How bad was that closing lineup? See for yourself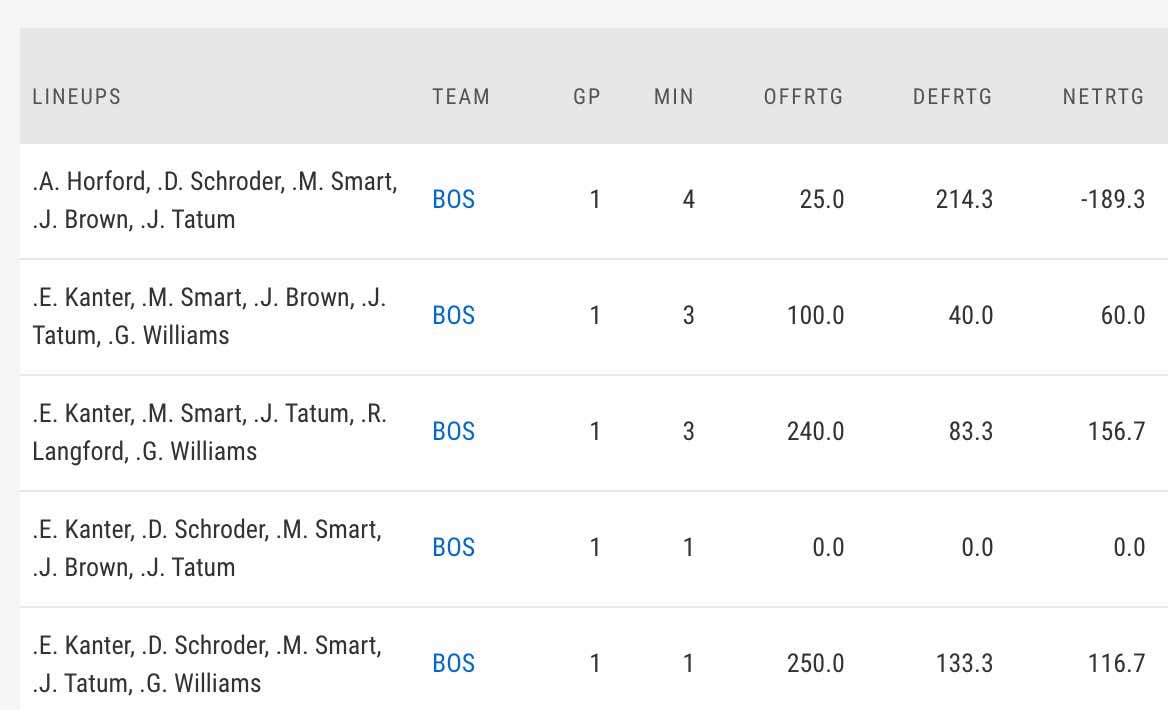 Look at the starters at the top. They are who closed the game. LOOK AT THAT!! I mean holy hell how is it even possible to be that pathetic on both ends. We're used to the second unit fucking everything up, last night it was the main guys.
Add it all up and what you get is an embarrassing loss to a team that was 4-13. Any sort of positive progress that was made earlier in the month is now basically out the window. Your classic one step forward two step backward situation and it comes ahead of a December that is an absolute gaunlet. That month could very well decide their season, and until the Celts figure out how to close things are going to continue to look gross. It's that simple.