Time to Bring the Energy: Everything You Need to Know Ahead of Today's Stool Streams LXXV, Live at 11:15 AM ET
Welcome back to another edition of Stool Streams presented by High Noon Hard Seltzer. Today, we reach the three quarters of a century mark inside the Triple S. That's right, it's our 75th broadcast, and what better way to celebrate than with some Rock, Paper, Scissors?! Remember, $500 is on the line via the Play Barstool App. It is totally free to play, and you can download it right here. Before we break down each match, a refresher on the rules:
- Each match will be best 2-out-of-3 sets, first to 7 wins (no win by 2)
- Players must say "Rock, Paper, Scissors" out loud and keep their throw under the table at all times
- Players must maintain eye contact throughout the duration of each throw
- Each player has one timeout per match
Match 1 - Vibbs (1-2) vs. Chef Donny (1-0)
Storylines: The title of this blog is energy, and that's exactly what Vibbs brings to the table each and every week. He loves competing inside Stool Streams Stadium, and hopes that his yelling and intimidation can carry him back to a .500 record. Meanwhile, Chef Donny was on the winning side of a match against Vibbs back on October 27th, a three-set thriller.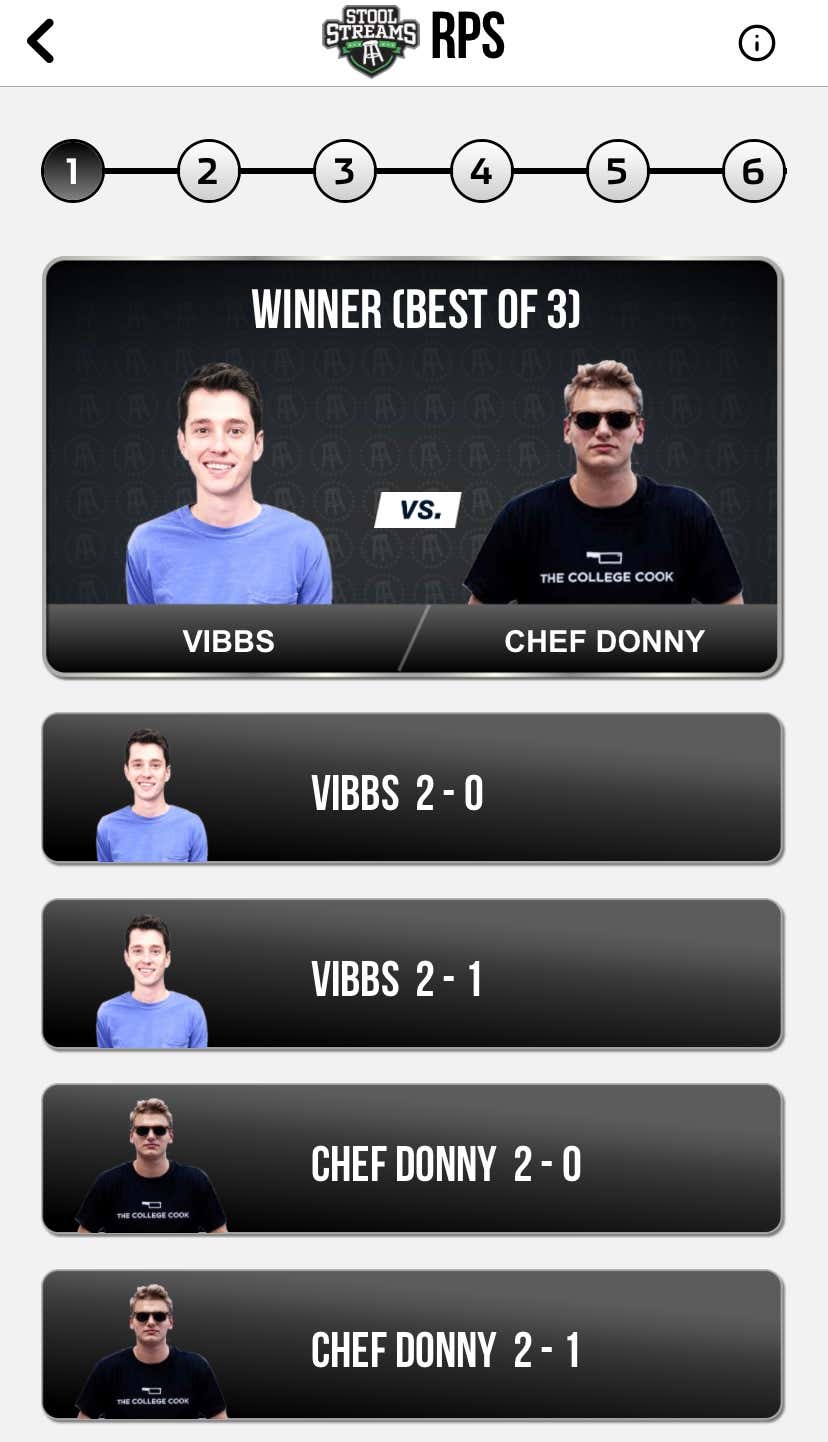 Match 2 - Rudy (1-1) vs. Kate (1-1)
Storylines: This is a battle of a pair of players who each have identical records. After a loss against Frank The Tank, Rudy rebounded well against Feitelberg. As for Kate, Rudy will be her first non-troop opponent. She split matchups against fellow veterans Chaps and Billy Football.
Match 3 - Feitelberg (1-2) vs. Hannah (1-0)
Storylines: There is no denying it - Feitelberg is the craziest Rock, Paper, Scissors player I have ever seen. He always brings the energy and sometimes puts himself in danger, too. But he has proven that he will do whatever it takes to earn a victory. Today's opponent: Weather Girl Hannah, who impressed many in her debut a few weeks ago and looks to keep her undefeated record intact.