Never Ask For Directions!! Never! But Here is a Roadmap to Cash The Chiclets Over Boost!
Never Ask For Directions!! Never! But Here is a Roadmap to Cash The Chiclets Over boost!
Nights like this with 11 NHL games on the slate can be intimidating, that's why we have the Chiclets 5 for 5 Boost.  This is simple math. 5 games need 5 goals in each between both teams and we all make money. This boost gives action that covers the whole night and we just sit back, relax and root for goals. I love cashing a ticket while the family is already asleep. The quiet celebration that includes fist-pumping is a personal favorite. 
Included are the team's records for the stat-driven bettors. 
Sabres (12-2 over 4.5)  at Penguins (9-5 over 4.5)
Sid is back baby and his first game did not go well seeing the Pens lose 6-1.  He wants to get his points per game back on pace tonight and seeing the lowly Sabres come to town has him licking his lips.  The Sabres are not very good but and all they do is play games over 4.5
Flames (8-7 over 4.5) at Flyers (6-7 over 4.5)
Doesn't look great on their overall 4.5 records but if you really dive into the stats you see the Flyers are 4-2 at home and the Flames are 5-2 their last 7.  Flyers had a big Alumni game yesterday with all the old stars and grinders showing up to play so you know the boys want to put on a good show for them and play wide open tonight. Atkinson's anytime goal is basically a certainty.
Sharks (9-5 over 4.5) at Wild ( 13-1 over 4.5)
The Wild at home is always bonkers, the fans there are always going crazy which results in some high-scoring games.  Reimer has been great for the Sharks so far, but Kaprizov and company are a different animal.  Sharks pitch in a couple on the PP, most likely Dahlèn getting his point there.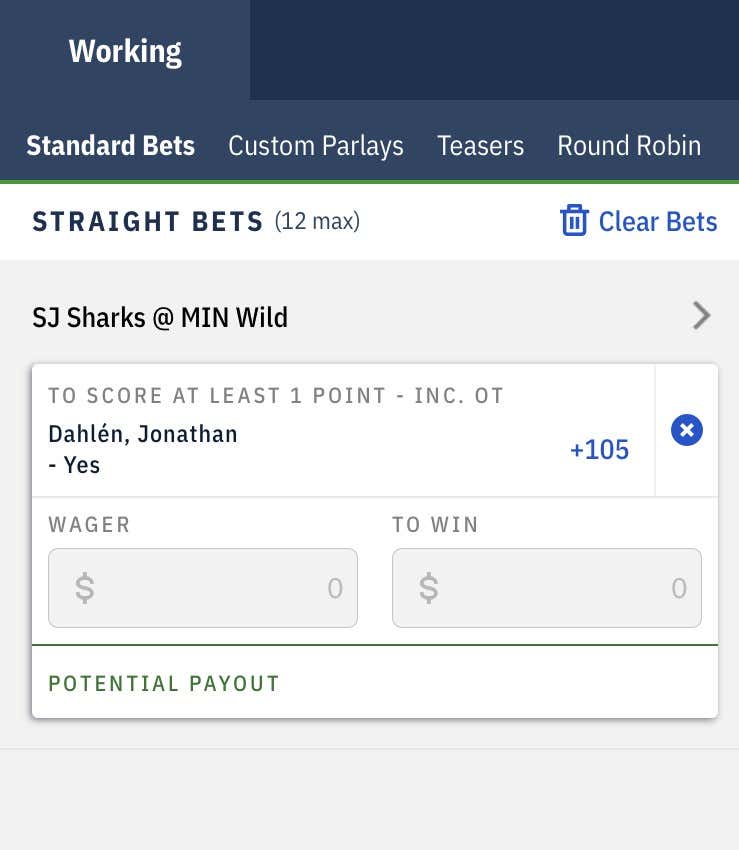 Canes (9-4 over 4.5)  at Vegas (10-5 over 4.5)
Every game in Vegas has the potential to go over the number let alone an alternate line of 4.5. You can almost guarantee a goal in the first 10 minutes and over 1.5 in the first period. Fans all put in action at the windows on the way to the game and they all either have the over or the -1.5 line hoping for an exciting game. The news coming out of Barstool today about the Chiclets Cups will have players and fans all fired up tonight.
Caps (10-5 over 4.5) at Ducks ( 11-5 over 4.5)
The Ducks are dominating out west and the young guns Zegras and Terry (14 game point streak) are leading the way.  Getzlaf is looking for his 1,000th point tonight so that's at least one goal right there.  We had an Ovechkin goal boost last game they win 6-1 and he didn't score so that guarantees he gets one tonight.  So we have 2 goals already in the bank, they will definitely find 3 more.
Twitter: mattmurley19
Instagram: murls_ebr
*Bet Responsibly