Much-Needed Confidence Boost For Pete Davidson: Emily Ratajkowski and Kate Beckinsale (Not Bad Looking) Defend His Attractiveness
Jeff Kravitz. Getty Images.
Upworthy —Pete Davidson, 27, has earned the reputation as one of Hollywood's most prolific ladies' men for dating some of the most beautiful A-list women over the past three years. However, there are a lot of people out there who don't understand the "Saturday Night Live" star's appeal.

Davidson is tattooed from head to toe. He suffers from Crohn's disease, has done multiple stints in rehab, describes himself as looking like a "crack baby" and only recently moved out of his mother's basement on Staten Island.

In a Monday appearance on "Late Night With Seth Meyers," model Emily Ratajkowski explained Davidson's appeal and it's pretty easy to understand.

"He's a professional," Ratajkowski said about Davidson. "First of all, you should know that about Pete." She added, "Pete—he's got the height. Obviously women find him very attractive."

"I feel like only other men feel [that he isn't attractive]. Guys are like, 'Wow. What's that guy got?' And I'm like, I mean, he seems super charming," she said. "He's vulnerable. He's lovely. His fingernail polish is awesome. He looks good!" Further, he has a "good relationship with his mom." She concluded, "We love it. It's hard to find them."
Beckinsale recently affirmed a similar statement about Davidson by liking an Instagram post that read:

"I love how every time Pete Davidson starts dating another beautiful celebrity everyone's like 'wtf is happening how did he do this what is this mystery???' and everybody refuses to entertain the possibility that he might have a nice personality."
We're currently living through an "average dude" renaissance that started with the Dad Bod and brought us straight through to Paul Rudd being the Sexiest Man Alive and Pete Davidson banging Kim Kardashian. It's a wonderful time to be alive and by all accounts we're not slowing down any time soon, and Pete has happily made himself the face of the franchise of a wide breed of somewhat average, funny guys who can make you laugh and charm your mom's face off. He's the Alpha male of the Beta males, and we're having a moment. God pity the next person who underestimates Pete Davidson around their girlfriend. 
Not everyone has caught up though. Somehow there are still media sites out there who are caught by surprise when Pete Davidson is spotted with another gorgeous woman.  For example Buzzfeed thinks it's "the strangest plot twist of 2021" (and it's not February anymore, it's not funny and ironic, it's mid-November: they literally mean, of the whole year, the strangest thing is extremely successful comedian/actor dates very attractive woman). He does, after all, "suffer from Crohn's disease." And we went to REHAB.
Pete Davidson has now dated four (4) bonafide celebrities: Ariana Grande, Kate Beckinsale,  Kaley Cuoco, and Kim Kardashian.  Then there's four (4) more who may not be household names, but they're either celebs in their own right, or at least knocking at the door, waiting to be let in: Phoebe Dynevor from Bridgerton, Margaret Qualley from Once Upon a Time in America, Kaia Gerber from Cindy Crawford's womb and Cazzie David from Larry's ex wife. One could be an accident, two could be luck — luck that's extremely improbable statistically, but luck nonetheless.  But 8? Plus Emily Ratajkowski proudly defending your name on the late-night shows? Using the holy-grail of descriptors for a guy in 2021…"vulnerable"?!?!
George W. Bush will tell you. 
There's an old saying in Tennessee that says:  
Fool me once, shame on — shame on you. 
Fool me — you can't get fooled again.
John Shearer. Getty Images.
Jamie McCarthy. Getty Images.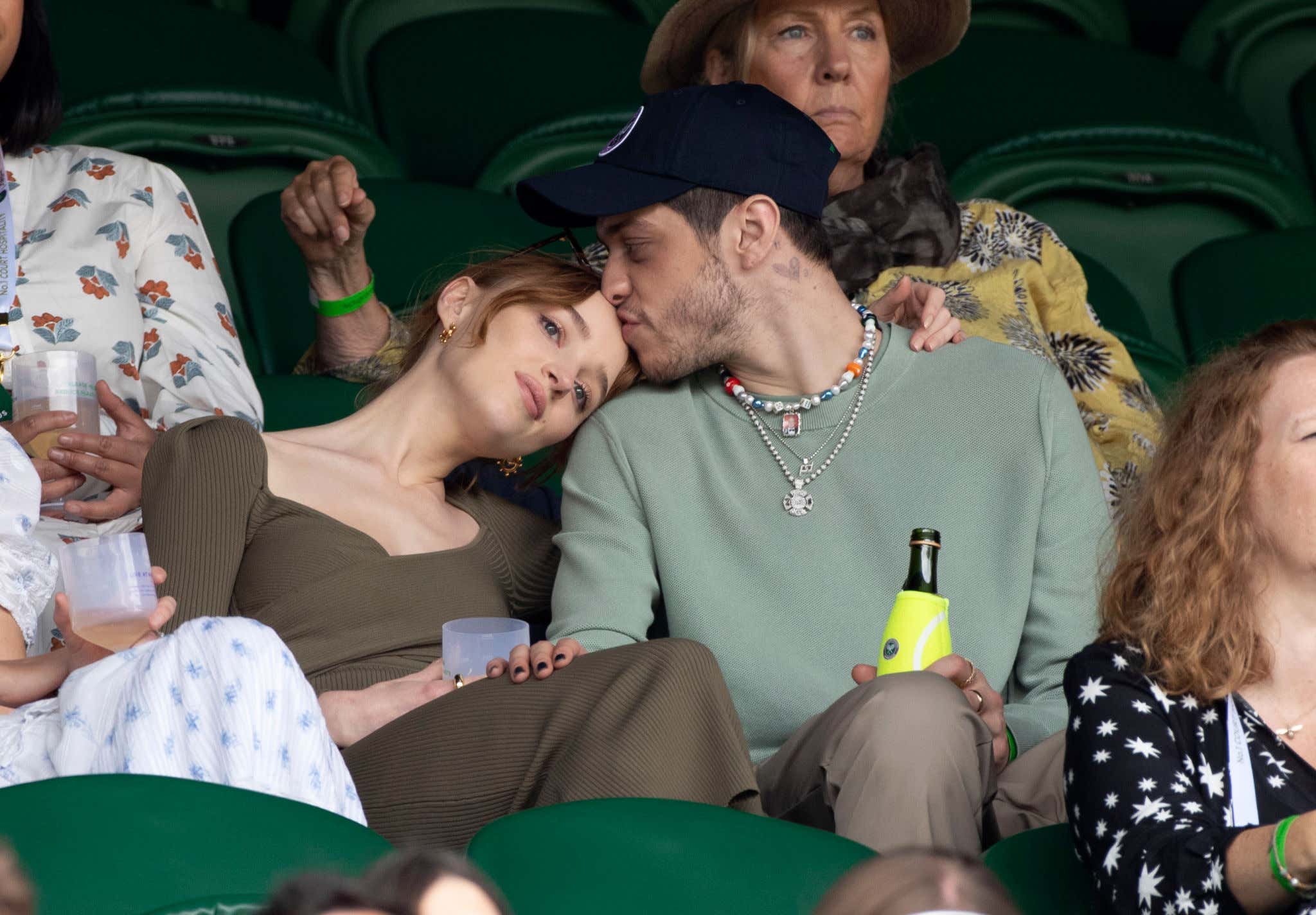 Karwai Tang. Getty Images.
JD Images. Shutterstock Images.
---
(Alternate theory:)