Hammer These +400 and +320 Bets on Barstool Sportsbook !!
+400 and +320 hammers on Barstool Sportsbook!!
A Monday border battle between Captain Canada who takes that title so seriously he has a maple leaf tattoo and the Whit who has his USA jersey always on camera. The setup for anyone tonight is 3 screens to keep tabs on the action. This action should get anyone pumped! A chance to win money and chirp the Chiclets guys is always a big win. 
Canada eh!? Ride with Biz +320
The Canadian side of this boost has 3 elite players playing great hockey on good teams. With Chiclets opening doors in Canada, I am sure this will be bet a lot and should cash. 
Mitch Marner is on fire after a slow start and we had him scoring in an earlier bet. Now he is scoring every night and the Leafs are winning. The Leafs continue their homestand against a depleted Kings team that keeps it close but is overmatched in this spot. The PP could be where this point comes for Marner. We all know Biz will have his face painted for this one.
Jonathan Huberdeau is the best player nobody knows about. I think that will change if he does his job and gets a point for the Chiclets boost. He has points in the last 4 out of 5 games and the Panthers are a wagon. This game should have some goals and who does not want to have a big game at the legendary MSG, even if I picked up an assist there on Whit's first career goal. 
Tom Wilson is the NHL version of a villain where Caps fans love him and opposing fans want him thrown out of the league but make no mistake this guy can play. He is on the top line with the great 8 and on the #1 PP unit, he fills out parlay easily getting a point against the Sabres.

USA USA!! Ride with Whit+400
It's an Olympic year and unless you live in a cave you have heard how Whitney won a silver medal for Team USA in the Olympics. Not a Big deal. This boost has 3 possible US Olympians in this parlay at +400! 
Austin Matthews to get a point at home vs the Kings is possibly the easiest thing I've ever heard of. The Guy is on fire right now and always plays well at Air Canada Center! I'm convinced his point output is directly correlated to the relaxed game day attire and if he keeps scoring maybe he will just start showing up in a bathing suit. 
Kris Kreider and the Rags come home from the western trip and need to get back to their winning ways. Kreider is always flying around, sometimes too fast, but has been lethal on the PP this year. I like him to pick up a goal tonight at MSG, but a 2nd assist is fine too.
Carlson plays 30 minutes a night and mans the top on the PP with Ovie and Kuznetsov on the flanks. Picking up a PP apple really is not hard for him in a game vs a bunch of guys making 750k.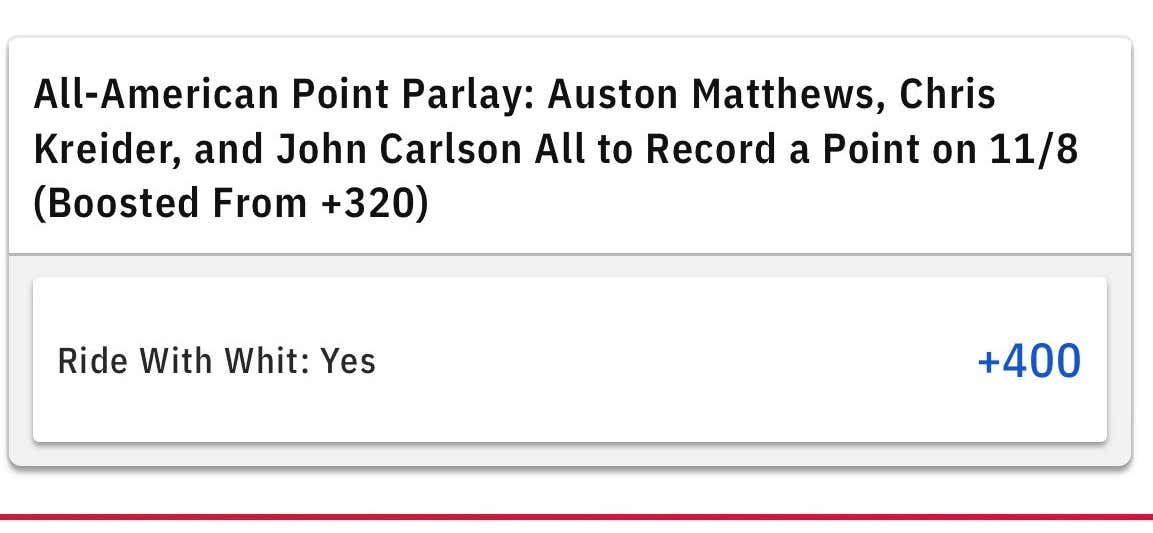 Get over to Barstool Sportsbook under the exclusives page and bet with the Chiclets Crew. Huge odds and you get action on all 3 games tonight.
*Bet Responsibly
Twitter: mattmurley19
Instagram: murls_ebr