Karl-Anthony Towns Is Now Liking Tweets About Freeing Him From The Timberwolves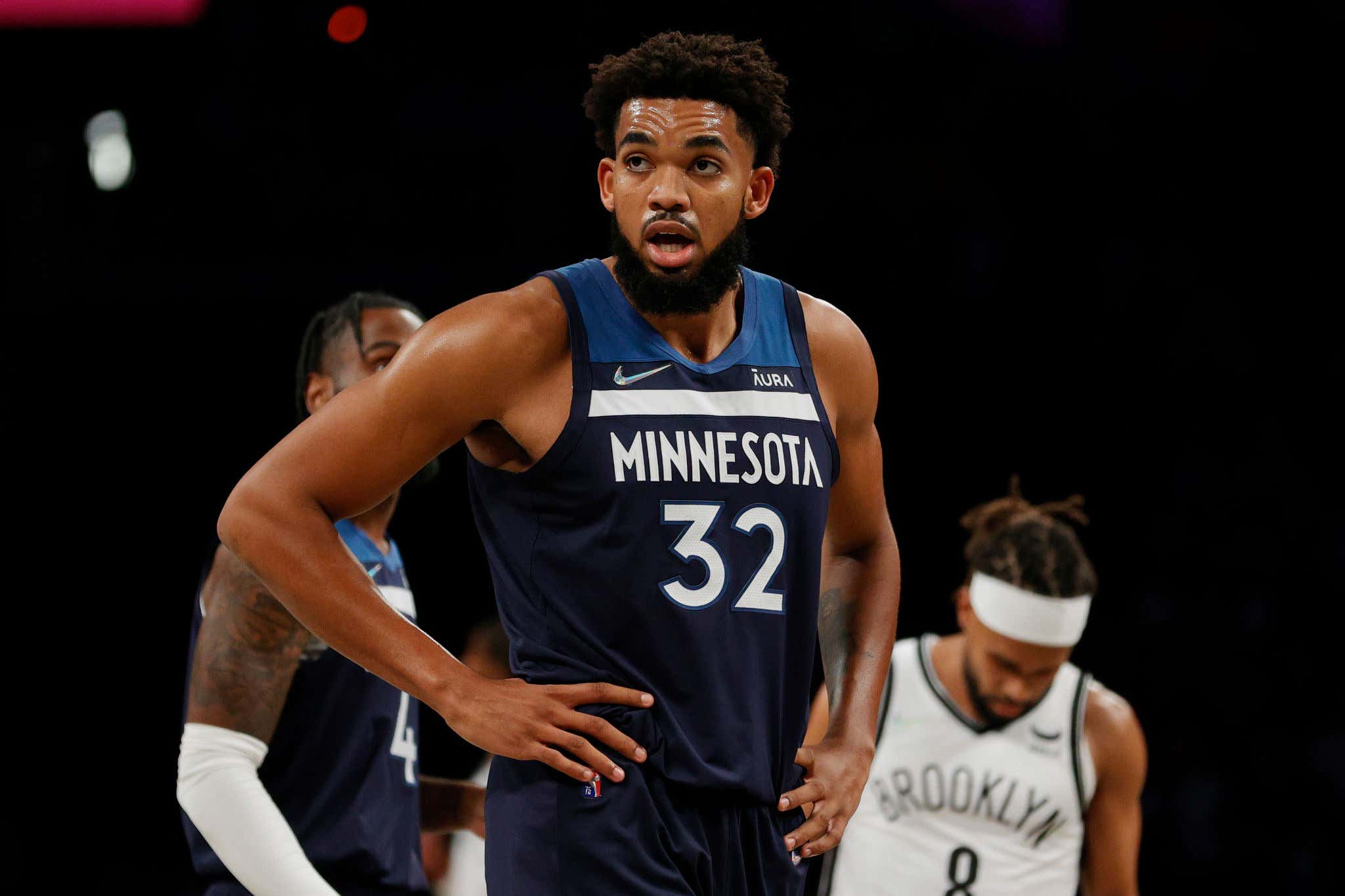 Sarah Stier. Getty Images.
When it comes to the next star player that could one day be on the move, you'll hear KATs name listed almost every single time. He's the next blue chip player that everyone wants to get out of MIN and onto their favorite team. There are times where maybe that looks like it could be a reality like when he tweeted immediately after the Wolves fired their GM like two weeks before the season without telling him
but then there were also moments where KAT talked about wanting to take the hard road and it gave the impression that he was willing to stick it out with his current team
Towns likens staying in Minnesota with his decision to continue to play for the Dominican Republic national team. He said he's had opportunities to leave the Dominicans, his mother's homeland, and reclassify to play with Team USA, which could use a talented big man. But that would be the easy route in his eyes.

"I like taking the hard route. I like going the more rewarding route," he said. "I love being with the Dominican Republic national team. There's a lot of things they haven't done, and I'm able to possibly change that. The challenge is what I've always strived for."
Which brings us to last night and the latest chapter of this saga
Was he #hacked? Probably not, but that's most likely what we'll hear. Liking a tweet like that, which is a reply to a tweet talking about KAT being out of his MIN deal is pretty significant. At first, I thought maybe this was related to his usage/FGA because both are down slightly this year, but that might just be my brain attempting to spinzone this for any Timberwolves stoolies out there. 
Now, we should also be fair here. It's quite possible that KAT is trolling the internet because this is what players do. They like tweets, they send emojis at the trade deadline all because they know the internet and NBA Twitter will run with it. That's entirely possible this is what KAT was doing. But maybe he's frustrated with the Wolves dropping 3 in a row to fall to 3-4 after their promising start. He's certainly holding up his end of the bargain, at least offensively, so this is something to keep your eye on as the year goes on. The second he demands a trade pretty much every single team in the NBA will be lining up to get him. This would most certainly not be a Ben Simmons situation. Remember, he's just 25! 
Wolves fans have been tortured enough over the last 17 years that this is for sure the last thing they want to see. I feel for them. Honestly I hope KAT stays because I think the NBA is better when these blue chip players stay in their small markets. That is of course unless he ends up on my favorite team. I'm pretty sure that's how most people feel. Super teams are bad, unless your favorite team is the one forming them. Then they're all good. 
I just know this isn't exactly the best thing you want to see from your franchise player just 7 games into their season. Given how loaded the West is, chances are it's going to get worse before it gets better.