I Don't Know If This Makes Me Colorblind But I Woke Up Today And Could Only See Red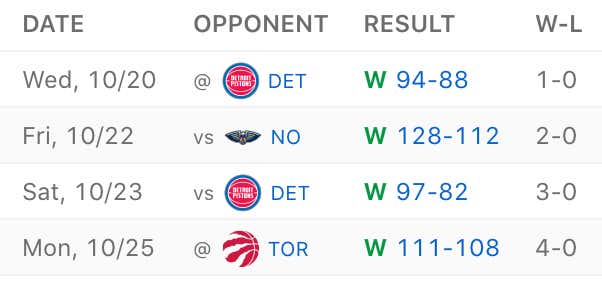 Standings anyone? 
Okay now let's overreact: 
- I don't think we've ever really needed the Bulls like this since maybe the first year Luol Deng and Ben Gordon went to the playoffs under Scott Skiles in the 04/05 season. Leading up to that season the Cubs had just collapsed and sold off Sammy. The Hawks weren't on TV. The Bears were averaging 5 wins a season from 02-04 with Jim Miller, Chris Chandler, Kordell Stewart, Rex Grossman, Chad Hutchinson, Craig Krenzel, and Jonathan Quinn all starting AT LEAST 3 games over that time. My math says it's been about 16 full seasons since the Bulls were the only show in town this time of year. 
- As such you'll have to excuse me for seeing so much Red right. I'm getting hit with every shade on the Sherwin Williams panel and there's nothing I can do about it. I'm a sucker for momentum and the Bulls have exploded into the 2021-22 season. We've been impatiently re-seeking this feeling of upward trajectory since Derrick Rose got hurt a decade ago. For a long time it's been patchwork and bandaids and horrible leadership. It's okay to be unnaturally excited. 
- Is this sustainable? We'll see. I hope so. Would be great for the Bulls to take over Chicago start to finish this season. I would love to get back to the days where going to the UC for a Bulls game is a big fucking deal. That's how it used to be. Prices would be exorbitant just to get in the door. Me and a group of 3 buddies split 300 levels and would use the postseason to try to make our regular season back. It didn't work but those season ticket drafts were awesome. 
- Point is there's so much room to grow across town with a good Bulls team. So many disconnected raw sports fans that think the NBA sucks because the Bulls haven't been competitive so they don't pay attention until the playoffs and even then it's an inconvenience. Truth be told the NBA is premium entertainment and by far the most competitive atmosphere in professional team sports between the smallest rosters and lowest athlete turnover rate. If you can get past the belly aching and bullshit then it's not too fucking shabby. 
- Alex Caruso is becoming a fan favorite but nobody is talking about Alize Johnson. I think Stacey was calling him Baby Rodman last night which is alarming but also welcomed. I told you we're overreacting. Baby Rodman it is. 
- Stacey later compared LaVine's rise to MJ being a scorer only his first couple years in the league. Then Krause gave him the right pieces and he took off. That was how Stacey introduced LaVine's progress last night and I need to draw a line. We're overreacting but I refuse to talk about Michael. Don't do that to us. Let's just be 4-0. 
- DeRozan's defense is pretty fucking terrible but he's electric in isolation. Less dribbles for LaVine means more catch and shoot which means more open looks and easier shots. Lonzo is on fire and the ball movement is superb. If they had one more big man then I'd be significantly more jacked up. Right now it's just about getting better throughout the season, etc. 
- Massive game Thursday night with the Knicks in town. People say it's going to be like the 1993 playoffs which gets me so worked up just thinking about. I knew it would be good but this is exceeding expectations. Probably because everyone else sucks but whatever. The Bulls are back and I'm seeing Red. 
Subscribe to RLR now that it's becoming a Bulls podcast. 
Subscribe to Barstool Chicago YouTube