I Just Found Out Coach O Might Be Having Sexual Intercourse And My World Is Turned Upside Down
It's no secret that, for the most part, I only follow sports on a surface level. 
Did a Steelers fan poop himself? Was a Yankees fan obnoxious again? Solid fight at the Suns game? Player having relationship drama? Is a player's TikTokking brother getting cancelled? Honey, I'm interested.  
So I have these "from afar" ideas of players & coaches in my mind; quick snapshots from media coverage which I then form into my own version of them. Which is why I was absolutely devastated and SHOCKED when I was scrolling Twitter this morning & saw that LSU's Coach O might be having sexual intercourse???
You see, until today I had no idea he'd gotten a massive $42M contract after winning the National Championship, promptly divorced his wife after 23 years together, apparently began going to pound town all over tiger territory & then got fired & is just living the dream knowing he's going to make millions for not coaching whilst continuing to go to pound town. (You would have been beside yourself if you had to listen to Brandon Walker, Big Ev & Nick explaining all this to me.) And I'm not going to include them here, but I saw several posts where it appears he's in bed with & partying with #1 stunners and I just... 
You see, over the years I'd only seen the clips where he says little LSU catch phrases with his infamous voice. He's a wholesome man. He's Farmer Fran from The Waterboy with a heart of gold and the morals of a monk-like southern gentleman. I always got the warm & fuzzies. 
The Coach O in my mind has always enjoyed quiet Sundays riding his mower, reflecting on the games with a headset on, softly playing Fats Domino. He surveys the land before him; "God bless America," he thinks. Given, the yard's not even his; it's his momma Cornelia's, and when the last perfect crosshatch is complete he'll move on to the neighbor's, too. Mrs. Broussard. She lives alone since her husband passed in 2012 and the Orgeron's have taken her under their wing. She brings him out a sweet tea & he kindly listens as she tells him about how loud the rain was last night. "Sure was, Mrs. B", he nods while taking a hearty sip.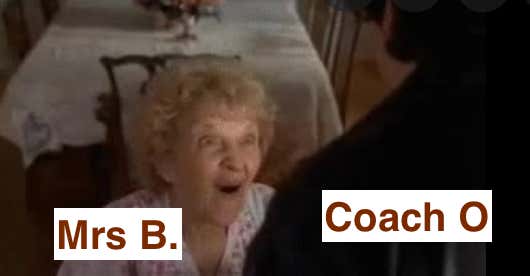 On Friday nights before games My Coach O stays in to make a nice gumbo. He patiently stirs the flour & oil to make a perfect roux; a flavor deep and rich, like the history of LSU football. When it's finally ready he tests out a little spoonful, carefully blowing the steam off and taking a small nibble. "MmMmm. Good sausage, mmmph."  Coach O then sits at the table, spoon & fork in hand smiling softly. It's delicious. Hard work sure pays off. He'll bring some over to momma & Mrs. B. tomorrow on his way to the stadium.
While at Dillard's one Thursday evening a young boy is begrudgingly shopping for school pants with his beautiful mom. Suddenly, there's Coach O browsing the khaki rack! The child breaks free from his mom's hand & rushes over thrilled… Running after him, her Brandy Mellville scarf falls to the ground. Coach O blushes as he picks it up for her & then he pats the little rapscallion on his head, rustling the boy's hair a bit. "Geaux on lil tig-ah", he grumbles, chuckling gently. They all smile warmly.
So again, to hear he gets more p***y (pussy) than a Baton Rouge ASPCA when a hurricane's comin'… I just… There was even a viral Tweet saying he brings his girlfriends (plural!) to practice & lets their kids run around..
Given, many have said this is false:
But the damage is done. I will never recover from this & just needed to share my dismay. Next thing you know someone is going to tell me Urban Meyer, modest family man, is out there giving oil checks on a dance floor somewhere. For shame. 
#Sports