NSFW: Florida Man Rents Helicopter, Hovers Directly Above Hollywood Sign, Poops On It
Before we get to the main news dump of this story - a quick refresher on the Florida Man who did the pooping (& sent it to me in the first place):
Last November I went down to The Sausage Castle in Astatula, FL for a Veterans Day Free Blowjobs For Veterans Party where I got to interview Jenny Jizz & her husband Mike The Cum Artist before she, for lack of a better term, patriotically blew veterans with terrific selflessness & enthusiasm. Then my camera man/baby dad and I quietly ate BBQ off a stripper stage as a woman got railed on the TVs above us when everyone else was outside watching an MMA fight... Then we stood by as a pro-bono porn went down.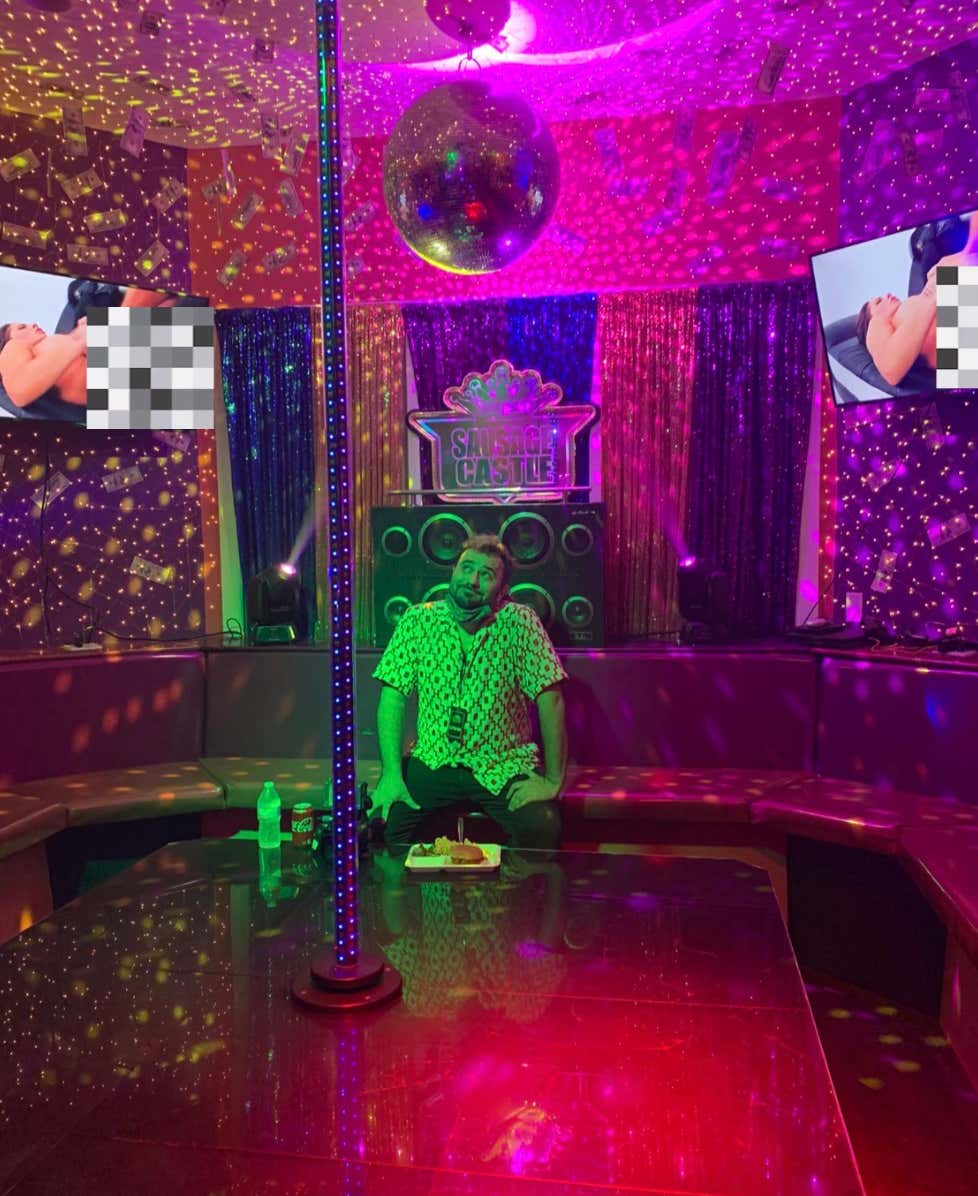 For better or worse, some of it is burned forever in my mind, but it was a true adventure & delight getting to know the brain behind the event, the one & only Mike Busey. 
I've said this before, but I love genuine characters who are 110% unabashedly, unapologetically themselves; people who make life more interesting for us shyer bystanders in the process. Busey is definitely one of them, so imagine my delight when out of the blue last week he texted me a video with zero context. 
Before hitting 'play' on my laptop I set up my phone to record my reaction as I watched whatever he sent, because I knew it would be good. Indeed it was! To save you time, here's how it progressed for me:
And just what was the video? Mike Busey getting in a helicopter, pulling down his pants, and taking a powerfully-spraying diarrhea poop on the Hollywood Sign. 
For graphic butt-spraying-poop reasons I can't embed the video but you can watch the whole thing HERE if you scroll down a bit on his site. It's worth viewing for the music pairing alone. In the meantime here's some pics to give you an idea of the vibe:
I could continue this blog but he followed up with a helluva press release, which I will share with you now, wholly unedited:
Florida Man Mike Busey Flew To Hollywood, California To Shit On The Iconic Hollywood Sign…:
As The Sun Was Setting Upon The Legendary Hollywood Sign A White Helicopter With No Doors & With The Decals MikeBusey.com Could Be Seen Flying Around Dangerous Low & Close Blaring The National Anthem From A Bumpboxx.  

Multiple Eye Witness's Seen Mike Busey Standing On The Outside Of The Helicopter Skids Dressed In Red, White, & Blue. Along With Combat Boots & A American Flag Speedo Barely Covering His Genitals Waving An American Flag. 

A Local Photographer Hiking Up Near The Sign At The Time Could Quickly Tell This Wasn't A Typical Sunset Helicopter Tour. 
"I Could Hear The Helicopter & The National Anthem. Then I Seen A Man Hanging From Outside Of The Helicopter Waving The USA Flag Around. I Didn't Know WTF This Dude Was Doing! I Could Quickly Realize This Was About To Be Some Crazy Shit!" 

-Local Photographer
The Helicopter Was Seen Flying Around The Hollywood Sign Multiple Times. Hovering Low Over The Famous Sign Mike Busey Could Be Seen Pointing His Ass Out & Above The Sign And What Appeared To Be Shitting On The Sign. 

A Local Eye Witness Did Call In The Incident But The Air Craft & Pilot Still Remains Unknown…

 Mike Busey Proudly Posted Via  His Instagram @MikeBuseyShow A Few Images Of His Shitty Mission To Shit On Hollywood. 

Weather Mike Busey Or Anyone Else Involved Will Be Criminally Charged Is Still To Be Determined… He Was Seen Via His Soical Media Flying Out Of LAX Immediately After The Stunt Returning Back To Orlando, Florida.
QUOTES:
"I Was Tired Of Seeing Hollywood Shit On America!So I Thought It Was Time For Someone To Shit On Hollywood!" -Mike Busey 

"I Wish People Would Wake Up & Realize That Our Country Is Going To Shit!" -Mike Busey 

"I Just Might Start Shitting On Other Places Like Government Buildings, & Large News Corporation's" -Mike Busey 

"Too Many People With A Voice Are Afraid Of Speaking Up For The Truth In Fear Of Being Canceled! 

I Would Like To Think Hollywood Is Full Of People That Are Over The Bullshit!" -Mike Busey 

Wether The Shit Attacks Will Continue Is Still To Determined… Story Developing
Buddy, I am staying tuned & keeping an umbrella handy.