On August 29th, 2021, Hurricane Ida ripped through the southeastern portion of Louisiana. This storm will go down as the strongest storm in recent history to hit the Louisiana gulf coast and the state will feel the effects of this hurricane for many years to come. 
When I say many years to come I'm speaking from experience. August 29th, 2005 I lived in Pass Christian MS and lost everything I owned in Hurricane Katrina. 
It was my first week of 7th grade at my new school in Bay St.Louis Mississippi. I was beyond excited. That was the place I was going to spend the next 6 years of my life. That was the place that would hold my highschool memories. 
It was Friday I was ready to close out my first official week of 7th grade and all that stood in my way was the final announcement and bell. Over that announcement we were told there would be no school Monday due to a hurricane approaching the area. Living on the gulf coast, a hurricane isn't something we flinched over. Category 3 or below you grab your flashlights, generators, supplies and hunker down. 
Growing up all of us heard the infamous tails of hurricane Camellie (1969) a category 5 hurricane that completely destroyed the Mississippi gulf coast but we never fathomed we would see something like it again. 
Jack Thornell. Shutterstock Images.
Hurricane Camille Damage 
Going home that day I could feel the tension at the house. My Dad told my mom she and I would have to evacuate but he and my brother would stay there. I lived on a bayou so even the smallest storm would cause the water to rise. My dad and brother started to move anything of importance. My mom was packing pictures, documents and any memory she felt worth saving. My mom told me to pack what I wanted to keep. At 13 it's hard to figure out what you want to save, especially when you truly think you'll be back at your house within the week. 
Sunday morning comes and my mom and I pack up the car as full as we can along with our two dogs. We left the house with no real evacuation destination. Twelve hours of bumper to bumper traffic lead us about 4 hours north. We had family friends who were kind enough to take us in as we had run out of time and had to find shelter. It's there we rode out the storm. 
JAMES NIELSEN. Getty Images.
 Evacuation traffic 
The storm passes. Even being 4 hours north we were without power, water and cell service. No way to contact my dad or brother to make sure they were alive. 5 days pass, cell service returns and finally we receive a text saying "we made it" I still get chills to this day thinking about it. Being the smart man my Dad was, he tied one of our boats to the second story of our home. Once the water caused my home to collapse my Dad and brother got on the boat and floated to a neighbors house that was still intact and stayed there until the water subsided. 
Once the roads were clear we made it back to what was once my home. The 25+ feet of storm surge left the Gulf Coast like a pile of Lincon logs. Everything I ever knew was gone. There were homes in the middle of streets there were mail boxes and boats in trees and everything was covered in smelly black muck.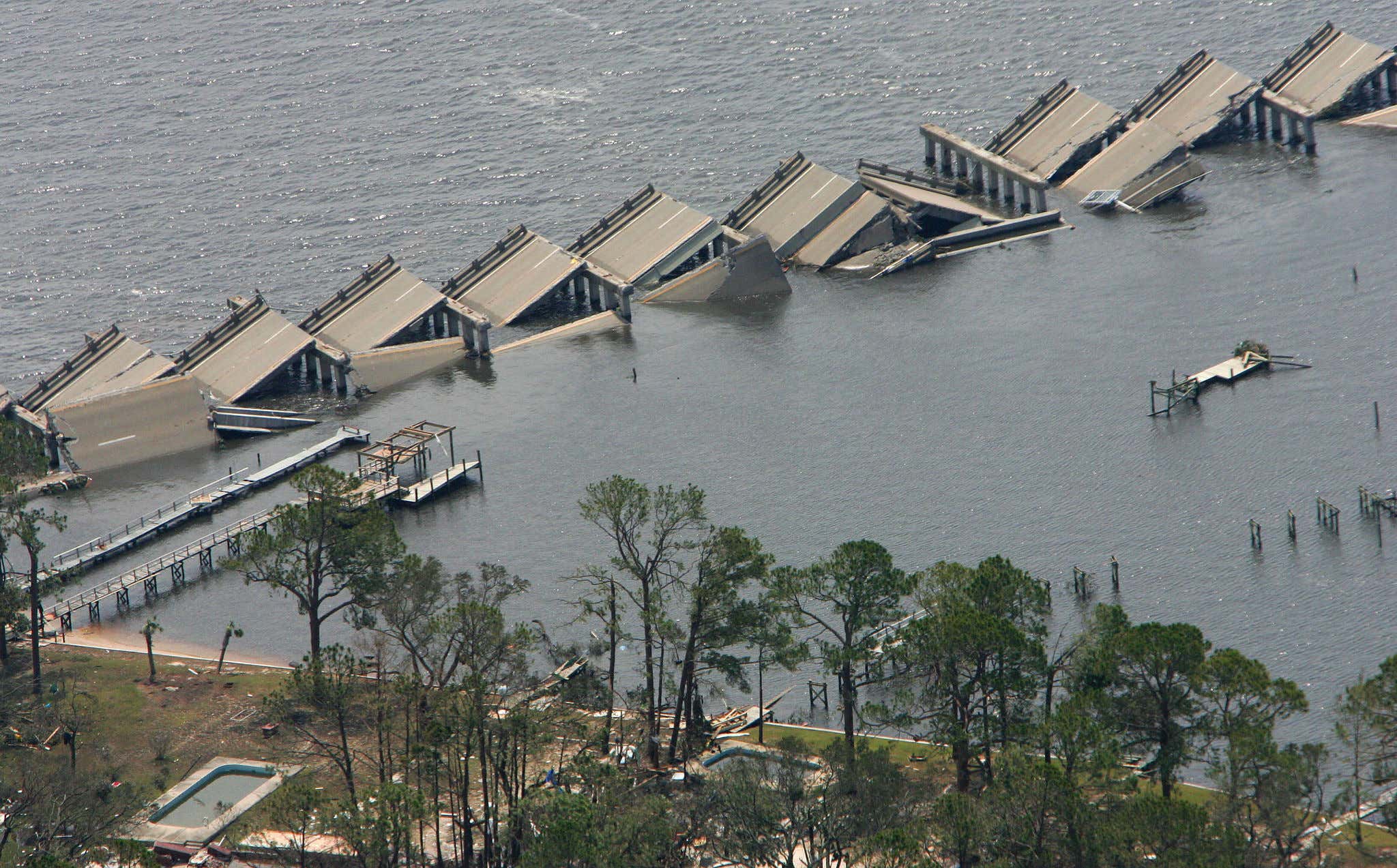 PAUL J .RICHARDS. Getty Images.
Above is the Bay St. Louis bridge (connects Pass Christian to Bay St.louis, which I crossed every day on my way to school.
Marianne Todd. Getty Images.
The local McDonalds
Daniel J. Barry. Getty Images.
* This was Saint Pauls Church. It was connected with my elementary school. I was baptized here, had my first communion and was an alter server, this place held so many memories.
Not just my family but everyone we knew now only owned the things they evacuated with. We could do nothing but depend on the kindness of strangers to help.
There was complete destruction as far as the eye could see but through it the good in humanity shined through. Within a week there were tents up giving out clothes, diapers, MREs (meals ready to eat) and any other necessity you could think of. People nation wide (with the help of our home town celebrity Robin Roberts broadcasting the devastation) were coming to help our little town with clean up and rebuilding. Though my town was completely gone the kindness of people gave us hope.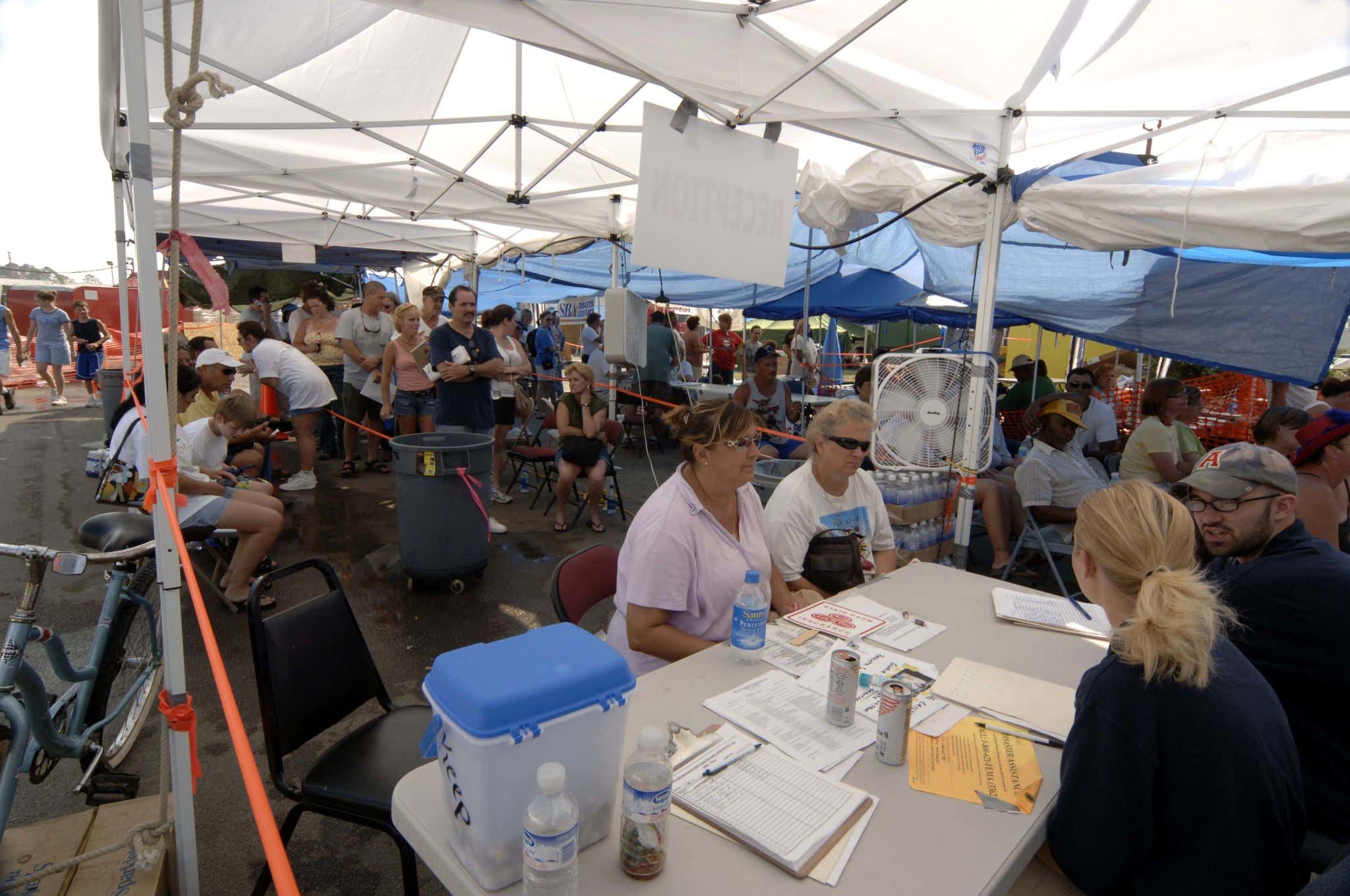 Marianne Todd. Getty Images.
Lines for assistance
Marianne Todd. Getty Images.
Children adapting to school in tents. It seems sad but this little bit of routine and normalcy made all the difference in morale.
Every person that donated a shirt, water, hygiene products, their time, I will never forget and always be grateful for. Without the goodness of others and the push from a big voice from Robin our town wouldn't have recovered. 
All of that being said there's more to southeast Louisiana than the Big Easy and I don't want them being forgotten. These people need our help. 
Ida aftermath*
Gerald Herbert. Shutterstock Images.
Gerald Herbert. Shutterstock Images.
CHINE NOUVELLE. Shutterstock Images.
Thats where y'all come in.
Ben and I figured the best place to start is doing what Barstool does best, merch. All the profits will be donated to Unified United Way Hurricane Ida Fund where they focus on finding the areas most devastated. We want to sell as many of these as we can to help as many people as we can. Mintzy said it best, stoolies do your thing!
https://store.barstoolsports.com/products/back-the-boot-pocket-tee?utm_source=barstoolsports&utm_medium=referral&utm_content=blog&utm_term=4462708_0_dealing-with-destruction&utm_campaign=barstoolsports_referral_blog_4462708_0_dealing-with-destruction
Love y'all