MASSIVE "Drive to Survive" News, Netflix Was Embedded with McLaren for Daniel Ricciardo's Win in Italy (Credit: Pardon My Take)
The #1 Sports podcast in the world, Pardon My Take, has quickly become the #1 F1 podcast in the world. On today's episode, they interviewed Daniel Ricciardo fresh off of his win last weekend at the Italian Grand Prix. It was an AWESOME interview. If you haven't listened to it, go check it out.
During the interview, Ricciardo confirmed some incredible news that the Netflix "Drive to Survive" crew was embedded with the McLaren team throughout the entire weekend in Italy. THIS IS HUGE NEWS. Thankfully it was credited properly everywhere...
Shout out to the Big J's over at Pardon My Take for getting this scoop:
Big Cat: This season. It feels like there's even more drama. Have you had the thought, like the "Drive to Survive" Netflix show is going to be even better this year? Like have you have you had moments? You're like, oh, this is probably going to end up because I it's weird to watch and be like, oh, I can't wait to watch that in like three months, even though I'm watching it live.

Daniel Ricciardo: Yeah, absolutely. Absolutely. I mean and I think that's just the reality of the sport. Like every year there is drama and I think. Now that we know Netflix isn't like every race, it's kind of a reminder like all like that, that's going to be a crazy episode. So, yeah, kind of like them being there. Just highlights everything. Kind of we already knew about the sport. What was really cool is that. So like Netflix, Netflix will follow like a team each weekend. And so they're not that they obviously getting snippets of everything, but they'll then be embedded with a team like kind of each race weekend and that will cycle through and change and Monza… Yes. So, yes, that was like the perfect kind of setting.

Big Cat: Holy shit, that's awesome. I mean, I can't wait for that because that is absolutely perfect. I think not to toot your own horn, but like, you are one of the guys that I think a lot of people want to watch for, because of your personality. That's great news. That's breaking news. That's great news.

Daniel Ricciardo: Yeah, well, it was cool. So, like, I mean, not to, like, make it about me, but I think just for them to be there and to capture, like, all of the emotion from everyone that we can and to really be behind the scenes. It was the first win for McLaren in nine years, but it was the first one-two in like 11 or 12 years. So there's like there's just a lot of like feel-good moments from that weekend that I'm sure they captured.
This is easily going to be one of the best episodes of the season. Over the weekend, McLaren had its first win since 2012, Ricciardo had his first win since 2018 after leaving Red Bull, and McLaren also had a one-two finish for the first time in 11-12 years with Lando Norris finishing in second place. If you're McLaren and Ricciardo, you can't have a more successful weekend, but the cherry on top is having every second of that journey filmed by the Netflix crew who are going to turn that story into a masterpiece for millions of people to fall in love with your team, drivers, and brand…
Bravo to McLaren Racing CEO, Zak Brown, who has been leading the resurgence of the McLaren racing team over the last several years. This is his shining moment.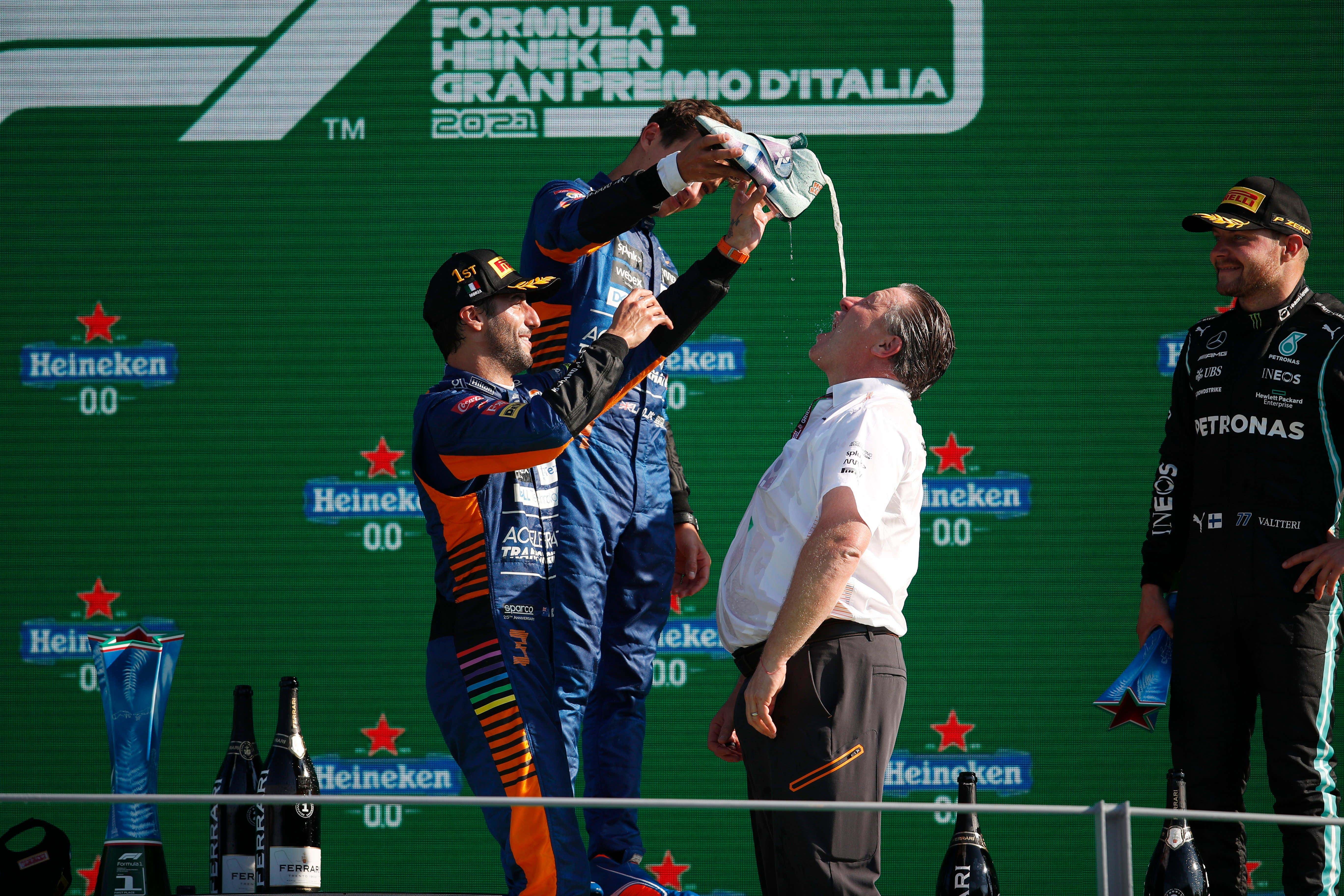 Zak Mauger. Shutterstock Images.
The Netflix series is how so many new F1 fans have fallen in love with the sport over the last three years and this year is shaping up to be one of the best seasons ever. McLaren and Ricciardo's journey to win that race will be one of the best moments in this already drama-filled season four.
Now we just have to wait until February or March of 2022 to see it all unfold on "Drive to Survive"… We haven't seen one second of season four yet, but I can confidently say GIVE IT ALL OF THE EMEYS!!!
If you haven't watched "Drive to Survive" yet, you are missing out. Go binge the entire series this weekend and fall in love with the beautiful, crazy, F1 world.
Go listen to today's PMT interview with Ricciardo