Brad Stevens Cannot Stop Making Trades, This Time He Brings In Juancho Hernangomez For Basically Nothing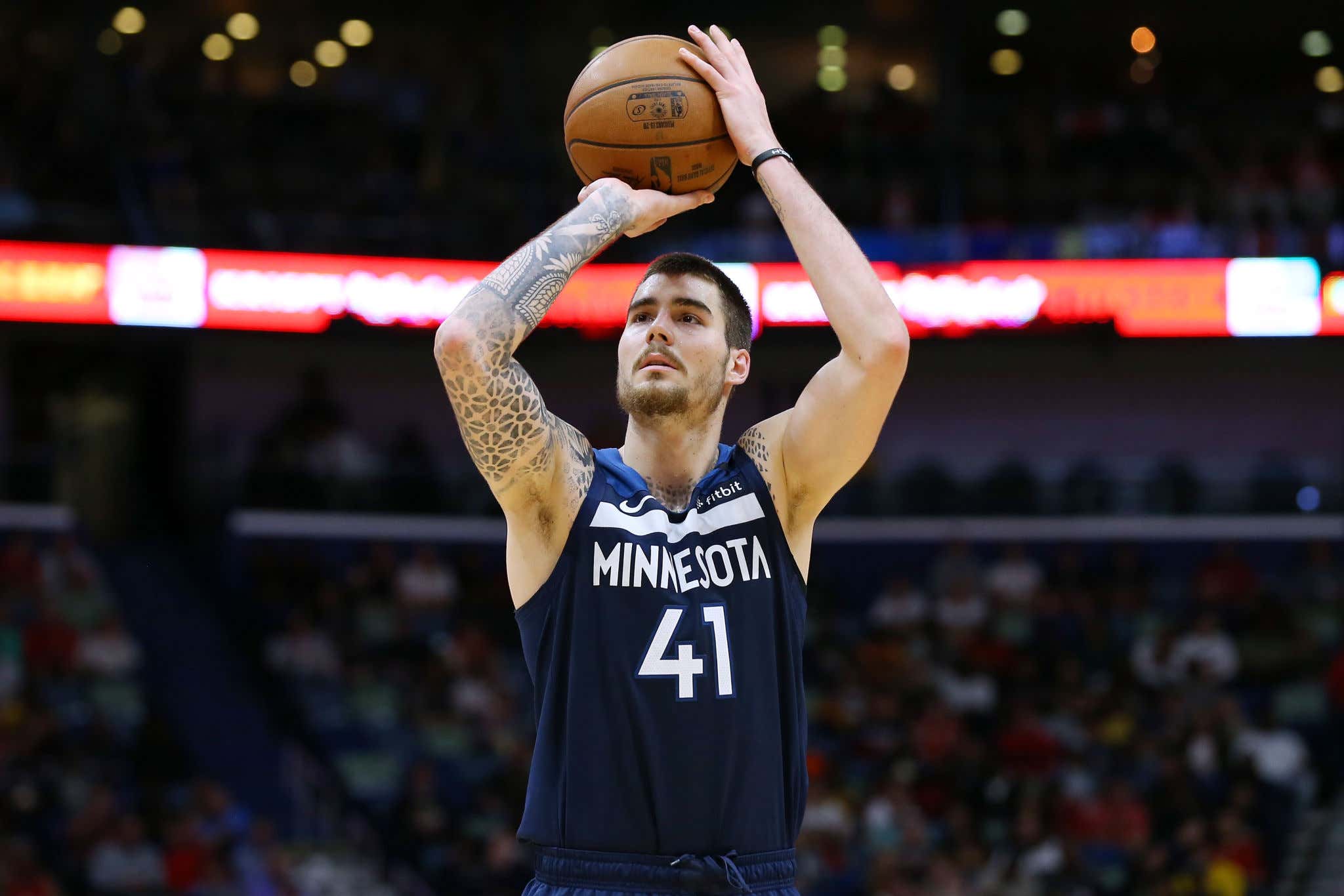 Jonathan Bachman. Getty Images.
Look at Brad man, so inspirational. First and foremost, a quick moment of silence for Kris Dunn's Celtics career. It was a great 27 days that I'll never forget. 
………
OK, now that we have that out of the way, let's talk about this move. I admit I'm a little bummed because I really wanted to see what a healthy Kris Dunn could do as a reserve guard, especially for team that is looking to bounce back when it comes to their perimeter defense, but we had heard from people who know things that his spot wasn't set in stone. Especially once Brad was able to secure Dennis Schroder for peanuts. Knowing that, I can't say I'm surprised he got traded but the team had to do something to address a glaring need on their roster. I just blogged yesterday how the backup 4 spot is an area of concern heading into the year. With only Grant and Jabari on the roster as of yesterday, that was a question. So this trade does two things
1. Brings in an established stretch 4 who is on an expiring deal ($6M next year is non-guaranteed)
2. Creates an open roster spot
I don't think many Celts fans are sad to see Carsen Edwards go and his opportunity for minutes weren't great to begin with, so to bring in a guy that should actually see the floor and has a skillset the roster needs is a good thing. Dunn was an unknown, but the roster has guard depth anyway. Now there's a chance you haven't watched a ton of Juancho during his 6 NBA seasons, so let's talk about what type of player Brad just brought in.
He's a 25 year old 6'9 stretch big who is a career 35% three point shooter. He showed real flashes in 2019 once he got traded to MIN, but last year was a little bit of a regression back to what he's been for the majority of his career. In 52 games he put up 7.2/3.9 on 43/32.7% splits with 1.1 3PM in 17 minutes a night.
He's a bench big who can help stretch the floor and knock down threes at around a league average level. Nothing more, nothing less. Defensively, it's not great. In fact I would say his defense is pretty gross, but that's not why you make this move. Juancho was mostly "meh" as a catch & shoot player last season, shooting 33% from the floor and 34% from three. It wasn't that much better in 2019 either, but he's certainly more of a reliable outside shooter than Jabari is. That's good. 
To me, this is more about Brad telling us he thought Ainge's last few moves were utter dogshit and those players needed to be off the roster immediately and acting accordingly. He's done that by bringing in players who address a need and don't fuck up their future cap space. Tristan, Kemba, Carsen, Tremont, Semi, Kornet, are all gone, and the Celts enter this season with a more balanced roster with actual NBA caliber depth. On paper, that feels better. Time will tell if it actually translates once the games start.
It's not like this trade is the make or break move that cues the duckboats. That's not really what this is about. It's about finding a way to sure up a position of need while not giving up all that much. Dunn could have worked out (I think he would have), but maybe his injury history catches up with him. Carsen never played. Who cares about a 2nd round pick swap. They aren't committed to Juancho past this season. If he can't play, you have ways to replace this need at the trade deadline. But I will say Juancho was absolutely serviceable in his last year in DEN in 2018 when he played 19 minutes off the bench and shot at a 44/36% clip. That's really all they need from him. Just come in and help with spacing, knock down the occasional three when the defenses collapse on the Jays and call it a day.
Now the question becomes what does Brad do with this roster spot. Could they maybe choose to not guarantee Jabari and go a different direction as well? Maybe trade Grant next? At this point who the hell knows because it has become clear that Trader Brad cannot stop making trades.