Lingerie Model/Tennis Superstar Camila Giorgi is the Canadian Open Champion. Bend the Knee to Your New Queen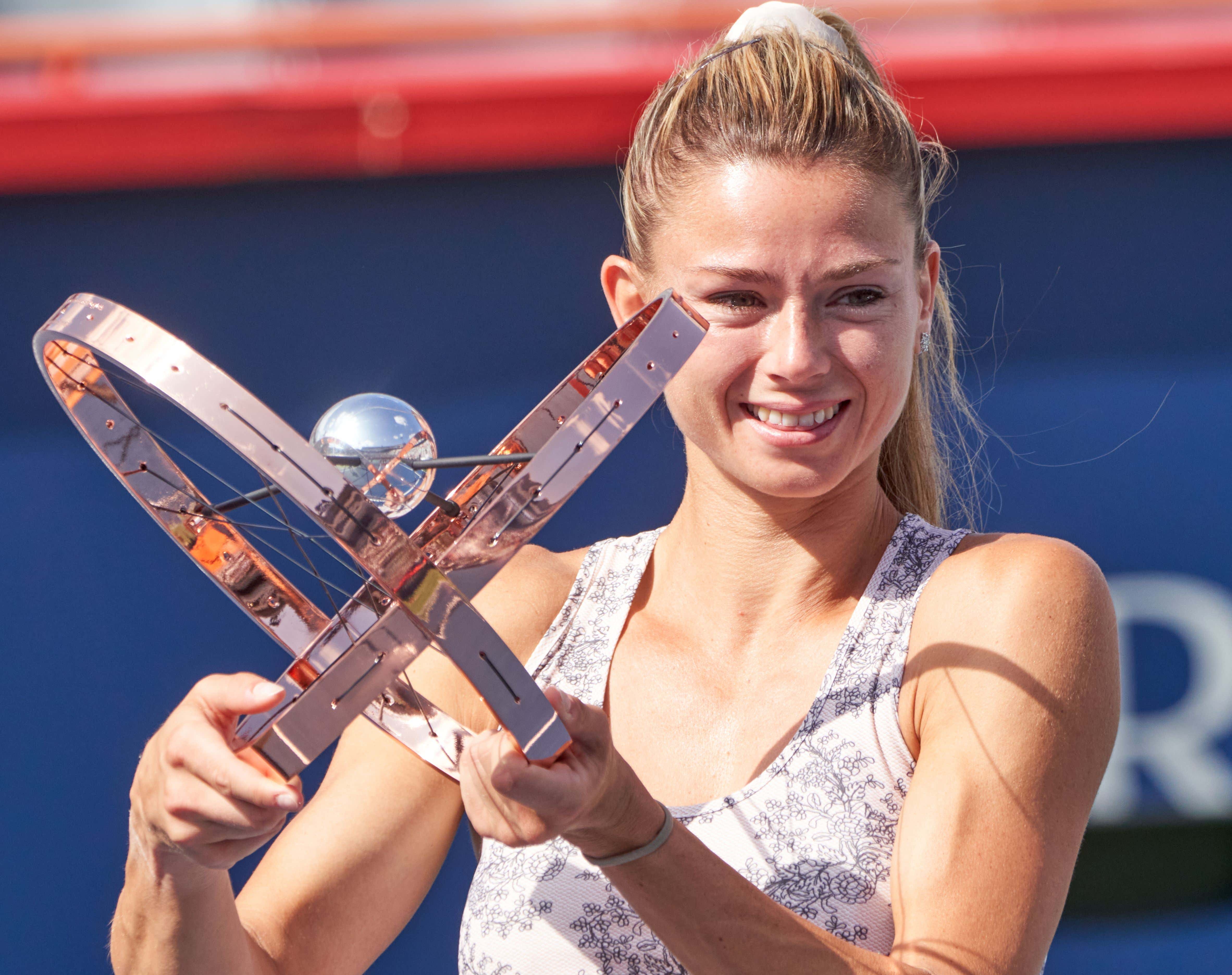 ANDRE PICHETTE. Shutterstock Images.
If there's one criticism of Barstool that has consistently stung over the years, it's the oft repeated invective, "You don't talk enough tennis." It hurts more than the others, because that one just happens to be true. 
So in an effort to make up for years of neglect, I want to present one of the truly Feel Good sports stories of 2021: 
Tennis.com - In most vocations, a 29-year-old is still in the early stages of a long career. Med school residents. Law firm associates. Tenure track professors.

Now take a 29-year-old world class tennis player. That's someone who's been a professional in practice for 20 years. … 

But in recent weeks, 29-year-old Camila Giorgi has turned the tables on tennis' lifecycle. On Sunday, she won the National Bank Open, a WTA 1000 event in Montreal, beating world No. 6 Karolina Pliskova in the final, 6-3, 7-5. It was by far the biggest win of Giorgi's career. "I really think I was very emotional inside," said Giorgi. "Of course, I'm not the one that shows a lot. Of course, it's just amazing. I'm very happy for what I did this week." Ranked 71 in the world at the start of Montreal, Giorgi has now cracked the top 35. …

Never mind that Pliskova had won 16 WTA singles titles compared to just two for Giorgi. Never mind that only last month, Pliskova reached the finals at Wimbledon and extended world number one Ash Barty to three sets. iBetter instead to note that Giorgi had won their last two matches, in June on grass at Eastbourne and last month at the Tokyo Olympics. So now in Montreal came a chance to earn a third straight victory on a third continent.

Time after time throughout this match, Giorgi wisely opted to drive the ball deep, hard and only mildly crosscourt [and] proved extremely effective at drawing errors and attackable balls.
And Skysports - World No 74 Giorgi upset four seeded players - Elise Mertens, Petra Kvitova and Coco Gauff as well as Pliskova - en route to becoming the lowest-ranked champion in Canada since 80th-ranked Serena Williams took the title in 2011.

She also dropped just one set across the week, to Jessica Pegula in the semi-finals.
She had me at deep balls, hard and mild. 
All things considered, if you wanted to compare what Camila Giorgi just accomplished in Montreal to one of the great upsets in sports history, like Team USA pulling off the Miracle on Ice or Buster Douglas beating Mike Tyson, you wouldn't be that far off the mark. Completely changing her style of play in her late 20s. Beating a top competitor in the sport back-to-back-to-back on three different continents. Beating four ranked opponents. Only losing one set the whole tournament. That's impressive by any measure. But coming from someone only ranked 71st? That is special.
But when you look at it through the lens of her other pursuit, it becomes especially special. Douglas shocked the world when he beat Tyson. But imagine his impact if he was also pulling off a second career as a top notch Instagram model. Because Giorgi is living two full time lives:
Incredible. Think about how much time you have to dedicate to become a tennis champion. Like the Tennis.com article suggests, it's a full time occupation. These prodigies are raised like veal calves to be good at this one thing. Now imagine trying to take time away from improving your serve and working on your backhand in order to become a top flight IG model. All that trying on outfits. Getting your hair and makeup did. Getting just the right shot when the light is perfect. And yet somehow, Camila is pulling it off.  She's a polymath. Like some of her countrymen such as Da Vinci and Michelangelo, she can master multiple disciplines at the same time. Also like them, you look at her body of work and it's as if she got 48 hours to a day instead of the lousy 24 doled out to us mortals. 
So congratulations to Camila Giorgi. I hope she continues to win and inspires future great athletes in her sport and others, to believe in themselves and know that they can be great champions, on the court and on the 'Gram. Godspeed.