I saw Guns N' Roses this week.
Lemme clear that up... I paid $1,000 this week to be reminded that Axl Rose does not have the voice for arenas anymore. 
His voice breaks in spots when he has to hold that high scream.  During songs that weren't amongst their more recognizable hits, Rose didn't have the benefit of the crowd singing along so he was isolated... And it sounded just awful at times. 
And I don't think this two-sentence review will come as a surprise to anyone... Even Axl Rose.  The guy is almost 60-years-old.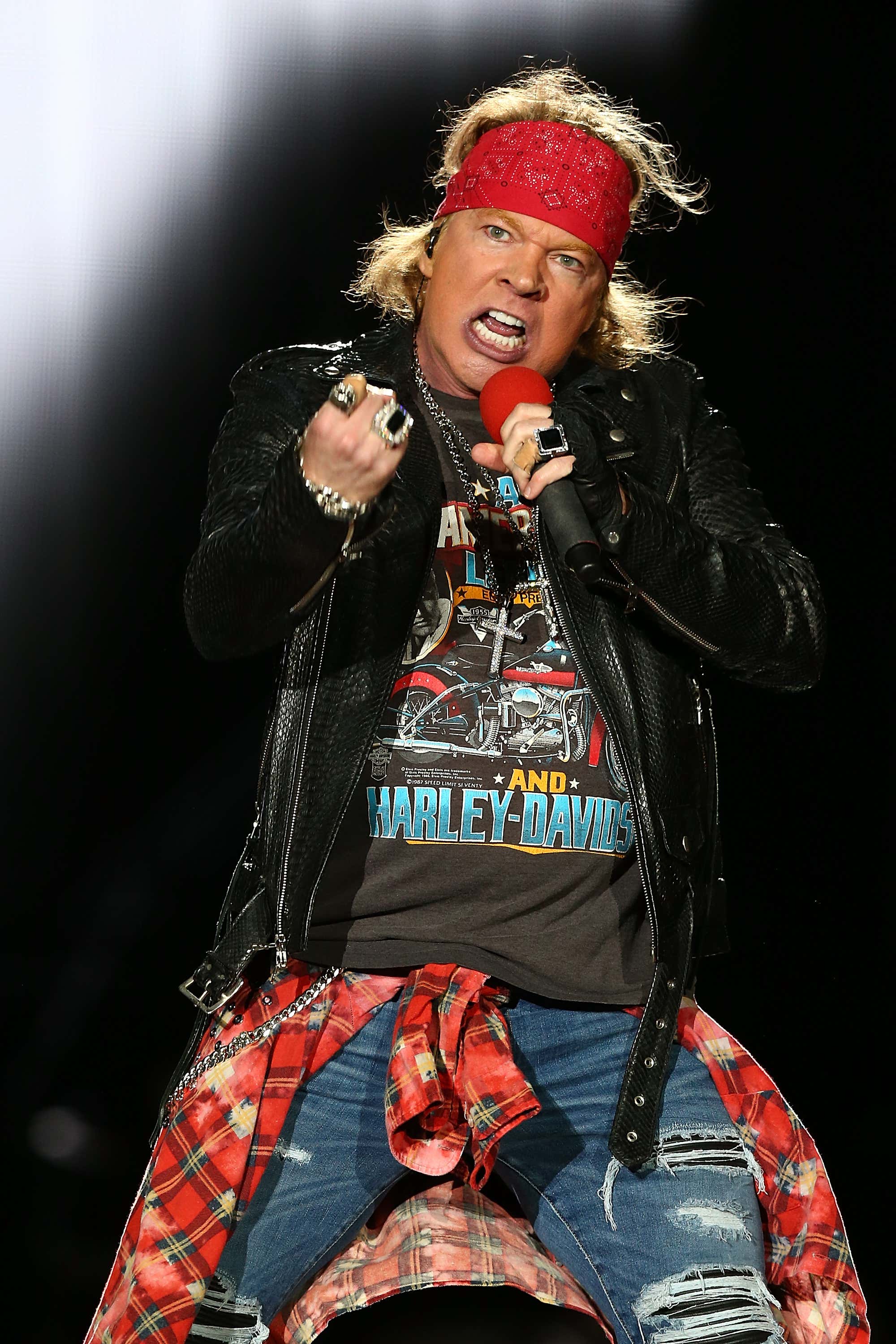 Paul Kane. Getty Images.
Outside of a painkiller overdose in 1986, he was never a heavy drug user like the rest of the world, but he has still been running around stages, screaming his dick off in front of sell-out crowds since 1985… That takes a toll.
Shit, there are songs in his library that Billy Joel refuses to sing live because they are too hard on his voice, and Joel hasn't lifted his fat ass off a piano bench in decades.
Richard Drew. Shutterstock Images.
Back to the concert… Slash sounded like one of the greatest guitarists of all time, and he still looks like the greatest homeless guitarist of all time. 
Aaron Rapoport. Getty Images.
He's 56, but appears to be in great shape considering in 2001, Slash was diagnosed with cardiomyopathy, a form of congestive heart failure caused by his many years of alcohol and drug abuse.  He was originally given between six days and six weeks to live, but he survived through physical therapy and the implantation of a defibrillator long enough to extract some more money from me this week.
I looked it up, and Slash has been clean-and-sober since 2005, and in 2009, following his mother's death from lung cancer, he quit smoking… While researching all this, I was also made aware for the first time his mom was black (which I knew) AND used to date David Bowie.
Duff McKagan is 57-years-old and ripped to shreds.  I tweeted this during the concert…  
I am sure there are recent pictures of McKagan where he looks like he's been living up in Juneau, giving hand-jobs to Eskimos and being paid in whale sandwiches, but in the dim lights of MetLife Stadium and from 30 yards away?… He looked like a golden god.
Since I mentioned Slash's health scare, why not mention Duff's?…  On May 10, 1994, McKagan became gravely ill due to acute alcohol-induced pancreatitis, which caused his pancreas to swell to the size of a football and leak digestive enzymes into his body. 
Duff McKagan was later told by doctors that he would be dead within a month if he did not stop drinking, and that was enough incentive to become sober for good. 
In his autobiography, he attributed his sobriety to exercise, mountain biking, and martial arts… No mention of heroin, so I was dead wrong.
Last Duff McKagan Tidbit: He was one of the last people to speak to Kurt Cobain before the suicide… Kurt went AWOL from a rehab facility in LA, hopped a cab to the airport, and he and McKagan coincidentally shared a flight from LA to Seattle 2 days before Kurt's death.
Kevin Winter. Getty Images.
Here are the positives from the show…
My middle guy started playing guitar less than a year ago, and he thinks Slash and Eddie Van Halen are just the greatest musicians that have ever lived.  
As a result, it has been a fucking pleasure hanging out with him lately.  Especially when he asks to play "his" music in my car, and it winds up being Led Zeppelin, AC/DC, GNR, The White Stripes, Metallica, and Hendrix.
I wouldn't mind it if he threw in a little Debbie Gibson every now and again, but his music is EXPONENTIALLY better than the Travis Scott/Kanye/Pop Smoke collabos his friends are pumping.
Our seats were second row in the 100s, which are 1 row away from being perfect for me, and when he got to see/hear that first guitar solo from Slash, his eyes got as big as fucking dinner plates… He was glued to the stage from start to finish and didn't give a fuck about Axl's crackly voice.
It was his first big show, so he had no historical perspective.  And as an empty slate, he was simply blown away by the sensory overload.
His mom is also a big fan of Guns… She saw them play with Metallica years ago and may have exposed her breasts to the crowd during Master of Puppets.  
But I told my kid that I wasn't a huge fan like him or Mom before we walked into the stadium.  
I told him how I was too busy doing cocaine in 1987 when Appetite For Destruction was released… So I was more concerned with Straws N' Noses than Guns N' Roses.
I also told him how I saw them a few years back, but was disappointed because my favorite song of theirs was Patience, and they never fucking played it… I was made aware later on that they rarely play that one anymore for some unknown reason, but still include their other biggest hits (Paradise City, Welcome To The Jungle, Sweet Child o' Mine, Mr. Brownstone, November Rain, and the Live And Let Die and Knockin' On Heaven's Door covers) in every show.
But no Patience… So I was starting to lose mine.
And then this happened…
Worth every fucking penny.
Take a report.
-Large