Kawhi Leonard Is Back To Being An Unstoppable Playoff Force Hell Bent On World Domination
MediaNews Group/Pasadena Star-News via Getty Images. Getty Images.
Finally, the home team won a game in the very exciting Macs/Clippers series. It took until Game 7, but it finally happened and the Clippers are moving on. You could say their plan to avoid the Lakers for as long as possible worked out, but that's mostly because the Lakers are frauds and couldn't even win a first round series while having the best player in the world. Either way, the Clippers now have the challenge of taking out the #1 overall seed Utah Jazz. How about that for a reward. You somehow avoid all the jokes and internet slander for the second year in a row and your reward is to play the team with the best record in basketball. 
But you know what? When you have Kawhi, you have a chance.
A lot of the hype coming out of that Mavs series will be the play of Luka Doncic. Guy was ridiculous even in defeat. Fell apart a little bit in the fourth quarter 
but who could blame him. He's basically all the Mavs had, and he's only human after all. You know who might not be human though? Kawhi Leonard. People are aware of what he did this series, yes?
Read that shit again. Look at those numbers again. 60/40/90!! In fact, Kawhi now stands alone in NBA history
To his credit, Paul George was legit as well with 24/9/6 on 46/31/89, but this is about Kawhi right now. If Kawhi is going to play like this, who exactly is going to stop him? I will say this, UTA did hold Kawhi to 24.5/10.5/6.5 on 41/25% shooting in their two matchups this season, but this is post software update Kawhi. That's an entirely new problem that brings a whole bunch of new problems to the table. Now granted the Mavs aren't exactly what I would call elite on the defensive end, I'm just not sure it would have mattered. We've seen what happens when Kawhi gets to this level in the playoffs.
In his entire career, Kawhi has averaged over 30 points in the playoffs just two times. This season (32/7.9/4.6 on 61/42%) and 2018-19 when he put up 30.5/9.1/3.9 on 49/37%). Ah yes, that 2018-19 season when ya know, he did this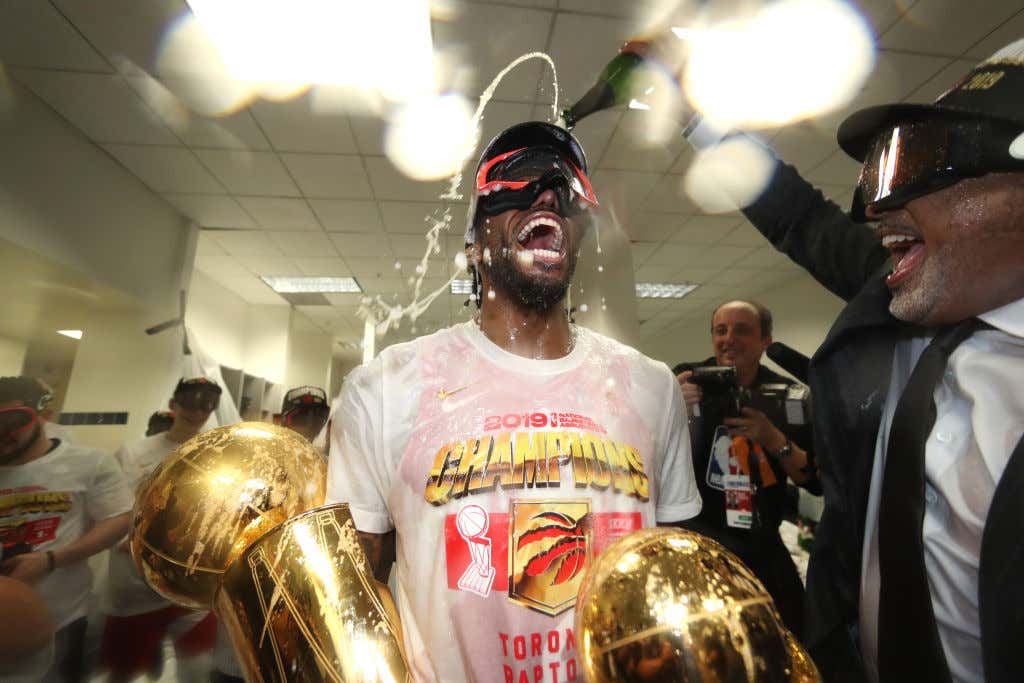 Nathaniel S. Butler. Getty Images.
If the Clippers are going to win their first ever title (sound familiar?!?!?!?) then this is the level Kawhi is going to have to play at. With almost any other player you would think that's an unsustainable level of production, but then you remember that Kawhi isn't human. He's a basketball Terminator. 
What makes him so devastating is he gets stronger as the game goes on. In the fourth quarter of this series Kawhi shot 71/44%. In clutch situations, he shot 66/66%. When his team needed him most in the biggest parts of the game, Kawhi delivered, just like he did in 2018-19. 
I'm sure the Jazz were hoping they would get to play the Mavs, a team that is not going to come anywhere close to the level of defense the Clippers will provide. This second round series is going to be awesome mainly because both teams make a shit ton of threes, both teams are loaded with star talent, and the Jazz are going to have a true test to prove just how legit they are. All that success in the regular season, taking out the Grizzlies in 5, all that means shit if you can't even get out of the second round. Only problem is Kawhi Leonard is now standing in their way, and that dude is on another planet right now.