From Putting Kobe Over LeBron To Trolling Sixers Fans, Jayson Tatum Did Not Disappoint In His Appearance On "Million Dollaz Worth Of Game"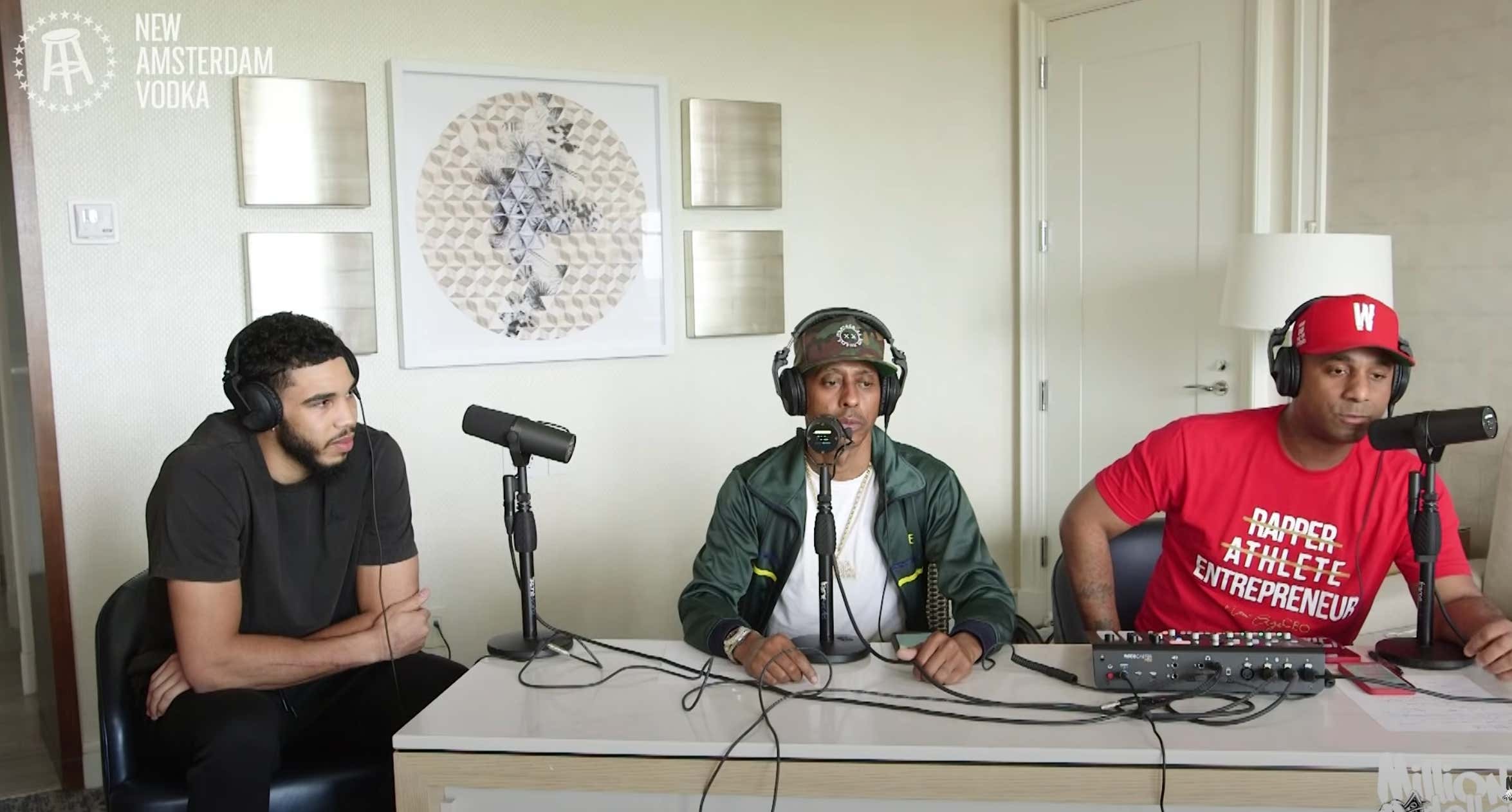 Well wasn't this an awesome way to start a Monday. Not only is Millon Dollaz Worth Of Game a must listen pretty much every week, but now you throw in Jayson Tatum? Yes. I don't know how anyone could not love this podcast, the chemistry is undeniable, and the way that Gillie and Wallo get these guys to open up and not just be PR machines is amazing to watch. We just saw it with KD a few weeks ago and now here we are again with Tatum. I can honestly say I've watched every single interview/appearance/whatever that Tatum has done since entering the NBA and this is by far the most normal I've ever seen him. He actually spoke his mind and didn't just reiterate whatever the Celts PR team told him to say. For a guy that is super guarded when talking to the media, that was awesome to watch.
If you have the time, I suggest you watch the full hour. It does not disappoint at any moment. 
But for the sake of this blog, here are some moments that stood out to me that I want to discuss
Can you imagine a teacher looking at a young Jayson Tatum and telling him his dream of playing in the NBA is unrealistic? I'm sorry, but does that teacher not have eyes? I don't care if this was 4th grade. It reminded me a lot of that teacher that told Jaylen that he would probably end up in jail or something. What a bunch of idiots. Arguably the worst teachers of all time. Personally I would like to thank both those morons for lighting that fire that now myself and Celtics fans everywhere get to benefit from. Tatum dunked on LeBron when he was like 15 years old but his dream of playing in the NBA in the 4th grade was unrealistic. Yeah, OK.
We also got Tatum's top 5, which didn't really surprise me. I did love the dig that he had Kobe over LeBron though
But what I care more about is what came later when they asked him to name his toughest to guard
This is significant because maybe you've heard but he is facing two of those guys in a playoff series. You know Tatum is being honest here because sadly, the tape don't lie. You look at his matchup stats from Saturday night and this is what you see
vs Kevin Durant: 23 possessions / 9 points / 2-3 shooting / 5-6 FTs
He only guarded Kyrie on 3 possessions, and that's probably not an accident. That Durant length gave Tatum all sorts of fits. Considering if the Celts want to find a way to be competitive in this series they're going to have to slow down both those guys, it's interesting to hear Tatum list them here.
Remember when Taylor Rooks had Jaylen all sorts of fucked up and he said he was going to win 5 straight titles? Clearly was joking/trying to impress her and who could blame him. The Boston media killed him for it because of course they did, so let's see how Tatum did with his turn. 
I love it. All he talked about was getting more jacked and improving everything about his game. I could not think of a better answer. Didn't talk about titles or any of that shit. Just talked about getting better. Inject that right into my veins. 
I'll be honest, I did not care for the Bill Russell slander during this segment. Could have done without that. I do have to agree with the point about Wilt's body count. That just physically cannot be possible. Nobody can fuck like that and play basketball. There's not enough time in the day. 
We also got some great trash talk from Tatum in regards to the Sixers which I'm sure both sides will enjoy. Go ahead and give it a listen. All I'm gonna say is don't let those two teams somehow meet up in a series. It sadly has about a 0.00000001% chance of happening and that's a shame. 
At the end of the day, I love how humble Tatum was and continues to be despite his rise and early success. It was cool to see him actually talk like a human and not a robot, and now I need more.
But please, do yourself a favor and subscribe to this podcast so you get more of this type of shit in your rotation. Every single episode delivers.