Doug Flutie Has an Incredible Working Replica of the Original Batmobile and a Batcave in His Garage and I've Never Respected an Athlete More
[Cued up to the 0:36 mark]
Doug Flutie, like the college program he won a Heisman for back in the day, can be a bit of a divisive figure in the culture of New England. To Boston College's SuperFans, he will forever be a Maroon-and-Golden God. I remember when he was with the Patriots, taking my then young sons to a camp practice where they got him to sign footballs for them. But not without nearly getting trampled by middle aged BC alums screaming "Doug! Doug! Huge fan, man! Can you sign this?!?" like shameless twats with zero self-awareness. 
But not everyone is sold. BC is not universally beloved. Nor is Flutie, despite the fact that he's by far the best college football player ever to play in the city. As a matter of fact, I've seen the point made that if he never completed the iconic Hail Mary in the Orange Bowl, he still would've left school as the statistically best college quarterback of all time. But still, New England is lousy with media and fans alike who are not fans of his. Having never met the guy and rooting for Notre Dame every time they and BC meet, I've always remained neutral.  At least I was until now. 
Major kudos are in order for The Camera Guys. I don't know what they intended this interview to be. But by taking the discussion to Flutie's Batman collection, they have pulled off the journalistic coup of the century. How is it possible that Flutie has all this and we're just finding out about it? This is far and away the most interesting thing about him. Way more worth talking about than Gerard Phelan's catch or his dropkick:
I say that with all due respect because owning a fully functioning, street legal version of the single coolest fictional vehicle of all time (and I'll rank some of the others in a minute) would be the most interesting thing about anybody. I don't care if we're talking about Elon Musk. Owning a 1960s model Batmobile is a greater claim to fame than sending manned rockets to the ISS. 
And speak from experience. One of the great moments in my life was getting to sit behind the wheel at a ComicCon a couple of years ago: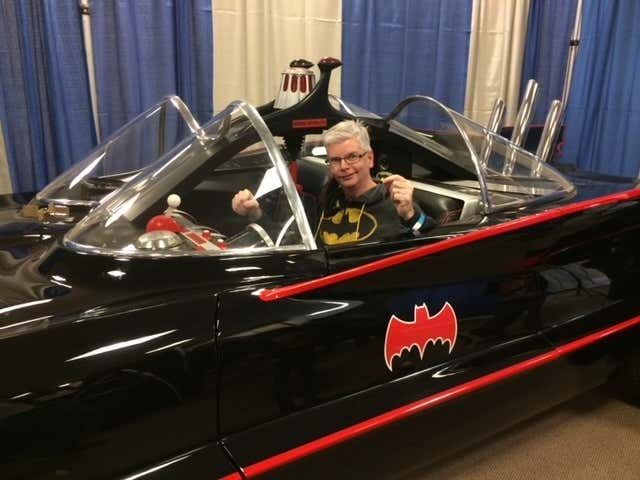 And that was just on the floor of a convention space. (Though I did get to see Adam West and Burt Ward in person. And my only regret was not waiting in line to take photos with them. I was with a group of friends and they were limiting photos to only two at a time and we decided it wasn't worth it. A few short weeks later, Adam West went to the great Gotham City in the sky. And we'll have to take that terrible decision to our own graves.) I can't imagine the thrill of taking that thing out on the open road. With or without the cowl. I'd never need to own another tangible possession in my life. 
Here is a man who knows what to do with all his ABC money, CFL looneys and endorsement deals. This is how rich people should spend their wealth. If you can't own legendary, one-of-a-kind, pieces of memorabilia, then what is the point of having tons of money? It can't buy happiness. But apparently it can buy you one of the great artifacts in the history of American pop culture.
And that list of Coolest Fictional Vehicles of All Time:
1. The Original Batmobile.
2. The DeLeorean:
3. ECTO-1:
4. KITT:
5. 007's Aston-Martin:
Feel free to tell me which ones I unfairly left off the list in the comments. And I'd gladly trade Nos. 2-5 for the one Doug Flutie owns. Respect.