A Way Too Early 2022 NFL Mock Draft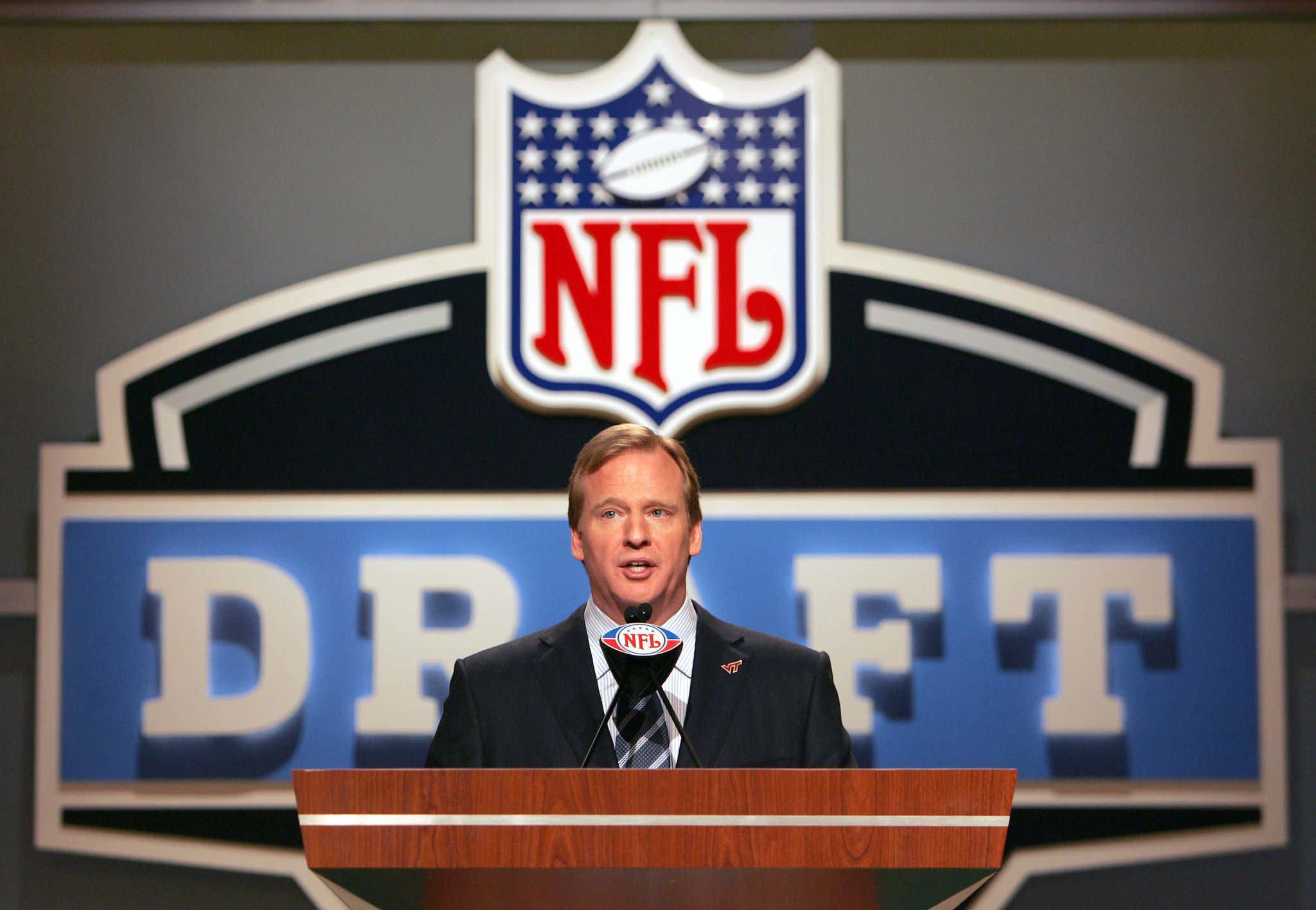 Richard Schultz. Getty Images.
This was a really fun Draft! I'm glad it's over, but I'll miss the grind. Until next year…Speaking of which, here is a way too early 2022 NFL Mock Draft.
The Draft order was determined solely in order of NFL projected win totals.
*Note: This has been edited since publishing to accurately reflect the 49ers trade
1) Houston Texans - QB Sam Howell (North Carolina)
The Texans are a mess. They didn't have any picks in the first two rounds this year and Deshaun Watson's legal issues are looming over the franchise. They have the lowest projected win total and if they're up this high, the 3rd round selection of QB Davis Mills won't give them any hesitation to pull the trigger here. Howell is only 6'1", but he's got a solid build, great arm, and good mobility. He'll need a big junior season, but he's the projected favorite for the top spot at the moment.
2) Detroit Lions - QB Spencer Rattler (Oklahoma)
Another 6'1" QB goes high. Rattler has a huge arm and good mobility. He does have some character concerns, but we've seen Lincoln Riley jettison QB Draft stock before, so I like Rattler to go high next April.
3) New York Jets - EDGE Kayvon Thibodeaux (Oregon)
He's a twitched up EDGE with a great get-off. The Jets are lacking in the pass rush department and address it early with the top pass rusher in the Draft.
4) Jacksonville Jaguars - CB Derek Stingley Jr. (LSU)
Stingley burst onto the scene last year and was terrific instantly. He did have an injury this past year, but he's a prototypical #1 CB that has a sky high ceiling.
5) Philadelphia Eagles - DT DeMarvin Leal (Texas A&M)
He's a great interior pass rusher that can line up next to Fletcher Cox and provide a scary push up the middle to opposing interior lineman.
6) Cincinnati Bengals - S/LB Kyle Hamilton (Notre Dame)
He's a big Safety which makes me think he'll be a LB at the next level. At 6'4" 218 he's a terrific run stopper and could be a nice compliment to Jesse Bates or move puff up and move closer to the Line of Scrimmage.
7) Atlanta Falcons - WR Chris Olave (Ohio State)
He's a polished route runner who should be able to contribute immediately. Olave, Pitts, & Ridley would be a scary pass catching trio.
8) New York Giants (via Chicago Bears) - OT/OG Evan Neal (Alabama)
He was the #1 OT coming out of High School, but there is a fear his weight could get out of control. At 6'7" 359 lbs., he could be forced to kick inside to Guard if he gets too big and sacrifices some of his agility. This was the main pick the Bears dealt to move up to get Justin Fields.
9) New York Giants - DE Drake Jackson (USC)
He's got a great get-off and he's really long. He's thick too, so probably more of a 3-4 DE, but he'd go well next to former Trojan Leonard Williams in the Giants scheme.
10) Las Vegas Raiders - QB Kedon Slovis (USC)
He's a west coast pocket passer and could be the franchise QB Jon Gruden has been looking for. His skill set fits what Gruden likes to do too.
11) Carolina Panthers - CB Kaiir Elam (Florida)
He's a big Corner at 6'2" 193 lbs. with long arms and great ball instincts. He'd do well in Carolina paired with Jaycee Horn.
12) Denver Broncos - DE Zach Harrison (Ohio State)
He's 6'6" 265 lbs. so may be more of a 3-4 DE. He's got a good mix of strength, length, & athleticism.
13) Washington Football Team - WR George Pickens (Georgia)
He's 6'3" 201 lbs. but he plays even bigger. Pickens would look good opposite Terry McLaurin.
14) Arizona Cardinals - OT Zion Nelson (Miami)
The Cardinals choose to protect their diminutive signal caller here. Nelson's got good size at 6'5" 316 lbs. and could go higher with a great season. 
15) Minnesota Vikings - S Bubba Bolden (Miami)
This guy sounds like a player Big Cat would have created with Coach Duggs. He's a tall Safety that has great instincts but needs to improve his tackling.
16) Pittsburgh Steelers - QB J.T. Daniels (Georgia)
The Steelers get their Quarterback of the future. Daniels was formerly at USC before transferring to Georgia. He's been working with QB Coach Jordan Palmer who thinks he can be similar to Steelers division rival, Joe Burrow.
17) New England Patriots - LB Christian Harris (Alabama)
Classic Belichick guy that obviously comes from good coaching already. He's a prototypical WILL Linebacker that offers plus coverage skills.
18) Philadelphia (via Miami Dolphins) - EDGE George Karlaftis (Purdue)
The pick gained from moving from #6 => #12 this year, the Birds go Karlaftis out of Purdue. He's a big boy at 6'4" 269 lbs. but is a good EDGE rusher that offers good run stuffing ability in addition to some wiggle rushing the Quarterback.
19) New Orleans Saints - QB Desmond Ritter (Cincinnati)
He's one of the top dual-threat QBs in the Draft and has passed for 57 TDs for the Bearcats while running for 12 more. 
20) Los Angeles Chargers - TE Jalen Wydermeyer (Texas A&M)
He's a jumbo sized TE at 6'5" 265 lbs. with superb athleticism. He could fly up draft boards if he improves his blocking.
21) New York Jets (via Seattle Seahawks) - LB Brenton Cox Jr. (Florida)
The second 1st rounder from the Jamal Adams deal. Cox flies around and has versatility to rush as well, but will likely be an inside backer at the next level.
22) Tennessee Titans - CB Sevyn Banks (Ohio State)
No Seinfeld jokes here. Banks is a good cover corner who isn't afraid to put his facemask right in your chest.
23) Dallas Cowboys - CB Jalen Green (Texas)
Dallas goes CB early after missing out on the top two CBs in the 2021 Draft. Green is a super physical Cornerback that also isn't afraid to mix it up and hit you.
24) Cleveland Browns - EDGE Aidan Hutchinson (Michigan)
The Browns signed Jadeveon Clowney who STINKS and will likely be looking for a replacement in next year's draft. Hutchinson is 6'6" 269 lbs. and would form a hulking pair opposite Myles Garrett.
25) Indianapolis Colts - WR Garrett Wilson (Ohio State)
He's a smooth route runner from the inside and outside and would give Carson Wentz another weapon.
26) Miami Dolphins (via San Francisco 49ers) - CB Josh Jobe (Alabama)
Miami is always looking for playmakers in the secondary and most of Xavien Howard's contract will be finished after this season resulting in a smaller dead cap hit if he were to be released. Jobe could step in and limit the drop-off if the Fins would look to go in a cost-savings direction.
27) Detroit Lions (via Los Angeles Rams) - WR John Metchie (Alabama)
Based on the recent Draft success of Alabama Wide Receivers, this could be too low. One of the picks acquired in the Matthew Stafford deal, the Lions start to build out their Receiving corps.
28) Green Bay Packers - OT Charles Cross (Mississippi State)
David Bakhtiari is coming off an injury and I'm not sold on Billy Turner being the answer on the other side. Aaron Rodgers (or Jordan Love?) gets more protection in Cross.
29) Buffalo Bills - OT Rasheed Walker (Penn State)
He's a big Tackle at 6'6" 313 lbs. and plays very aggressive. But he's also a little sloppy in pass pro, but nothing he can't clean up. He's a very good athlete at the position.
30) Baltimore Ravens - WR Justyn Ross (Clemson)
Missed last season with a spinal injury, but he's a monster that burst onto the scene during the National Championship game a few years ago. He's a big bodied WR at 6'4" 205 lbs. that could help out Lamar Jackson's development with Rashod Bateman.
31) Tampa Bay Buccaneers - DT Perrion Winfrey (Oklahoma)
A DT with great get-off from Oklahoma? The Bucs have had success there before with Gerald McCoy. Ndamukong Suh is a free agent and they get his replacement here in Winfrey.
32) Kansas City Chiefs - LB Ventrell Miller (Florida)
A speedy LB that can cover sideline-to-sideline will help the Chiefs defense get faster.