"Like Succession on Steroids" — Armie Hammer's Aunt Sells A Documentary Series About "The Rise and Fall Of The Hammer Family," Which Apparently Goes A Lot Deeper Than Armie Eating People
Mike Coppola. Getty Images.
DEADLINE — EXCLUSIVE: Casey Hammer, granddaughter of Armand Hammer and aunt of Armie Hammer, is set to reveal the family's secrets in a limited documentary series.

She has signed an exclusive deal with Talos Films, the production company behind Discovery+'s Queen of Meth and Disney+'s Family Reboot, to develop a docuseries about the Hammer family.

The series will tell the definitive, inside story of the rise and fall of the notorious Hammer family, including its latest unfolding chapter. 
When the news started to trickle out that Armie Hammer had a fetish for (the fantasy of, as far as we know) eating the women he became intimate with, who knew it was just the tip of the iceberg regarding an entire family, stretching back centuries? A family history that the production team of Casey Hammer's book-turned-docuseries calls, "Succession on steroids":
"The Hammer family history is like Succession on steroids. A dysfunctional dynasty with its male characters exhibiting all the devastating consequences of privilege gone wild," said Talos Films co-founders Elli Hakami and Julian P. Hobbs. "Now, for the first time, Casey Hammer will tell not just her story, but the definitive family history, leaving no stone unturned. With new unfolding revelations and present-day consequences, this mini-series will provide audiences with a riveting journey into a family where reputation is everything and where things are never how they appear."
I mean, these guys are turning out to be such fuckin weirdos that I'm sure anyone close to the family had to have at least some idea of the absolute depravity going on behind closed doors. But to the general public, Armie was among the most low-key, out-of-the-spotlight A-listers in Hollywood, known by more people as The Winklevoss Twins I'd guess than by his full government name. 
Recognition shouldn't be much of a problem from here on out.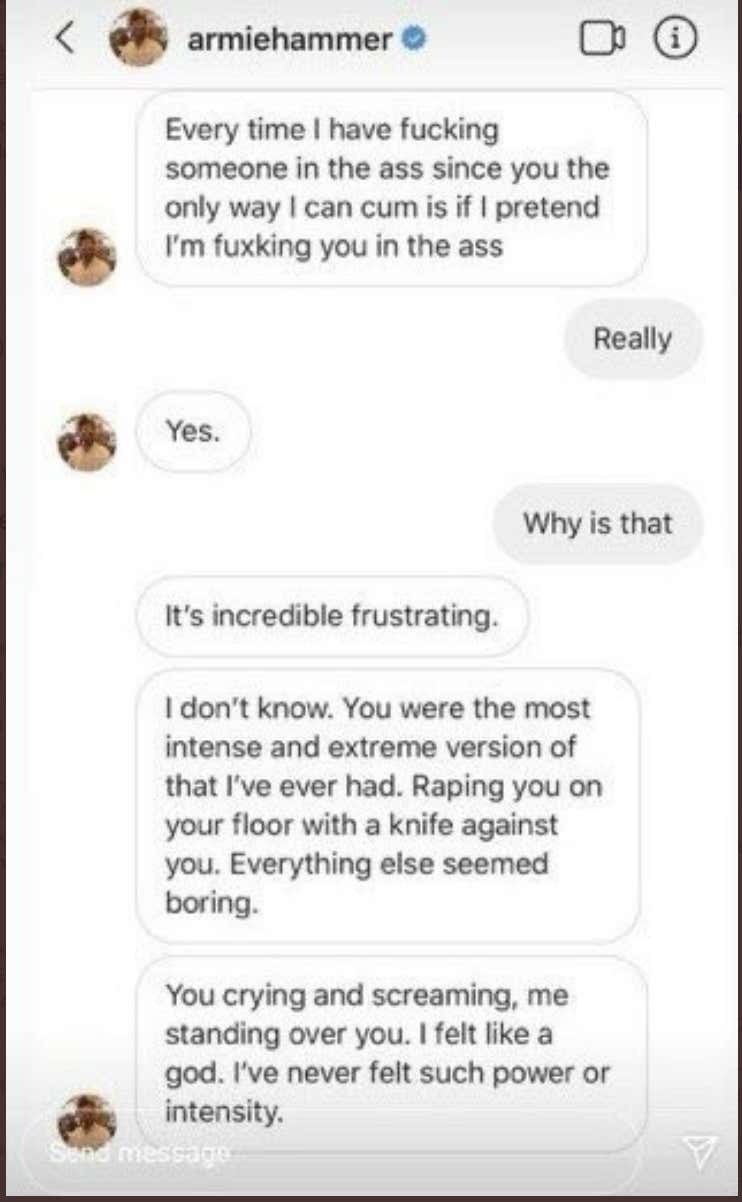 We only recently learned the…."eccentricites" let's say, branched out even further down the family tree, when the Daily Mail reported on how his dad had a 7-foot-tall sex throne named the Naughty Chair:
This was just the intro to that article, before it even got to the reporting:
Michael Hammer, 65, reportedly has a past just as scandalous as his son's
Michael took almost the entire $180 million family fortune when his grandfather Armand Hammer died in 1990 leaving his sister now working in Home Depot 
He was embroiled in a $70 million fraudulent ring selling counterfeit paintings going back to 1994 at the family-owned Knoedler Gallery 
Insiders claim the 65-year-old keeps a 'sex throne' or as he allegedly calls it the 'naughty chair' in the Armand Hammer Foundation HQ
A source claims Michael and Armie almost got into a fist fight while quarantining in the Cayman Islands last year 
Michael is the son of Julian Hammer - who killed a man over a gambling debt in the 50s and allegedly sexually abused his daughter Casey - and Sue Kane
The Hammer family past was unearthed in a Vanity Fair expose this week which claimed many men going back five generations have 'a dark side' 
It provides a backdrop to Armie's life before leaked messages said to be from the actor surfaced in January showed him claiming to be '100 percent a cannibal
One of the women, 22-year-old Paige Lorenze, told the magazine Armie's mother Dru Mobley confided she is fearful her son has now been lost to 'the devil'
Friends told the outlet he 'has the mindset of a teenage boy', would send x-rated photos to his friends and embarked on 'a string of women, illicit substances, and tattoos' after his split from Dru.
And now, with Armie's aunt selling the rights to her self-published 2015 book, we're about to get a deep dive into allllll the lunatics going down the line. 
Casey Hammer, in her self-published 2015 book Surviving My Birthright, alleges that Julian also sexually abused her when she was a child, and that Julian was abusive to others in the family.

In the docuseries, she will reveal for the first time on camera the inside story of the Hammer family saga. She is giving access for the first time into her personal archives and new revelations providing a compelling, first-hand account into the Hammer family's rise and fall and her own descent and escape from the darkness. The series will also feature accounts from other survivors who have recently come forward.
I'm not an industry insider, but my educated guess is that production companies don't shell out the cash for the rights to tell your story, without that story having alllll the goods.