48 Year Old Fred Brathwaite Suited Up For The AHL's Silver Knights Last Night While Wearing His Old Atlanta Thrashers Mask
Graig Abel. Getty Images.
The above picture is Fred Brathwaite in 1995. Cool, calm, and collected, all 5'7 of him, playing for the Edmonton Oilers. Any goalie who played in 1995 certainly isn't still playing today. And that was true, until last night.
Yahoo - Fred Brathwaite's playing days are long behind him. Or at least, so we thought, prior to Saturday night. 

Brathwaite, the 48-year-old goaltending coach for the AHL's Henderson Silver Knights, was called into action on an emergency basis, serving as his team's backup goaltender, behind starter Jiri Patera, after Logan Thompson was ruled out against the San Diego Gulls. 

It's clear that Brathwaite has held onto some keepsakes from his playing days, rocking an Atlanta Thrashers mask. It has to be his authentic mask from his tenure with the Thrashers organization because while he didn't play a game for the now-defunct club at the NHL level, he was part of the team's organizational depth chart, spending two seasons with the AHL's Chicago Wolves, who were Atlanta's AHL affiliate from 2001-2011. 
Look at that mask! The same one he used after signing with the Atlanta Thrashers in 06-07.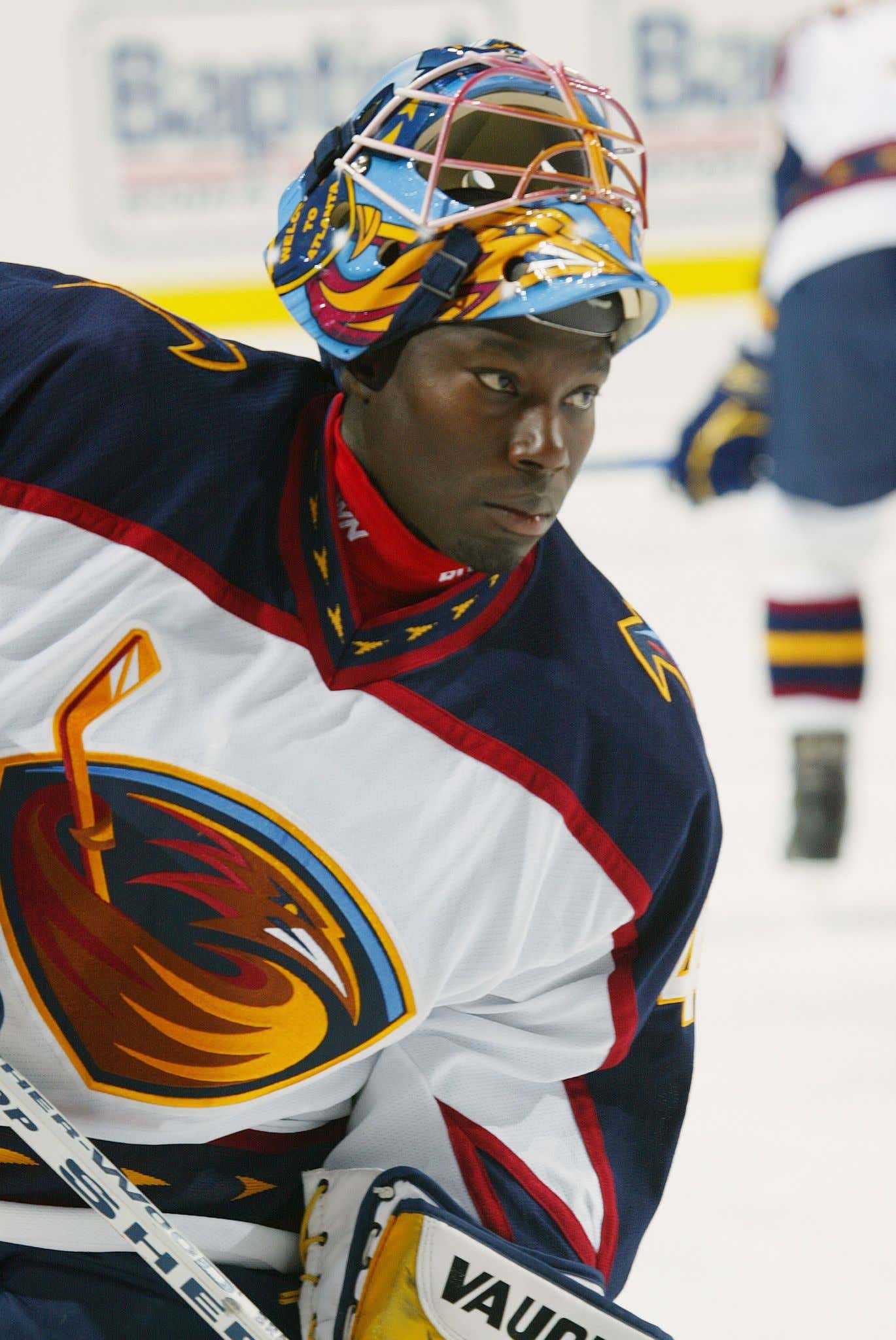 John A Russell. Getty Images.
Unfortunately, he did not get to see any game action last night. Didn't have a David Ayres situation, sadly. But it was still cool to see the Thrashers get back onto the ice, no matter how small.
Never forget that Freddie B also appeared in the "Welcome to Atlanta" music video with Fernando Vina.
Legend.
PS: The Thrashers blue sweater will always be one of my favorites from all the times I played again them in the old NHL games. I would always bring Ilya Kovalchuck to the Caps though, because he was one of my favorite video game players of all time. So it was pretty cool when he actually played for the Caps last season in real life, and they could very well be the last NHL team he plays on, unless he gets bored and decides to play again in 5 years, which is 50/50 I'd say.
Scott Cunningham. Getty Images.