I Want You Inside Me San Diego- "A Tale Of Two Tacos"
Spent most of last week in San Diego shooting some content with DAZN and Team Canelo in front of the big fight on May 8th.
Before I left for the West Coast, it seemed that everyone I came in contact with who I told about my impending trip had the same thing to say...
"San Diego?... Oh, man.  That place is BEAUTIFUL.  And sooooo much nicer than New York."
And after returning from California, I figured out why so many people said that to me... It's because it is true.
NON-HOT TAKE- San Diego is indeed much much nicer than New York.
But here's a better observation... What city isn't?
New York is filthy, expensive, and chock-filled with people who don't want you there... Oh... PLUS it is covered with a foot of yellowish-gray snow for 2-3 months out of the year.
San Diego, on the other hand, is clean, arguably MORE expensive, the people at least pretend to like you, and the average temperature is 75 degrees with sunny skies.
So comparing SD to NYC is like the time my new wife told me I was drinking too much at our wedding and I told her that Andre the Giant drank 7 bottles of wine at breakfast every morning… It was interesting to say out loud, but it had nothing to do with the conversation we were having.
I believe it was Albert Einstein who once said, "You can't judge a fish by its ability to climb a tree."… Which may or may not fit in with my point that comparing those two cities is pointless.
Either way, I went to San Diego with a long list of restaurants to try but the small time I had to myself outside of the training bubble really left me with only 2 meals by myself… And I decided to spend those 2 meals eating tacos.
Apparently, there is no shortage of good Italian out there, and people recommended quite a few steak-and-seafood places, but San Diego ends where Tijuana begins, so… When in Rome, right mi amigo?
For me, there have always been 3 types of tacos… 
1) Ones you get in a chain restaurant or fast food joint that are generally awful.
2) Ones you get in a higher-end Mexican restaurant that are usually very good, but often have you wondering, "Why the fuck did I just pay $40 for tacos?"
3) Ones that you have at a no-frills joint that prides itself on authentic tacos… And these are almost always a HOME RUN.
I decided to try the last two while I was in town, and my first stop led to a restaurant called Puesto in La Jolla…
Puesto was high-end and offered dishes you would not see in more authentic places and at prices you would not see elsewhere either.
Some of the combos didn't make sense on paper but wound up hitting the mark in my mouth… One such example is their house guacamole, which is served with chunks of Parmigiano Reggiano scattered up top… It's pictured here with their salsa sampler and some street corn…
The guac was otherwise underseasoned, and I am convinced they served it like that on purpose… Because that familiar salty bite from the hard cheese fit in perfectly from that subtle 'emptiness' smashed avocado provides.
Don't get me wrong, the guacamole wasn't just smashed avo plush hunks of cheese.  But the chile, citrus, and cilantro contained within were (hopefully) purposely tamed down in order to let the cheese come through, and it fucking worked.
And because I am so fat, when we ran out of chips, I gladly began scooping the balance of the guac out of the bowl using some of the leftover chicharrones.
I don't talk about alcohol too often on this blog series, but I think you all know I drink way too much… And a favorite summertime drink for me is a Michelada, which I sometimes refer to as a Mexican Bloody Mary.  I tried the one at Puesto because it is made with this traditional Mexican-style light lager that they apparently brew themselves in their Mission Valley Cervecería.  The Michelada then was just their house Puesto Clara light lager plus homemade clamato (tomato juice flavored with clam broth and other spices), chamoy (which I always understood to be a savory sauce made out of pickled fruit and chiles), mango, and fresh lime.
And then the tacos came.
So from left to right, I had the beer-battered rockfish topped with shredded cabbage, the quesabirria (with braised short rib) topped with pickled radish, carnitas (also in that melted cheese shell) topped with a slice of avocado, and their special of the day which was a combo of filet mignon and lobster topped with crispy fried onions… All four served in a delicious blue corn tortilla that was surprisingly sturdy considering all the shit they pile into it.  Most taco shops double up on their soft corn tortillas.  With these blue beauties, Puesto doesn't have to.
The fish taco was the best of the bunch, and arguably the best fish taco I have ever had.  The rest were very very good, but as is so often the case with tacos, it was tough to differentiate one from another once I started to get deep into the plate.
The service was fucking excellent, and they even sent over a couple of shots once they realized we were serious about killing ourselves slowly with alcohol… I would 100% recommend Puesto for what I consider high-end Mexican with an inventive menu and top-notch ingredients that you should want inside of you.
That was one type of taco experience.
Here's the other…
When they weren't busy calling me "puta" behind my back, a couple of people from Canelo's camp recommended a totally different type of place to get tacos… Tacos El Gordo (translation- 'Tacos The Fat') is a family-owned restaurant chain that has been serving authentic Tijuana-style tacos to fat San Diegans for over 20 years. And, unlike Puesto, this is NOT a fancy restaurant… At all.  
It's a taco shop. 
You order at the counter, your tacos come out on paper plates resting on a plastic tray, and you eat them on tables that are cemented into the ground.
It is clean and efficient, and the guy I ordered from at the counter was very helpful, as was the young lady at the register.  However, I wrote down as many of the terms I heard yelled at me from the back of the kitchen which led me to believe some of their employees may be sick of bloated and pale tourists coming into their establishment with their camera phones out, clogging up the line for their regular customers.
Here's a couple of the gems I picked up from the kitchen staff:
¡Métetelo por el culo!- Stick it up your ass!
Me cago en tu madre.- I shit on your mother.
Mamahuevo- Cocksucker
Hijo de las mil putas- Son of a thousand whores
So if your expecting to hear, "¿Tiene alguna alergia alimentaria?" ("Any food allergies?")… This isn't the place for you, puta.
Here's a quick tour of what I ordered…
Now, I was sent there specifically to try the Taco de Sesos and Taco de Ojo (brain and eye tacos), but they had neither that day (at least for me), so I went with what I could…
The Al Pastor which was shaved off a spinning trompo (a vertical rotisserie not unlike those used to make gyros) covered in pork marinated in an adobo sauce featuring chiles and achiote, and anchored on top and bottom with a wedge of pineapple (the juice of the fruit drips down into the meat while it cooks). 
This next one could've been anything since it was not on the menu, but I was told it came from the roof of the mouth (or what they called "palala") and it looked like a thick slice of head cheese they then chopped and warmed up on a flat top…
The next is one of my favorites… La Lengua which is tongue and tastes like Mexican pot roast…
Taco de Suadero which I was told was taken from the shoulder, but I have since read that the "rose meat" is actually from the flank…  This explains while some of the other meat choices were "soft" in texture, the suadero was the toughest and most fibrous cut of meat I had that day… In a good way.
And then I ended with Taco de Cabeza, which I assume is simply taken from around the cheek and muscles in the head…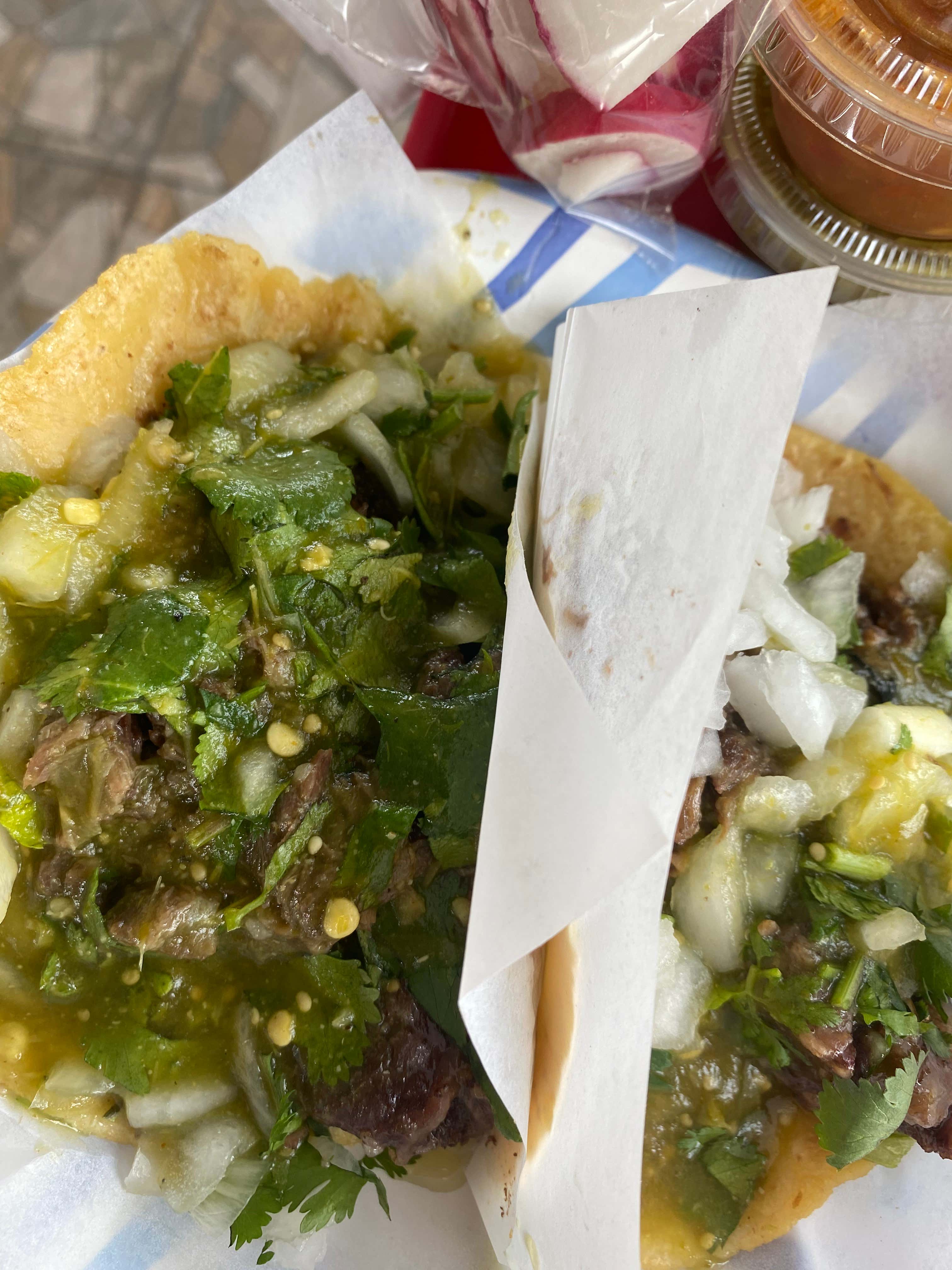 The red salsa seemed to pack a little more heat but the spice level was never an issue, and the green tomatillo-based salsa was good enough to eat on a shoe.
Here's my review of Tacos el Gordo… 
I fucking loved this place.
Although they are very successful at it, it must still be frustrating for a place like Puesto to spend so much time and money sourcing the right ingredients and manipulating their menu daily in order to remain relevant in a vibrant San Diego restaurant scene.  And it must be even more frustrating to see a place like Gordo operating on a fraction of the cost and STILL blowing my fucking socks off just as much as Puesto did.
Puesto's kitchens were efficient and fucking IMMACULATE while Gordo's were basically filled with marginally legal personnel stuffing tacos from undiscernible pots of stewed meat.
But there is just something so fucking endearing about trying something different in a semi-hostile environment… A lot of restaurants try to replicate it, but very few can.
Tacos el Gordo is one of the old school taco stands in Cali and I think going it has got to be on the top of your THINGS TO DO list next time you're in San Diego.
And if you don't agree, then "El burro sabe mas que tu!"… And… "Que te folle un pez!" 
("Donkeys know more than you!"… And…"I hope you get fucked by a fish!")
Take a report.
-Gordo
---
WEEKLY FOOD CALENDAR 
Today, Sunday, April 18th- National Animal Crackers Day
Monday, April 19th-  National Rice Ball Day 
Tuesday, April 20th- National Cheese Fries Day
Wednesday, April 21st- National Chocolate Covered Cashews Day AND Banana Day (third Wednesday in April)
Thursday, April 22nd-  National Jelly Bean Day 
Friday, April 23rd- National English Muffin Day
Saturday, April 24th- National Pigs in a Blanket Day