Philadelphia Flyers Complete Miraculous Comeback Against Worst Team In Hockey History
The big news in the hockey world recently is that ESPN has bought back the broadcasting rights for NHL games. But I have a proposal for the league after watching last night's Buffalo Sabres vs Philadelphia Flyers matchup. I think it only makes sense for every game between these two organizations from here on forward to be broadcasted on Comedy Central. Or if you want the games to start a little later, I suppose they can also go on Adult Swim. Either way, it was a joke of a hockey game played between two jokes of a team. 
You see, folks, it didn't take an expert to tell you that this game was going to be an absolute shit show. The Buffalo Sabres are quite possibly the worst team in the history of the game. The Philadelphia Flyers are a bunch of gutless cowards who are never prepared for the start of games and only ever play well when they're already getting their dicks kicked in. So what happens when a very movable object goes head-to-head with an equally movable object? Well we get the most expensive beer league hockey game in the world. 
I mean just look at that shit. Look at this defense from the Philadelphia Flyers men's professional(?) ice hockey team.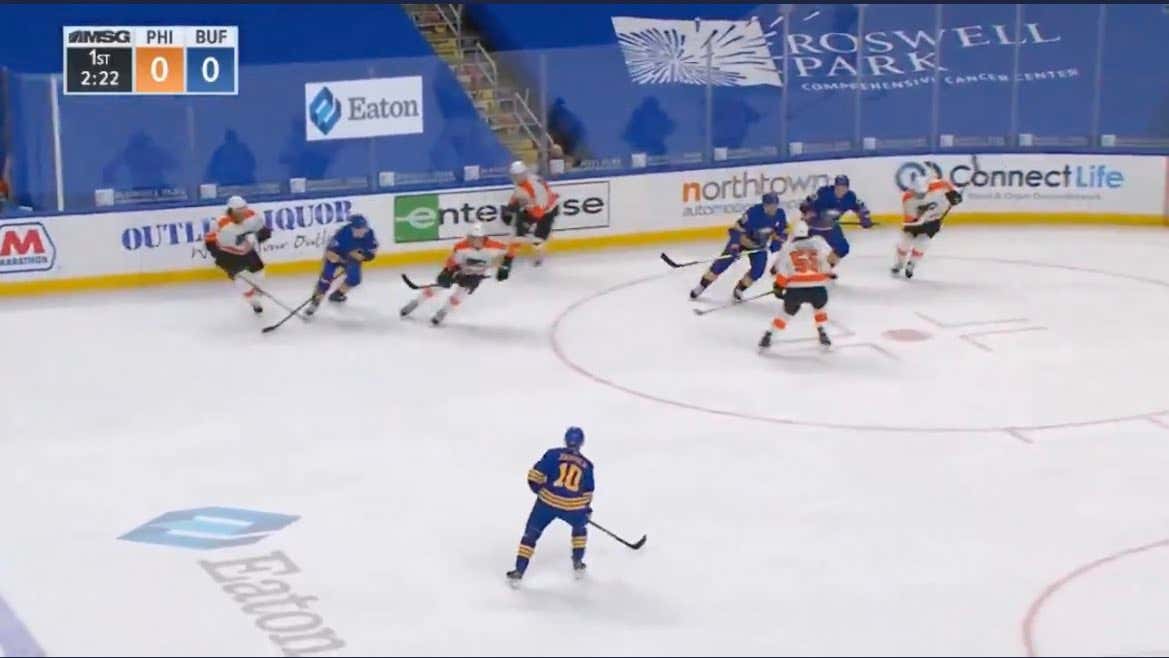 All 5 Flyers skaters on the same side of the ice. Henri Jokiharju left all alone in the high slot to just walk in and tuck this away 5-hole. That right there is vintage beer league hockey. A total lack of team defensive structure. Just 5 guys out there doing their own thing and chasing the puck. There are PeeWee teams with more defensive zone awareness and discipline than that. 
And after Buffalo took a 3-0 lead into the 2nd intermission, it looked like the Sabres were about to win their first game after 17 consecutive losses. Until, of course, you remembered that they are the Buffalo Sabres. 
After shortening the bench and just rolling with 3 lines, the Flyers were able to rattle off 3 straight goals in the 3rd period to send this one to overtime. But that last tweet from the Flyers account? It's absolute bullshit. Just because the Flyers played a good, hard 3rd period doesn't mean that there is no quit on this team. This team quit on themselves in the first 40 minutes of hockey. This team has quit on themselves so many times throughout this horrific stretch of hockey they're playing. They started playing again in the 3rd period but let's not act like there was no quit during those first 40 minutes. 
And that's what is so infuriating about this Flyers team. They have proven time and again that they're fully capable of playing a relentless brand of hockey where they're forcing turnovers on the forecheck, winning every battle for loose pucks, getting those pucks on net, and then stuffing those pucks in the back of the net. But the only time they play like that is when they're already getting embarrassed and they have to flip the switch to desperation mode. I just don't get it. I don't get how a team can clearly have the talent there to play the type of hockey that will win you playoff games in the 3rd period, but look like complete and utter dog shit in the first 40. Maybe their pregame routine is off. I honestly don't know. But it's so goddamn frustrating to watch what this team is capable of doing immediately after they just shit the bed for 40 minutes straight. This goal in overtime is exactly how this team needs to play at all times, not just when they desperately need to. 
So no. There isn't any reason to be happy with that win last night. The only positive I can really take away from that game is that it was all the proof we needed that it's time for the Flyers to move on from Nolan Patrick. It's no coincidence that they stapled him to the bench in the 3rd and that period was the most dangerous and effective the Flyers offense has looked in quite some time. It was the ultimate addition by subtraction. And I feel bad for Nolan Patrick because I'm sure he's a really good kid. But how much longer can the Flyers possibly wait around for him to turn into something that he's not? They already gave him the entire season last year to get healthy. Eventually you've gotta take off the training wheels and I think the 3rd period last night was the start of that. 
P.S. - Here's how you know the Buffalo Sabres are actually just addicted to losing, and that's why the Flyers completed this comeback. 
And now we get to do it all again tomorrow night. Can't wait.