The Boston Bruins Have Won Back To Back Games For The First Time In More Than A Month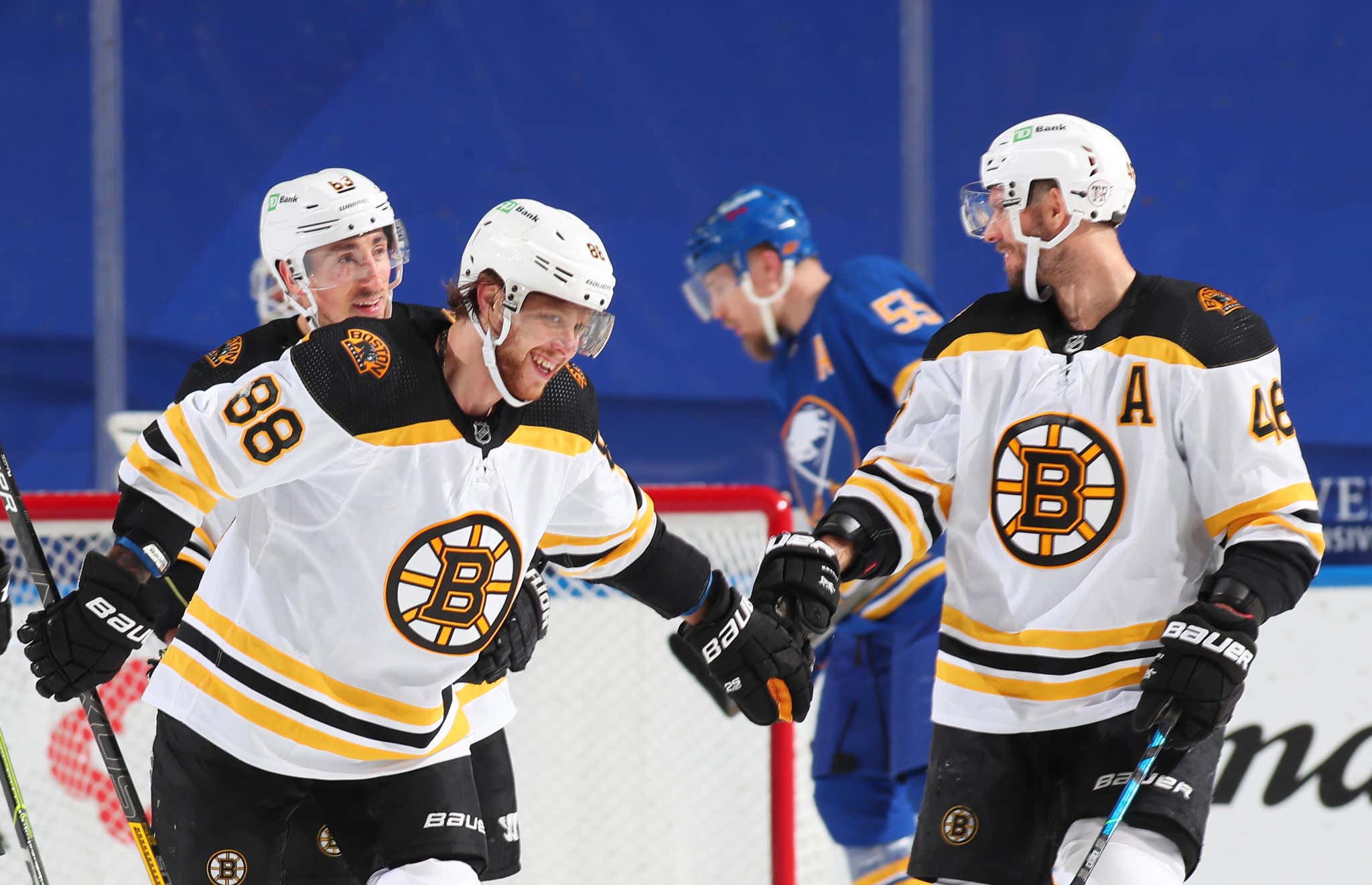 Bill Wippert. Getty Images.
Yes, it was against the Buffalo Sabres. Who are now winless in their last 13 games. But the Bruins needed a confidence boost, and they got it tonight to the tune of a 4-1 win.
1ST PERIOD:
Greg McKegg (in for Sean Kuraly - COVID 19 list) opened the scoring, great redirect. Even better name. 1-0 Bruins. 
2ND PERIOD:
Kyle Okposo scored a shorthanded goal early in the 2nd to tie the game. Went off Grzlecyk's stick I believe. 1-1.
Jake DeBrusk batted in a power play goal to give the Bruins the 2-1 lead midway through the 2nd.
Craig Smith recorded his first goal since February 25th to make it 3-1 Bruins late in the 2nd.
3RD PERIOD:
David Pastrnak with a rip on the PP (5 on 3 advantage) made it 4-1. Absolute laser for his 14th goal of the year.
FINAL: Boston 4, Buffalo 1
News, notes and quotes:
- Bit of a weird day, morning skate got cancelled due to COVID protocols. I believe a Sabres staff member tested positive. Sean Kuraly did not play tonight due to COVID protocol, Greg McKegg slid in his place. Hopefully, like Coyle and DeBrusk, it was just a false positive. McKegg opened the scoring.
- Jack Achan made his NHL debut with Jarred Tinordi out of the lineup. He had a few tough shifts but got better as the game went on. You'll hear a ton of Torey Krug comparisons, he did spend some time on PP2 tonight. Big fan of his game and the more experience he gets the better (think he just has to get used to this pace). No word on if Tinordi will be back on Saturday or not yet, but I imagine we'll see Achan back in the lineup. (still not used to seeing No. 54 out there!)
- Oskar Steen got his 2nd straight game and boy did he look much more comfortable tonight. Really liked his game. Same with Karson Kuhlman who has settled in nicely on the 4th line. Straight line hockey.
- Massive shout out to David Krejci who recorded his 700th career point by assisting Jake DeBrusk's PP goal. He had himself a night, 3 points, 3 assists. 
- Big goal for Jake DeBrusk, he needed that. The PP looked MUCH better tonight, not sure if it's cause it's the Sabres or the Bruins got their shit together. 2/5 on the man up tonight.
- Craig Smith scored his first goal since February 25th. He's looked much better playing alongside David Krejci than he has with Charlie Coyle. DeBrusk - Krejci - Smith looked great tonight. By far Smith's best game in a while.
- David Pastrnak with his 14th of the season on the PP. Now has 69 goals in his last 100 games. #Nice
- Trent Frederic only played a little over 5 minutes, was questionable to return due to injury (blocked a shot) and ultimately didn't. Bruce Cassidy after the game told the media that his X-ray was negative, and he is considered day to day.
- Jaro Halak was excellent in net, made 23 of 24 saves. Now 7-4-2 on the year. Not sure if we'll see Tuukka Rask on Saturday afternoon or not, I think he's "probable" to play.
Overall a great confidence booster of a game. Sorry to the good people of Buffalo for having to go through this tough season. Back at it Saturday afternoon against the Sabres.
It was a great night to win a hockey game.