Dissecting A Potential Rangers Deal For Jack Eichel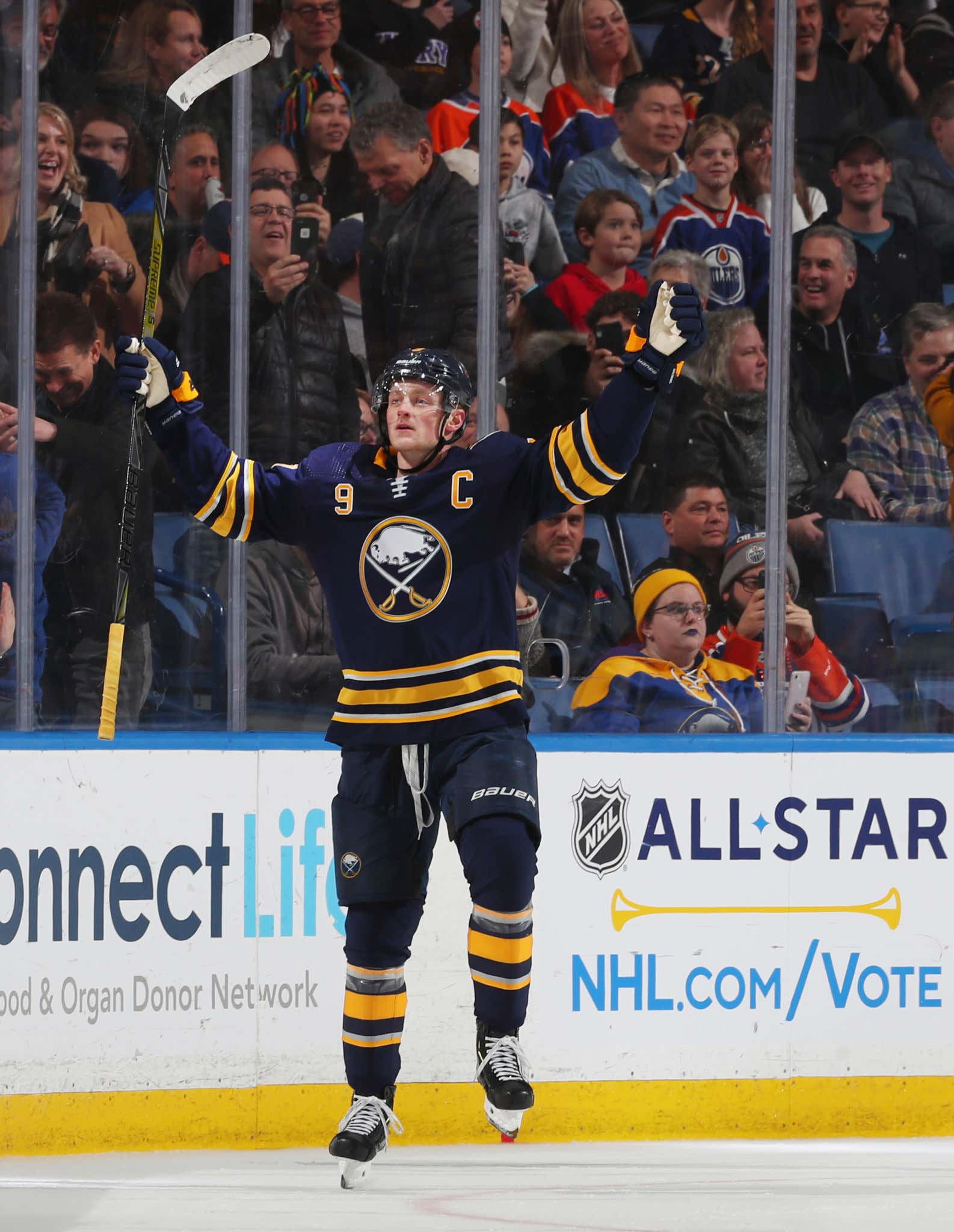 Bill Wippert. Getty Images.
Jack Eichel to the Rangers is a rumor that simply will not die. It's been sparked once again after Buffalo's star pivot publicly contradicted his coach regarding an injury that had him scratched for a pair of games last week. Just another drop in the bucket showing a growing disconnect between Eichel and the only organization he's known. John Buccigross stoked the flames even further across Rangers Twitter with what he thinks a deal for the 24 year-old would look like:
As I said earlier, I'd require Kaapo Kakko, Braden Schneider, Chytil, a goalie and a 1st rounder. And if I'm the Rangers I make that trade in 3 seconds. 💩, I'd thrown in more. https://t.co/VWMVYp7M4m

— Bucci Mane (@Buccigross) March 1, 2021
The reaction from fans was split right down the middle:
I honestly couldn't believe there were as many naysayers as there were. We're talking JACK EICHEL here. Jack Eichel, just entering the prime of his career, locked up for 5 more years which jives perfectly with the expected Rangers contention window & the rest of Panarin's prime. The same Jack Eichel who finished 8th in the Hart race last season playing with Victor Olofsson and Sam Reinhart while other contenders not named Panarin had elite help - Draisaitl & McDavid have each other, Matthews rolls with guys like Marner & Nylander, MacKinnon has Landeskog Rantanen & Makar, The Perfection Line helps themselves, etc. Do people not know how good this kid is?
Over his last three seasons, he's 1 of 12 players averaging more than 1.2 goals & 3 points per-60. And Eichel has done it SOLO. Look at the other names on the list and imagine if he was wheeling with any of these offensive juggernauts:
Ovechkin, Pastrnak, Stamkos, Kucherov, Tavares, MacKinnon, Draisaitl, McDavid, Marchand, Point, Kane
Half the list has teammates on it & the rest clearly skate with more ammo than they've ever had for their captain in Buffalo. The guy singlehandedly got Jeff Skinner an 8-year/$9M per contract. That's incredible. Imagine what he'd do with a Panarin. Or pairing up his speed with Kreider's. Or what he'd do for Lafreniere and any other prospect he could be lined up with. The only reason people don't see Eichel near the levels of other elite centers is simply because he's been playing on an island. Any team that pries him away from the Sabres could conceivably be buying low if you think about what he'd do surrounded by actual skill. C's like this simply don't become available. Not at this age. Eichel is a franchise talent and if you think otherwise, you couldn't be more wrong. And you're not gonna get him for peanuts.
So let's look at what Bucci suggests the Blueshirts would have to pony up. A first-rounder is obvious so we don't need to discuss that. As far as a goalie, I'm not sure that'd be of such importance for Buffalo with Ukko-Pekka Luukkonen in their system & Ullmark being a solid placeholder, but it's not gonna be Shesterkin so I really don't care who else it is. Braden Schneider? Fine by me, as long as it's not Nils. Schneider is still years away. Projects to be a very good defensive defenseman & physical presence but doesn't possess the overall upside to look back on this deal and say "FUCK I can't believe we let Schneider go!!". So while, yeah, those three pieces are valuable, they're expendable to the Rangers and don't seem to be what fans are up in arms about.
From what I've seen, anyone against this trade staunchly refuses to include Kaapo Kakko and (to a lesser extent) Filip Chytil. While I understand the attachment to all the shiny new pieces we've recently stockpiled through the draft, neither of these kids have proven anything yet. Chytil's in his third NHL season now. Taken his lumps in his first two but certainly has shown growth. Still, he's got 52 points in 149 games while being sub-40% at the dot. The 21 year-old (who returns to the lineup tonight after missing the last 14 games due to injury) has plenty of time to continue to develop - but what's his ceiling? Middle-six C? Is it even at the center position at all or does his game translate better on the flank? Buffalo is gonna want a young center as part of the return. They're not gonna want older ones like Zib or Strome about to walk into free agency then bolt. Howden stinks. Barron doesn't have the offensive upside of Chytil. So if a trade is gonna pop off, the Rangers 21st overall pick in 2017 will likely be a part.
Kakko? That's a tough pill to swallow for sure. Shipping 2019's #2 pick away before he even begins to meet his potential isn't something anyone thought was even a remote possibility - but a Jack Eichel type becoming available on the open market is just as remote. Dealing Kakko would be dealing from a position of strength. Right now the Rangers have Panarin, Kreider & Lafreniere not going anywhere on the wings. Kravtsov is en route after he wraps up his KHL postseason & there's a decision to be made on Buchnevich as he enters his last RFA year. That's still 5 players vying for 4 top-six slots without Kakko. My point is, room is gonna have to be made somehow. If making that room lands you a superstar pivot while costing you your third most important player in that group (behind Panarin & Laf) then that's a move you simply have to make. Wingers are easiest to replace. Finding a young, championship-caliber 1C outside of the draft is virtually impossible.
Let's talk dollars and cents now. Looking forward strictly to next season, swapping Eichel for Kakko & Chytil leaves the Blueshirts just about $16M in cap space - and that's keeping DeAngelo's $4.8M on the books for now. Howden & Gauthier won't be arbitration eligible and haven't given a reason to receive anything more than a qualifying offer just under a mil each. If one or both are gone, they can be replaced even cheaper a la Blackwell, Rooney & PDG. Assuming Buchnevich signs long-term we can prob put him down for ~$5.5M. Let's also assume Barron makes the squad and your 13 forwards are set.
That leaves around $8.5M (most likely more once they move Tony D) for Shesterkin, Lindgren and Hajek. Hajek & Lindgren aren't arbitration eligible either so once again we're talking qualifying offers of under a mil each. Paying it forward with Lindgren could be an option as well considering his warrior style of defense has a shorter shelf life, but only if they clear Tony's dough. He won't be a UFA until after the 25-26 season though so there's no immediate rush. That leaves $6.5M to lock up Shesterkin at $6.5M a pop. Perfect. Cross your fingers that Nils is donning a Rangers sweater and 21-22 is all set.
Looking further down the road at 22-23, there's a bit more to unpack. Now bear in mind I'm approaching this from a "keep the team intact" standpoint but obviously things will change by then. First and foremost, Zibanejad. Let's assume he returns to form & gets that Jeff Skinner money ($9M/per). With Strome's contract & Hank's buyout coming off the books that'd leave NY the magic number of $16M once again. They'd have to fill 3-4 bottom-six slots (Howden & Gauthier would be up again with arbitration rights this time along with Lemieux, Blackwell a UFA & they'd need a C to replace Strome if Barron doesn't surprise) and Kravtsov would be due a qualifying offer. No big deal.
On the back end, Lindgren and Hajek would be arbitration-eligible. Adam Fox would not be, but he'd clearly be looking at a significant raise over a QO. Georgiev would be entering his last RFA season as well, but you'd like to think one of the Rangers goalie prospects would be ready to make the leap instead of having to give Georgie a raise. $16M easily has all of that covered. Projecting any further doesn't make a whole lotta sense as who knows what the roster's gonna look like by then - but my longwinded point is, making Eichel's money work is a non-issue.
I'm sure some of you STILL wouldn't deal five question marks to fill your team's most glaring deficiency with easily the best possible option that'd ever become available to you. That's fine. We can agree to disagree. I wouldn't wanna agree with a fucking idiot anyway.