The Mavs Are Down Bad, So What The Hell Is Going On?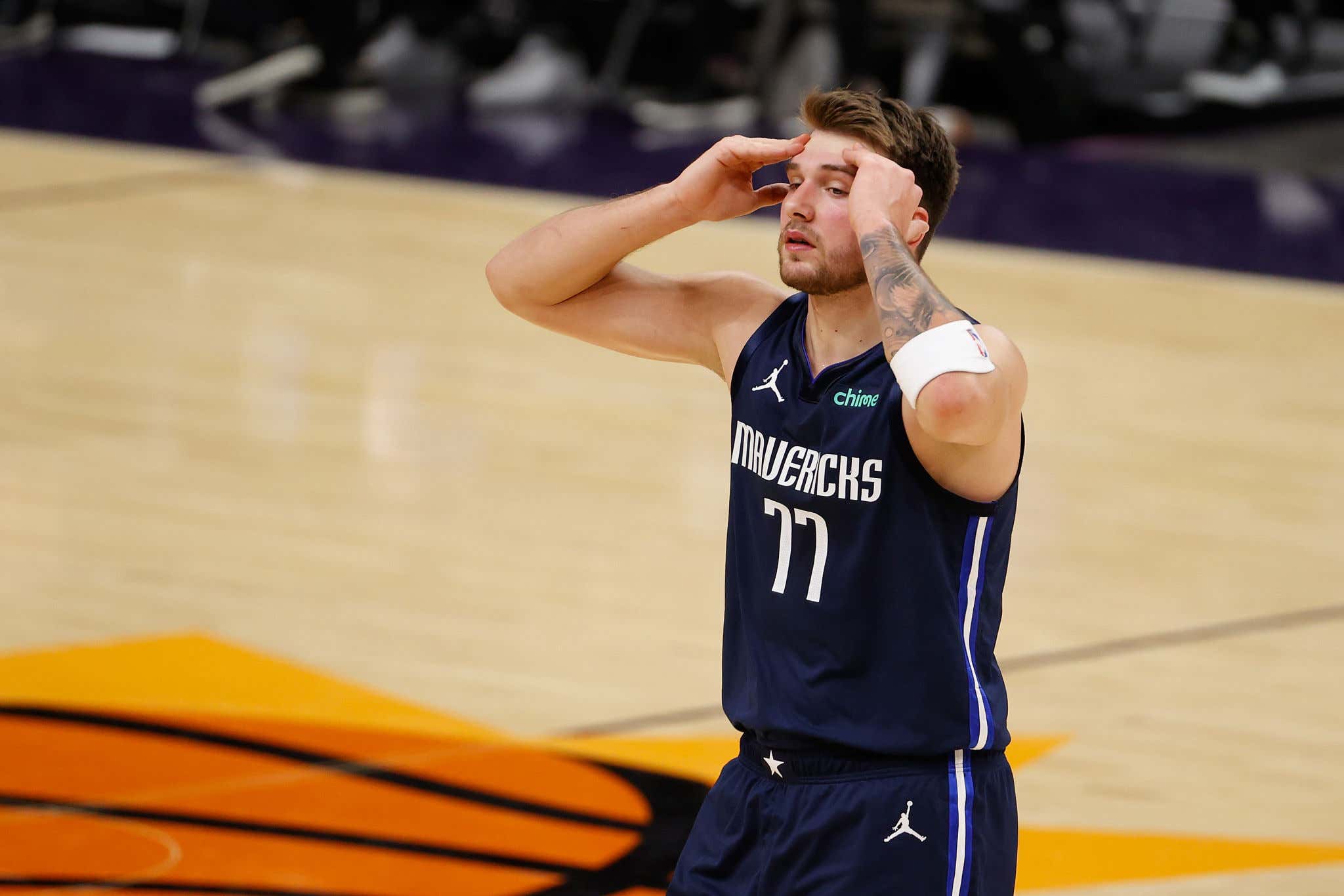 Christian Petersen. Getty Images.
Heading into the season, the Dallas Mavericks were considered by a lot of people to be a true contender this season. They had the 9th best title odds back in December, and 4th best odds in the West slightly trailing the Nuggets. There was a huge Luka 4 MVP narrative which made sense because the shit he had done in his first two years was unlike anything the NBA had ever seen by someone not named Oscar Robertson. They had the best offense in the NBA last year and it wasn't really all that close. 
Well, while it's still "early" in the season I don't think it's a stretch to say that things have been a bit of a disaster. The one thing holding the Mavs back last year was how bad they were defensively. They weren't even league average. But then they traded for Josh Richardson and the thought was maybe their perimeter defense would improve which would certainly help. Now at 9-14 and 14th in the Western Conference, things have been brutal. They aren't alone, there are teams like TOR that have underacheived to start the year, same with the Pelicans. The Heat are also 7-14 but their situation is a little different since they've been gutted with covid issues. With the Mavs there is some of that, but I wouldn't exactly put it on the Heat's level
So what the hell is going on? Well for starters that best in the league offense has come crashing back down to earth, currently ranking 17th in the NBA. The defense, which was already bad, has regressed even more and currently ranks 25th. To put that into perspective, that's worse than teams like NO, DET, ORL, and MIN. In a conference as competitive as the West is, this type of regression on both ends is not going to work out well.
If you look at their record profile, it helps tell the story. They are 6-9 in 10+ point games and 5-10 against teams .500 or better. This is a huge drop from their 23-9 record in 10+ point games last year. Normally when they built a lead, they didn't blow it. In fact, only the Lakers had more wins in the West (25) and Bucks in the East (38). They've also struggled against bad teams this year, already notching 4 losses in their first 23 games when only having 14 all of last year. 
For starters, as amazing as Luka has been (27/8.8/9.4), the one area of his game that has not improved at all is his three point shooting. Despite taking a career high 7.5 attempts a night, Luka has now dropped to 29%. That's a big time issue given the volume he takes and is a drop from his 31% last year. I think most Mavs fans were hoping that his outside shooting would have improved, but it's gone the other way. This is an issue when you remember that they traded Seth Curry, who was arguably their best shooter last year. It's no surprise this team now ranks 30th in 3P% at 33.2% after being a top 10 team last year (36%). 
Luka isn't alone here though. Josh Richardson, a player who in his previous stops had improved each year is having maybe the worst season of his career. He's had a pretty big drop from 43/34% last year to 40/27% this year while also playing the worst defense of his career (116 rating). His 0.2 Defensive win shares and -1.6 DPRM help paint the picture of his defensive struggles. He certainly has not been the two way player the Mavs were hoping for and it's not like this roster was loaded with plus defenders to begin with. The same can be said for Dorian Finney-Smith who has also taken a step back this year compared to the version he gave the Mavs last season. After a solid 9.5/5.7 on 46/37% last year, he's down to 8.6/4.5 on 40/33% this year. 
The question now becomes, which version of the Mavs are the real Mavs? If you look at the three years Luka has been there, last year is sort of the outlier. In his first year they were 20th in offense/18th in defense/21st in net rating. This year it's 17th/25th/21st. You look around the West right now and it might be pretty damn hard for this team to even make the play in game if things don't change in a hurry. They are already 3.0 games behind the 9 seed and teams like the Rockets/Grizzlies/Kings have been better than people expected. The Blazers keep finding ways to win despite all of their main guys being hurt. It has the Mavs in a tough spot, that's for sure.
If you're a Mavs fan, the hope has to be that your main rotation players stop having the worst seasons of their careers. That's key. If you look at Porzingis since he's been back you'll see he's been as solid as ever. Same with Tim Hardaway Jr. Luka is still doing Luka things. As long as he snaps out of this outside shooting slump and the role players get back to the level most expected them to be, this team can right the ship. But it has to start on the defensive end, which is a little concerning since they've never shown the ability to do it.
This team has about 6 weeks to turn this around or it could then be time to make some tough calls at the trade deadline. I don't think there is a person out there that thought after last season the Mavs would ever be sellers, but that's the exact direction they are heading if things don't change in a hurry.