What's Next For The Baltimore Ravens?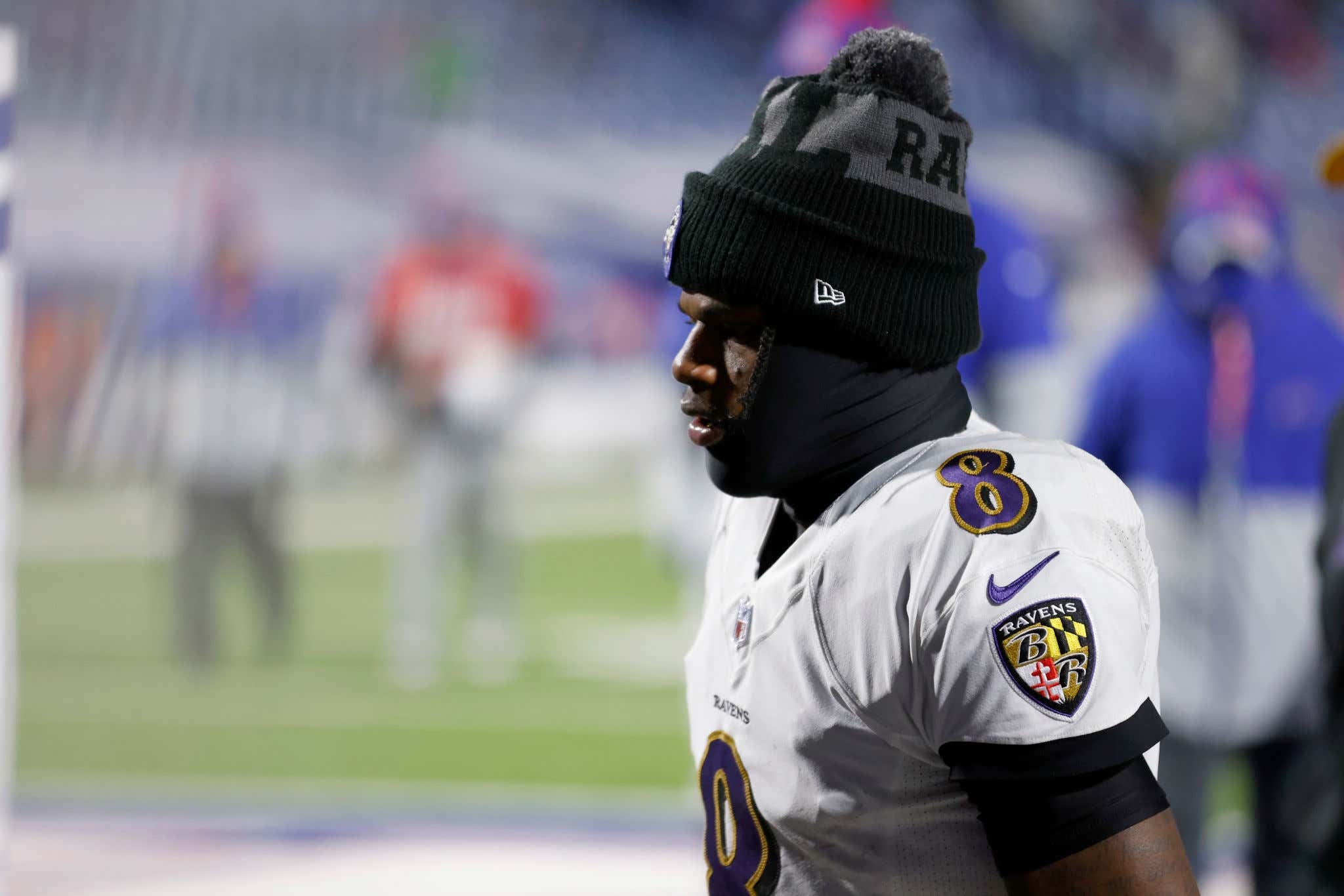 Bryan Bennett. Getty Images.
The dust has settled. The loss last week in Buffalo has been digested. I've gotten all my sad boy gifs off. John Harbaugh and Eric DeCosta have given their thoughts in reflection and we're ready to move onto the offseason.
It's tough to say the 2020 season wasn't a failure. The goal at the beginning of the year was to win the Super Bowl, bar none. They didn't even make the AFC Championship game. That's not to say that some good things didn't happen. There were definitely some speed bumps along the way that could have derailed the season completely. They hung tough, battled their way into the playoffs, and exacted revenge against a feisty Titans team to get Lamar Jackson on the playoff wins board. But all things considered, they fell way short of their goal, and with the emergence of Josh Allen and the Bills in the AFC and the Chiefs looking as dominant as ever, you can't help but feel like that goal has gotten further from their grasp.
With that said, not all is lost. Despite what might seem like a regression, I still love the way this franchise is set up for long term success. Lamar Jackson had some trials and tribulations this season, but he found his way down the stretch. I thought he played close to his 2019 MVP form in December and in Tennessee. The deck was stacked against him with All-Pro left tackle Ronnie Stanley and dependable blocking TE Nick Boyle out, and he had a pair of centers that couldn't dependably snap him the ball. Plus his receiving corps has been remarkably thin, as is tradition here in Baltimore. Perhaps this type of burden on his shoulders is why he forced the 3rd and goal pick 6 that ultimately was the difference in Buffalo. Doesn't excuse the mistake (his first red zone INT in his career btw), and he'll learn from it.
Next step for Lamar is to get him locked up long-term.
 I'm in full support of getting Lamar locked up long-term. When you've got yourself one of the best QB's and most dynamic athletes in league history, you build around him. His number will be the biggest on the team's cap for the next decade. Once you've got that constant locked in to your salary cap situation, you can start to fit the puzzle pieces around him. They started to do that by extending Marlon Humphrey and Stanley earlier this season, and getting Lamar's number locked in will help put the rest into place. 
From there we attack building this roster out to be the best it can be. First off, the interior OL has to be improved without question. They've built an OL that focuses on run-blocking and rightfully so, but the inability to pass block (or snap the football) was woefully exposed in Buffalo. Right now you've got Matt Skura and Patrick Mekari at center. Both were undrafted free agent signings and both had games with multiple snapping gaffes. Mekari's errors were the final nail in the coffin in Buffalo. This can not stand. The Ravens historically draft offensive lineman well and there are some great center prospects that could be a fit at 27th overall. More on that as the draft approaches.
The other big question mark is the wide receiver position. Despite some frustrating play in the first half of the season, I thought Hollywood Brown really turned things around and became an explosive weapon down the stretch. But just like Joe Flacco did for the majority of his career, Lamar needs a guy he can trust in the middle of the field and compete for balls in traffic. The name that comes to mind for everyone in Baltimore is Anquan Boldin, which is why it was so striking when Coach Harbs explicitly mentioned him during his post-season presser last week.
The tricky thing (and a lot has been made of this, believe me) is whether a receiver really wants to come to an offense that's so run-oriented. That in itself is a chicken or the egg type of conundrum. The Ravens are incredibly run-heavy because they are so effective at it. That makes plenty of sense. But don't you think that if the Ravens were to augment this offense with the type of personnel that would enhance the pass game with say, an Allen Robinson, that they wouldn't start to open the playbook a bit more? So much less attention would be paid to Hollywood going deep and Andrews working the seams. That missing piece is where this offense really takes off.
Of course all of that is easier said than done. There are a ton of moving pieces with the Ravens and the salary cap this offseason. We don't know what the league cap will be next season, but it's expected to be much tighter than we may have anticipated a year ago. The Humphrey and Stanley extensions constrict that picture a bit, and there are a ton of guys on the defensive side of the ball that are pending free agents. 
Eric DeCosta needs to figure out who from the defensive front 7 are coming back. Edge rusher is particularly of concern. Matt Judon has earned the right to hit free agency after playing under the franchise tag at $16.8M last year. He and Yannick Ngakoue both may be in line to get a long-term deal around that annual figure on the open market. It's near impossible to imagine that they'll keep both. Tyus Bowser, Pernell McPhee, Derek Wolfe, and Jihad Ward are all free agent eligible as well. I'm hoping they find a way to bring back Bowser in particular at an affordable price, and hopefully a pair from that group above. That's the kind of juggling EDC has to deal with.
He's already started to try to massage that salary cap picture with the releases of Mark Ingram and RGIII. Both were fantastic Ravens in their few years in Baltimore and helped transition a young QB into the league. It's a shame that they'll be moving on but their time has come. We've got a lot of young talent here in Baltimore and it's time for those guys to shine.
Lastly, it has to be said that it is a damn shame that the Wolfpack is no more. I think the Ravens are making a mistake in changing something that's not broken by moving on from All-Pro long snapper Morgan Cox. I had some thoughts about it yesterday that were deemed not worthy of a full blog in itself, so here is me sharing those thoughts.
Morgan was quite simply a pleasure to have in Baltimore and will continue to snap at an All-Pro level elsewhere. We had him on our podcast in October and he was an absolute delight. Some team will be lucky to have him.
Thanks for everything and we look forward to seeing him back in Baltimore some day.
With that said, I still have faith this organization is set up for long-term success. But so are the Bills and the Chiefs, and right now we're looking up at them. We learned this year that they don't just hand you 14-2 seasons. They're earned, and we didn't earn it this year. But we did lead the league in point differential yet again and that's generally a sign of a football team built for success. There's a couple holes in the floorboard and we need to add a few dimensions to this sports car, but there's no better mechanic than Eric DeCosta and co. Bottom line is Lamar is still going to take us places. My faith in that has not wavered. Excited to watch it unfold.