Did I Pull A Babe Ruth And Call My Shot When Dallas Braden Pulled This Big Card On Friday Night? Yes, Yes I Did.
Friday night Dallas Braden and myself jumped on the Starting9 Instagram and did some old fashioned box ripping. You've probably noticed that sports trading cards are back in a big way. NBA and NFL cards are basically gold right now, MLB cards are getting ready to shoot up in price. It's insane. Good luck finding them in Target or Walmart, you're better off going to your local card place. That is what Dallas and I and decided to crack open some packs. Honestly, it was a great time and something we are going to try and do once a week heading towards baseball season. 
Dallas had the big money boxes with some Bowman Sterling, Topps Chrome, Triple Threads, and Allen & Ginter. I had some Topps Holiday boxes, some Topps Heritage hangers, and some Topps update packs, but lets go back to the big boxes. Dallas cracked open this Bowman Sterling which is ripe with the next big MLB stars and a ton of prospects. He had gone through a few packs and we hadn't seen the top prospect in baseball, Wander Franco of the Rays. I was itching for a Wander and just shouted to DB, "We're still looking for that Wander." It's almost like the card gods were listening. 
BOOOOM. Very next card, Dallas pulls a Wander Franco, speckle refractor numbered out of 99. Top prospect and a numbered card isn't too shabby of a pull at all. Can fetch a few bucks on eBay as well. Overall it's just an awesome looking card. I'm not saying people were saying that I am a card whisperer and can see into the future, but it was quite a call from your boy. 
This wants the only awesome card that was pulled Friday night, we had a few of them. I had a Miguel Sano holiday patch, Gerrit Cole short print, but again Dallas had the big boys.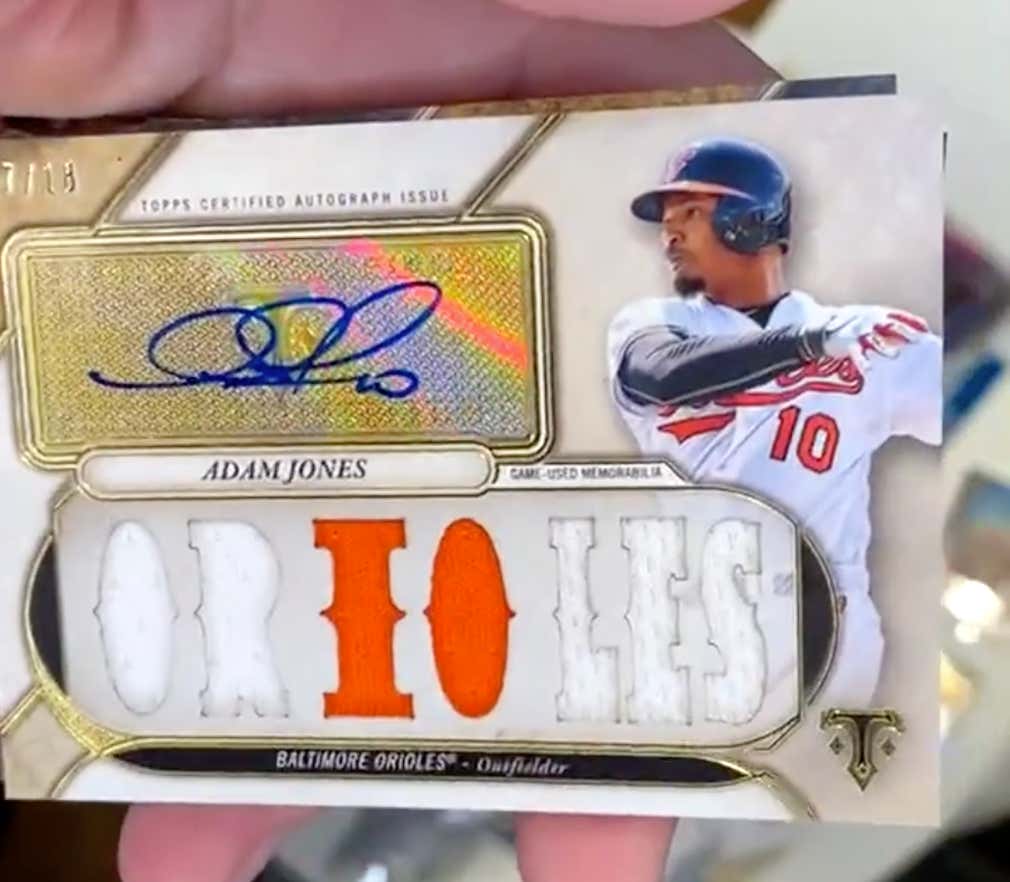 Look at those beauts. The Mets 2 horses were fantastic pulls. Both were numbered with awesome uniform patches in them. And both had the pinstripe in the patch making them that much better. Really awesome ones for the Mets. And the Adam Jones pull. Are you kidding me? Auto and patch? Now that is a good looking card. 
We both had a great time opening the cards and chatting it up with people on the IG Live. It's something we would love to do weekly moving forward, even trying to get some other names involved in box openings. Maybe we start some breaks soon? We're also still very new at this, so if you've been in the card game for a while and are able to answer any of the dumb questions we have, slide on into my DMs and lets chat. Ultimately we want this to be a place where you can come watch Dallas, myself, and some others open cards, ask questions, and just chill out. We were getting all types of stories and fun facts from Dallas, we were answering MLB questions in the chat, it was grand. If you're new to cards, a veteran in the game, or just really bored and want to watch Dallas go crazy by ringing a bell every time he gets a cool card, this is something you should be in! Honestly it's a ton of fun and something that is only going to get bigger and bigger, might as well hop on the train now.
Now it's time to go hunting for the next box of cards for this week!